Getty Images
Royals or Giants in World Series?
The World Series starts Tuesday night in Kansas City. The Royals are aiming for their first title since 1985. The San Francisco Giants, meanwhile, are looking for their third championship in five years. Which team will win?
AP Photo/Jack Dempsey
Peyton Manning the greatest ever?
Peyton Manning added another record to his resume Sunday, passing Brett Favre for most touchdown passes of all time. Manning ended the night with 510, two more than Favre's 508. Is Manning the greatest QB ever? Will he ever win a second Super Bowl?
By
Scott T. Miller
| ESPN.com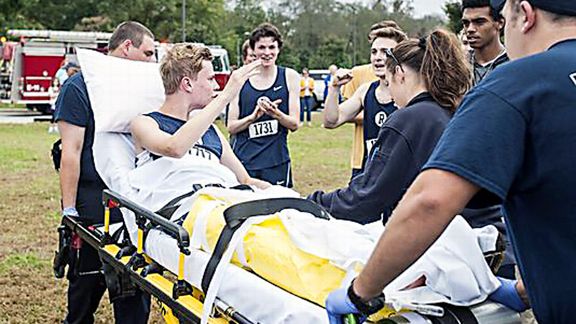 Katie Bailey/Asheville Citizen-Times
Connor Callihan, a junior at Roberson High School in Asheville, North Carolina, was steps from the finish line at a cross-country meet Monday when he felt his leg snap. Callihan -- broken tibia or not -- wasn't going to just lie there and let the competition pass him. So he crawled several feet before finally, improbably, crossing the finish line.
"I have to finish. I'm doing this for my team," Callihan told Asheville's News 13 in this video:
Something tells us that attitude will help Callihan recover ahead of schedule.
MORE SPORTSNATION STORIES
• Party at Paul Rudd's mom's house!
• Gordon Hayward: 'I'm better than LeBron (at gaming)'
• Brandon Finnegan gets ALCS tickets for fan who contacted him on Twitter
We're not well-versed enough in the subtleties of boxing to offer anything more than the most basic analysis of the following video, so we're going to go with just the facts:
1. Justin Bieber and Floyd Mayweather Jr. are friends, or at least acquaintances.
2. Mayweather is training Bieber in the ways of boxing.
3. Bieber throws several punches, and though they are clearly intended as practice punches and are therefore not thrown at full speed, all of them connect.
4. Bieber does not appear to be training Mayweather in the ways of singing or dancing.
That's it. Now you know this information.