September 15, 2014
Sep
15
Remember this infamous receipt, the one from Philadelphia burger place PYT on which LeSean McCoy left a 20-cent tip for what he called "bad service"?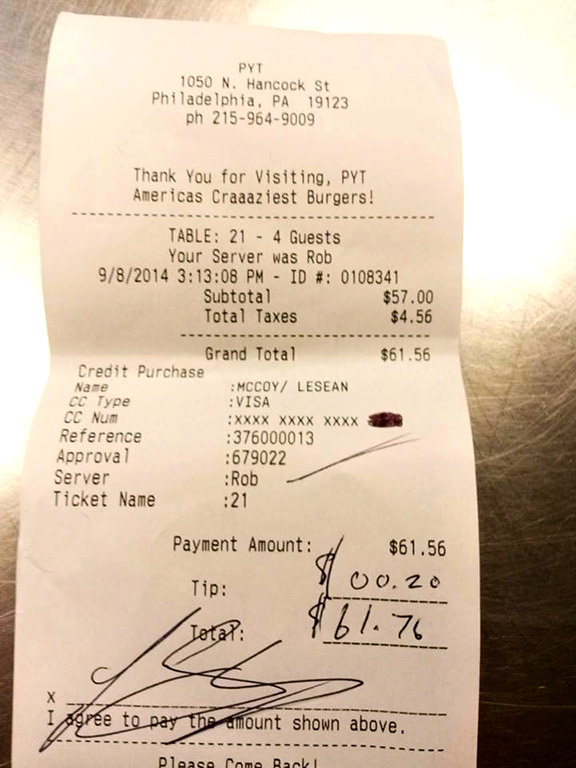 PYT Burger/pytburger.com
Well, it's apparently up for auction on eBay, posted by, according to Philly.com, a man who DJs at the restaurant -- and will go for an absolutely insane amount of money (standard Internet disclaimer about this thing perhaps not being legit). How insane? As of 7 p.m. ET on Monday, the latest bid was $99,900.
So we ask: Who would bid nearly $100K to secure this piece of paper?
An anti-tipper aiming to snag a most high-profile artifact of protest? Probably not, since that would end up giving the alleged "bad server" a more than 160,000 percent gratuity on the meal.
A tipped-worker advocate, hoping to show just what these typically low-wage employees often deal with? Doubt that, too; all that money could go a long way toward fighting the fight.
One of the many people willing to shell out crazy cash for noteworthy sports memorabilia? That's quite possible, although let's not forget that Michael Jordan's North Carolina recruiting letters and diploma recently sold for only $50,000.
Charlie Sheen? Maybe, although that means he upped his initial offer just a little bit.
dear Tommy Up at PYT in Philly. Please tell Rob K I'm pledging 1000 dollars to him for the tip debacle just wanna help. c #NoJudgement

— Charlie Sheen (@charliesheen) September 10, 2014
We'll likely have to wait to find out. The auction ends Sept. 20.