SportsNation Blog Archives

Los Angeles Lakers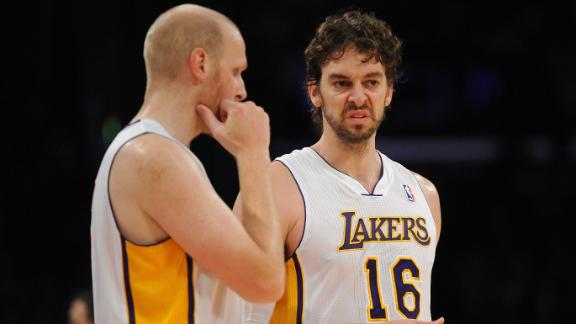 Pa Gasol has been a key part of the Lakers for years, and it looks like he'll remain with the team for the immediate future. The Lakers have reportedly decided not to trade him, at least for the moment, as they're happy with his play in recent games. Gasol is averaging 14.7 points and 9.3 rebounds per game, with a 21-point performance on Tuesday night. This could all be just a smokescreen, however -- the Lakers are 12-13 and might need to make a significant move if they want to stay competitive in the brutally tough Western Conference.
Here's a sampling of what readers had to say in our Facebook conversation on the story:
Eric Prado: "off the block because free agent at the end of the year and people could wait and try to sign him without giving up anything. Lakers have no leverage and would probably have to pick up another bad contract, malcontent or someone with injury issue in return."
Joe Manansala: "I hate this indecisiveness by Lakers management. Either trade him already or don't (I'm in favor of trading). This story is so old."
Dave Regan: "Should have not signed Kobe to that ridiculous deal, traded Gasol, Nash, and any other parts for draft picks and tried to get a top-three pick. Oh well, Lakers will rise again, but not as quickly as they could have."
Steve Gates: "Love pau, but just let his contract expire, unless of course he would sign for a reduced rate he could still be useful. But clearing some of these contracts off the books is priority #1."
William Babishoff: "Classic move, pull him off the table to increase his value. He'll get traded, as soon as his trade value is high enough to get the Lakers what they want in return."
AP Photo/Mark J. Terrill
What's up in Western Conference?
If the Minnesota Timberwolves were in the Eastern Conference -- like, say, their neighbors the Milwaukee Bucks -- they'd be fourth, with an 11-12 record. Instead, the Kevin Love-led team is in the West ... where it's 11th. And just half a game out of 13th. Tough conference, eh? Which teams will come good?
Andrew D. Bernstein/NBAE via Getty Images

Kobe Bryant rusty in return

Eight months after a ruptured Achilles ended his 2012-13 season, Kobe Bryant made his 2013-14 debut Sunday against the Toronto Raptors. But it wasn't the triumphant return many Los Angeles Lakers die-hards had envisioned. Bryant played 29 minutes, scoring nine points on 2-of-9 shooting, dishing out four assists but committing eight turnovers in a 106-94 Lakers loss (he did grab eight rebounds). Is this a worrying sign, or just rust?

Kobe Bryant returns Sunday

The Lakers have been treading water waiting for Kobe Bryant, but this Sunday, we'll be able to see just how good they are at full strength. Bryant will return from an Achilles tendon injury against the Raptors. Most players Bryant's age who have suffered such an injury might retire, but not Bryant -- he made his comeback in less than a year and announced his return with a somewhat artistic two-minute video on his Facebook page.

Robert Griffin III's knee injury still seems to be affecting his game, as his mediocre stats and lack of explosiveness this season suggest. 49ers linebacker Ahmad Brooks said that he doesn't believe Griffin should be playing until he's fully recovered. Brooks has a unique perspective on this -- he sacked Griffin twice and hit him two other times in the 49ers' 27-6 victory over the Redskins on Monday night. The idea of sitting Griffin might have some merit for the Redskins, as they're 3-8 and need to think long term about Griffin's career.

Here's a sampling of what readers had to say in our Facebook conversation on the story:

Glenn Cannon II: "Everybody expected the same results from last year from a player who had NO OFFSEASON to develop, and mesh with his less then talented WR Core. Then they have him miss all of the preseason games only to start him in the first game to shake off the rust?"
Jared Waters: "Any one of you who actually watch the redskins know it's not his fault. The man has absolutely no offense line, no time to throw, coaches who can't call plays, and a terrible defense behind him. The man is scrutinized for every little thing he does. Give him a break. Clear the house and get someone who will coach and help him and the team ."
Mike Vogel: "RG3 is a a one-of-a-kind, tough, classy player who took the league by storm. When the 22 kid got badly hurt and was playing on one leg, Shanahan kept putting him back in until he was damaged goods forever. Yes, RG3 wanted to go back, but he's a kid and its the job of the coach to be an older, wise head. But Shanahan is all about Shanahan. Fire him now!"
Andy Sipes: "The Skins are extremely lucky to have Cousins as a backup. He would start for other teams in the league right now and be a better option for them. The Skins aren't going to make the playoffs. Sit RGIII to get him healthy, play Cousins to get him some experience and get a good draft pick (O-Line perhaps?) in this year's draft to help further protect your investment in your QB."
Michael Williams: "RGIII is a good player one day he will be great. He needs a better protection scheme! He also needs a couple more weapons at WR or TE. The defense could play better too.Just give him some time."

---

Health concerns

Griffin's Total QBR is lower than a lot of struggling quarterbacks' marks, including those of Ryan Fitzpatrick, Christian Ponder and Mike Glennon.