SportsNation Blog Archives

NFL
Statistically, two is not a trend. But we're calling it anyway:
2014 is the Year of the Jump-Kick.
First there was Antonio Brown of the Pittsburgh Steelers planting a foot on the face mask of Cleveland Browns punter Spencer Lanning (which, admittedly, drew a fine):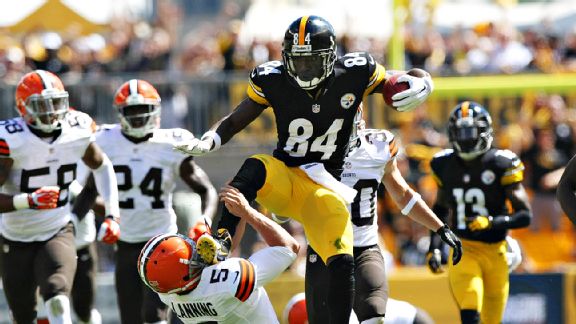 Jason Bridge/USA TODAY Sports
On Sunday night, the Green Bay Packers' Jarrett Boykin (perhaps) one-upped Brown by getting a leg to the ball before Chicago Bears punter Pat O'Donnell could kick it: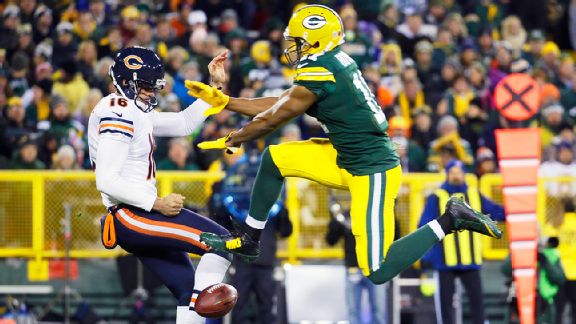 AP Images/Morry Gash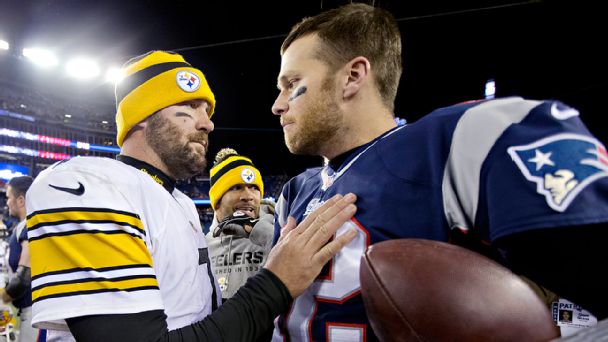 Matthew J. Lee/Getty Images
Big days for Ben and Brady
Sunday was a big day for multiple Super Bowl-winning quarterbacks from the AFC. Tom Brady went 30-for-35 with 354 yards and five touchdowns in the New England Patriots' 51-23 win over the Chicago Bears. Ben Roethlisberger had an even more memorable day, becoming the first QB in NFL history to notch a second 500-yard passing game (he went 40-for-49 with 522 yards and six touchdowns in a 51-34 win over the Indianapolis Colts). Not bad for a pair of players whose teams were considered done just weeks ago.
AP Photo/Jack Dempsey

Peyton Manning the greatest ever?

Peyton Manning added another record to his resume Sunday, passing Brett Favre for most touchdown passes of all time. Manning ended the night with 510, two more than Favre's 508. Is Manning the greatest QB ever? Will he ever win a second Super Bowl?

Are the Cowboys legit contenders?

Since being embarrassed in the opening half of the opening game, the Dallas Cowboys have rebounded nicely -- five wins in a row, to be exact, the latest a surprising 30-23 victory at the defending-champion Seattle Seahawks. Now, in a development virtually no one saw coming, Tony Romo & Co. sit tied atop the NFC East with the Philadelphia Eagles. Will they keep it up?

September 29, 2014

Sep

29

AP Photo/Patrick Semansky

Patriots free agents: Take 'em or leave 'em

There are 10 players from the 2014 champion Patriots that will hit free agency in March, and that's not counting Darrelle Revis, who is technically under contract but carries a mammoth $25 million cap number. The Patriots will either need to renegotiate that or watch him walk away. We invite you to share your opinion as well in the polls below. Take into consideration the contract -- both in duration and compensation -- it would take to bring each player back as you cast your votes.