SportsNation Blog Archives

NBA
It's been an eventful 24 hours for Chris Paul.
In Tuesday's loss, the Los Angeles Clippers guard got victimized by a sick Stephen Curry move, to which even CP3 tipped his figurative cap.
During Wednesday's win, Paul got into the following scuffle with Portland Trail Blazers center Chris Kaman, which started with a hit by Paul below the belt. Accidental? You be the judge.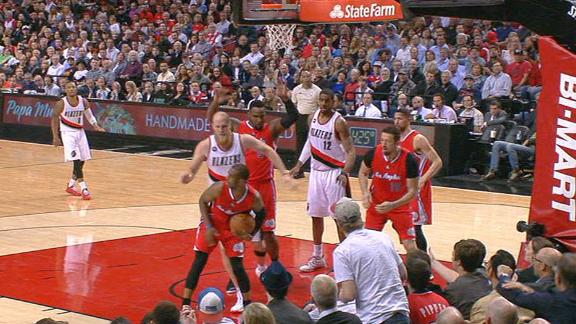 Kaman drew a flagrant foul for shoving Paul, which itself drew the attention of Glen "Big Baby" Davis. This led to a slight tangle-up with LaMarcus Aldridge, during which Davis, shall we say, embellished things just a bit.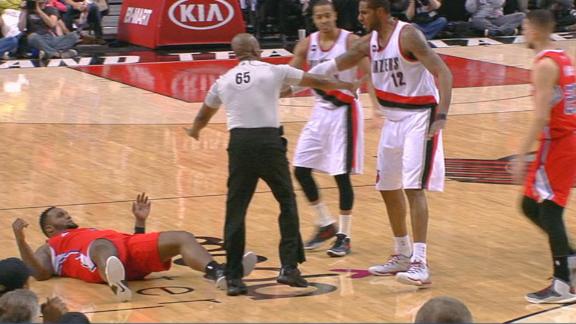 After the game, Paul addressed the scuffle -- but didn't exactly think a whole lot of it: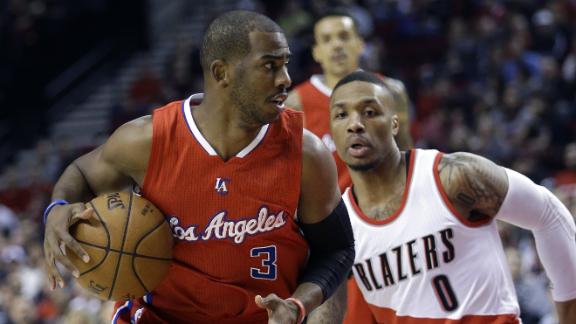 This is going to be some Western Conference playoffs.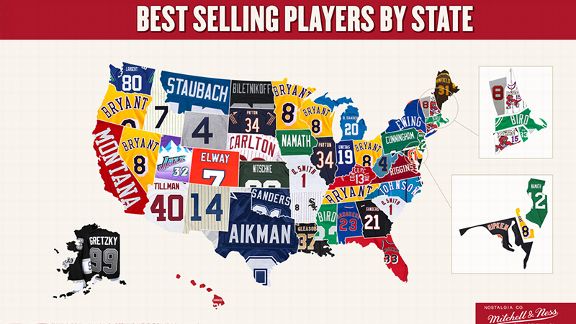 Courtesy Mitchell & Ness
Recently a vintage apparel company crunched its sales numbers for throwback pro sports jerseys, then created the fascinating map above (click here for a larger version).
Important note: These are numbers for specific jerseys (e.g. John Elway's 1994 authentic jersey), not all jerseys for a specific player. Now, some thoughts:
• The Kobe Bryant rookie-year No. 8 is the best-seller in seven states, and its popularity is the first thing that stands out ... especially when you note where it moves well (Oregon, Minnesota, Wisconsin and Ohio, which all have their share of successful retired pro athletes) and where it doesn't dominate (California, where Bryant's No. 24 is, shall we say, still a rather common sight).
• Another surprise: Michael Jordan did not win Illinois; instead, that honor goes to late and beloved former Chicago Bears running back Walter Payton, whose 1985 jersey outsold anything having to do with No. 23.
• Off-field factors clearly influenced Arizona and Louisiana. In the former, Pat Tillman, who left the Arizona Cardinals to join the U.S. Army and was later killed in Afghanistan, outsold Phoenix Suns legends such as Steve Nash and Charles Barkley. For the latter, Steve Gleason, the former New Orleans Saints safety/special-teamer who is battling ALS and raising awareness for the disease, beat out other ex-Saints and LSU/New Orleans Jazz star Pete Maravich.
• Our favorites: The seemingly random picks from states without major pro sports teams, such as Oklahoma-native New York Yankees legend Mickey Mantle in Idaho, New Yorker through-and-through Lou Gehrig in Wyoming, Pennsylvania native and Florida State/Oakland Raiders-tied Fred Biletnikoff in North Dakota, Pittsburgh-to-Tuscaloosa-to-New York-to-Los Angeles Super Bowl star Joe Namath in Iowa, and Minnesota native Dave Winfield's San Diego Padres jersey in Maine -- which is about as far from San Diego as you can get in the continental U.S. Perhaps there's a small-sample situation here?
Check out the map and full jersey breakdown on Mitchell & Ness' website.
H/T For The Win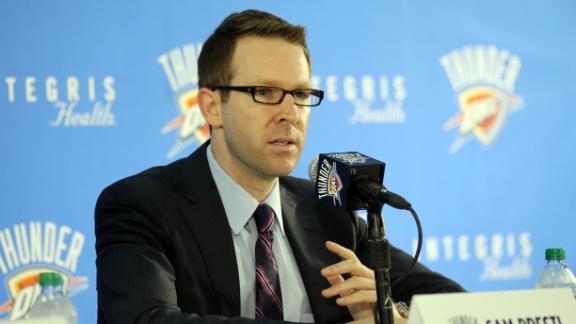 There's talk that the Oklahoma City Thunder possibly would trading Kevin Durant before he leaves in free agency. Thunder general manager Sam Presti has dismissed it. But should he be worried about losing the reigning NBA MVP?
Derrick Rose is quite the sports figure in Chicago: a native son who was supposed to lead his hometown team to its first title since the Michael Jordan era.
But injuries have gotten in the way, most recently a meniscus tear that has set back his season and has certainly hurt the Bulls' prospects in a year many believed they'd be right near the top.
Recently, Chicago artists David Beltran and Brendan Carroll put up this mural and collection of items as something of a memorial for their fallen star (they also held a vigil for him Sunday afternoon):
That is some bold imagery for a basketball player who is still alive, just hurt, and whose career has not been deemed over.
To talk about the mural -- and to address some of the concerns -- Beltran joined ESPN 1000 in Chicago on Monday:
Does Beltran consider the crown-of-thorns mural, which was put up beneath Interstate 90 in Chicago's Bucktown neighborhood, blasphemous?
"To be honest, not really," he said. "For us it was a lighthearted tribute [especially because] when you go on the Internet, people are just sitting behind their computers saying whatever they want.
"We really didn't think about it as far as offending anyone; as far as legalities go, [it's] freedom of speech.
"It's a big deal. It's the third injury, it's a big deal for our city. I had really thought this was our year and I think everyone could agree on that."
UPDATE: Rose, speaking to reporters before the Bulls' game Monday night, was far from offended (he had not heard about it before he was asked).
"How can I be mad, or upset or devastated about anything?" Rose said. "I know I've got people out there that really love me and really care about me as a person."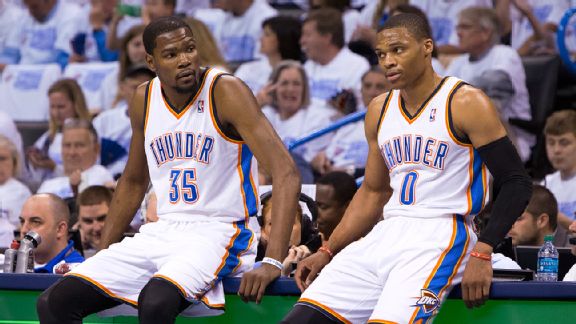 Richard Rowe/NBAE/Getty Images
Unless you've been separated from all technology for the past month, you're aware that Russell Westbrook is on an absolute tear -- five triple-doubles in six games, to be exact. But what you might not be aware of is that NBA analyst and former NBA executive Tom Penn thinks Westbrook's hot streak could have Oklahoma City Thunder management thinking about moving Durant next season:
"I think this burst from Westbrook makes it much more likely that Durant ultimately gets traded next year. ... Sam Presti has proven that he does not ever want to lose anybody for nothing. So he traded James Harden a year early to avoid a potential luxury tax problem a year later.
"The Kevin Durant drumbeat next year is going to be so loud because he will not commit early to Oklahoma City contractually because the rules are against that. He can't get the same contract if he signs early as if he just goes to free agency and resigns.
So if Sam Presti doesn't get that commitment, he'll look to to trade Kevin Durant. And looking at the performance of Westbrook and the team around Westbrook will make it easier for him to do that potentially."
Click here to listen to Penn's full appearance on "The Herd with Colin Cowherd."