SportsNation Blog Archives

Boxing
Most everyone who watched Floyd Mayweather fight Canelo Alvarez agreed that Mayweather won the fight easily, unless you count all those punches Alvarez threw that hit Mayweather's shoulder or gloves to be somehow worth something. Judge C.J. Ross, however, had the fight as a draw -- a decision so out of line with reality that she's stepping down from being a judge indefinitely. Good officiating is paramount in boxing, where anything less than objective judgment can damage fans' perceptions of the entire sport. Given the reaction to Ross' decision, it might be difficult for any fight she judges in the future to be taken seriously.
---
Bad judgments?
This isn't the only time Ross was involved in a controversial decision. She was one of two judges who gave Timothy Bradley a win over Manny Pacquiao last summer.

Here's a sampling of what readers had to say in our Facebook conversation on the story:
Christian Saporita: "Shes Human... she made a mistake at HER job... Im not going to judge the woman at her workplace. She is take the necessary steps to get her back on track. Good for her and best of luck."
Pedro Castilla: "The Mayweather vs. Canelo score was absurd, but Bradley defeated Pacquiao."
Rafael Orduna: "All the better. Bradley DID NOT beat Pacquaio; one of the biggest robberies in boxing."
Bill Young: "I'm sick of these judges ruining both MMA and boxing. Every single event there's at least one fight judged so poorly that it's unbelievable. It's really not all that hard to tell who's winning a fight, most of the time. I'm okay with disputable calls in very close fights, but this woman has proven in two fights in a row that she doesn't have any business judging a fight."
Damien Biro: "I gave Alvarez three rounds. And that was because nothing happened in those rounds. When in doubt I think the champion gets the round. But even I was being generous. From round 5-11 mayweather easily won every round. I still think Bradley over Pacman was a worse decision because I thought Bradley won at most two rounds even after watching it again."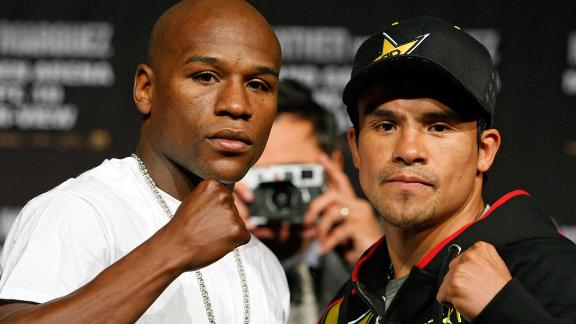 When Floyd Mayweather Jr. fights, he puts on a show. Although the undefeated boxer isn't known for his knockout ability, fans tune in to see his speed and endurance. They want to see the five-division world champion wear down his opponents over a course of a fight and assert his dominance over them. Which fight did Mayweather Jr. have it all come together and perform the best in? Chick the images below to set your rankings!


Mayweather's best performances

Vs. Corrales

Vs. Corrales
Floyd Mayweather Jr. TKO 10 Diego Corrales
Jan. 20, 2001

Vs. Alvarez

Vs. Alvarez
Floyd Mayweather Jr. MD 12 Canelo Alvarez
Sept. 14, 2013

Vs. Hernandez

Vs. Hernandez
Floyd Mayweather Jr. RTD 8 Genaro Hernandez
Oct. 3, 1998

Vs. Hatton

Vs. Hatton
Floyd Mayweather Jr. TKO 10 Ricky Hatton
Dec. 12, 2007

Vs. Marquez

Vs. Marquez
Floyd Mayweather Jr. UD 12 Juan Manuel Marquez
Sept. 19, 2009

Vs. De La Hoya

Vs. De La Hoya
Floyd Mayweather Jr. SD 12 Oscar De La Hoya
May 5, 2007

Vs. Cotto

Vs. Cotto
Floyd Mayweather Jr. UD 12 Miguel Cotto
May 5, 2012

Vs. Castillo II

Vs. Castillo II
Floyd Mayweather Jr. UD 12 Jose Luis Castillo
Dec. 7, 2002

Vs. Manfredy

Vs. Manfredy
Floyd Mayweather Jr. TKO 12 Angel Manfredy
Dec. 19, 1998

Vs. Gatti

Vs. Gatti
Floyd Mayweather Jr. RTD 6 Arturo Gatti
June 25, 2005

Vs. Guerrero

Vs. Guerrero
Floyd Mayweather Jr. UD 12 Robert Guerrero
May 4, 2013

Vs. Mosley

Vs. Mosley
Floyd Mayweather Jr. UD 12 Shane Mosley
May 1, 2010
Your Rankings
1.

2.

3.

4.

5.

6.

7.

8.

9.

10.

11.

12.

What's next for Floyd Mayweather?
Saturday night's matchup between Floyd Mayweather and Canelo Alvarez went a lot like pretty much every other fight Mayweather has fought -- Alvarez was unable to make anything resembling contact with Mayweather while Mayweather landed enough combinations to make it clear to everyone (save for one judge) who won the fight. Mayweather has his pick of who to fight next as his career enters its next phase, but at this point, it doesn't seem like anyone in his weight class could offer him a challenge.
ESPN.com's boxing brain trust has some up with a list of the 10 greatest boxers of all time. Let the arguments begin! Click on the images to set your rankings. Someone missing from the list? Sound off in the conversation below!

Greatest Boxers of All Time

Muhammad Ali

Henry Armstrong

Jack Dempsey

Roberto Duran

Harry Greb

Jack Johnson

Sugar Ray Leonard

Joe Louis

Floyd Mayweather Jr.

Sugar Ray Robinson

AP PhotoThe ''Rumble in the Jungle'' resulted in a knockout of George Foreman by Muhammad Ali.

Favorites get that way in boxing for a reason -- they've proven time and again their ability to take on all comers. Sometimes, however, things don't go quite as planned. It's why they actually have the fights -- you never know what will happen, and that can produce some of the most legendary matches in boxing history. We've come up with a list of the best upsets of all time. Which do you think is the greatest?

Boxing's greatest upsets

Corbett beats Sullivan

James J. Corbett KO21 John L. Sullivan, Sept. 7, 1892

---

Braddock beats Baer

James J. Braddock W15 Max Baer, June 13, 1935

---

Schmeling beats Louis

Max Schmeling KO12 Joe Louis, June 19, 1936

---

Turpin beats Robinson

Randy Turpin W15 Sugar Ray Robinson, July 10, 1951

---

Clay beats Liston

Cassius Clay TKO6 Sonny Liston, Feb. 25, 1964

---

Ali beats Foreman

Muhammad Ali KO8 George Foreman, Oct. 30, 1974

---

Spinks beats Holmes

Michael Spinks W15 Larry Holmes, Sept. 21, 1985

---

Leonard beats Hagler

Sugar Ray Leonard W12 Marvin Hagler, April 6, 1987

---

Douglas beats Tyson

Buster Douglas KO10 Mike Tyson, Feb. 11, 1990

---

Foreman beats Moorer

George Foreman KO10 Michael Moorer, Nov. 5, 1994

---
BEST OF THE BEST
Best triple-double?
Who had the best triple-double -- Michael Carter-Williams, or Victor Oladipo? Cast your votes! »