SportsNation Blog Archives

Charlotte Hornets
By
Joe DeMartino
| ESPN.com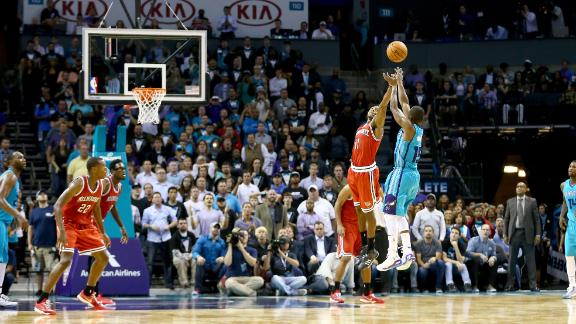 Kemba Walker's last-minute shot to lead the Hornets to an overtime win over the Bucks was pretty sweet, but look at how Michael Jordan reacted to it from the sidelines:
That's exceptional. We can't think of many better ways to start off a season -- at least for Hornets fans.
We know the images of sports well, through awe-inspiring photographs and embedded-in-our-brains highlights.
This artist, though, is looking at the athletes and coaches we love a little differently. Well, OK, a lot differently. With some of the most minimalist sports portraits you'll find, Instagram user @lessonsinsport allows us to see big stars in quite a different light.
Check out our favorites:
Barry Sanders
Jim Harbaugh
Kareem Abdul-Jabbar
Muggsy Bogues
Steve Spurrier
Getty Images
Favorites in NBA's East?
Less than a week into the NBA's official free agency, nearly all of the big names have made their decisions. And while the Western Conference saw little movement, the East saw some deals that will certainly shake things up.
LeBron James, in case you hadn't heard, left the Miami Heat for the Cleveland Cavaliers. The Heat, though, kept Chris Bosh and Dwyane Wade, and added Luol Deng in the process. The Chicago Bulls picked up Pau Gasol and brought over Montenegro-born Nikola Mirotic from Spain to team with a (presumably) healthy Derrick Rose. And the Indiana Pacers on Wednesday saw Lance Stephenson go to the new-look Charlotte Hornets. (Also, let's not forget about Carmelo Anthony staying with the New York Knicks and Jason Kidd leaving the Brooklyn Nets to coach the Milwaukee Bucks.) Naturally, there are a lot of questions ...
Getty Images

Your NBA playoff predictions?

The NBA playoffs are underway, and they're even more competitive than expected. Which teams will go on to win their first-round series? Cast your votes below!

More: Rank the playoff teams!