SportsNation Blog Archives

Michael Vick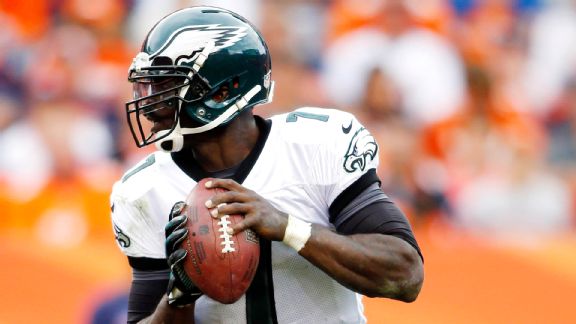 Chris Humphreys/USA TODAY Sports
NFL's most disliked player?
Michael Vick still hasn't been able to shake his association with a dogfighting ring, as he's been named the NFL's most disliked player in a Forbes.com fan survey. More than half of NFL fans surveyed had a negative view of Vick, putting him ahead of players like disgraced safety Manti Te'o and weekly fine risk Ndamukong Suh. Surveying the list, the secret to staying off it seems to be: Don't get in legal trouble, don't be awful, don't have too much success and don't have a reputation as a whiner or malcontent. Simple, really.
Howard Smith/US Presswire

NFL Week 7 -- Cowboys at Eagles

Do we already have a two-team race in the NFC East? It appears so, with the Dallas Cowboys and Philadelphia Eagles entering the week at 3-3 and the other two squads combining for one win. Not that the contenders are tearing it up, exactly, and things might get tougher for Dallas if DeMarcus Ware misses a lot of time. Philadelphia itself will be missing a key player (Michael Vick), but backup QB Nick Foles proved pretty effective last week against the Tampa Bay Buccaneers.

Power shift in the NFC East?

Before the season, experts and voters alike liked either the Washington Redskins or New York Giants to claim the NFC East title. Three weeks in, neither has won a game. Washington fell 27-20 to the Detroit Lions at home Sunday. The Giants were embarrassed by the Carolina Panthers 38-0. Meanwhile, the Dallas Cowboys hammered the St. Louis Rams 31-7, meaning America's Team owns twice as many victories as the rest of its division combined. Will the current standings hold?

What to make of Chiefs & Eagles?

If Andy Reid wanted revenge, he kept it pretty quiet before Thursday night's return to Philadelphia. During the game, though, his new team didn't exactly go easy on the Eagles. Don't be fooled by that 26-16 score; the game was rarely in question, as the Kansas City Chiefs all but breezed to 3-0 -- surpassing last season's win total -- while sending the Eagles to 1-2. Should Philly be feeling remorse? What will become of these two teams?

Eagles start fast, hold on

Fast? That word was often associated with the Chip Kelly's new Philadelphia Eagles offense before Monday night's game against the Washington Redskins, and it certainly didn't disappear early on. That's because the Eagles jumped to a 33-7 lead thanks to LeSean McCoy's running, Michael Vick's throwing and the defense's dominance of the Robert Griffin III-led team (whose first score came on a fumble return). Washington didn't roll over; it was an onside kick away from having a chance to win. But so far, so good for the new-look Eagles. As for RG III? He might need some time to get un-rusty.