SportsNation Blog Archives

Buffalo Bills
You know how the NFL goes: One shouldn't assume anything. But -- despite losses by the Indianapolis Colts and Kansas City Chiefs on Sunday -- the top five playoff spots in the AFC have seemed locked up for some time. That last berth, though? The race continues to be heated. Six teams (New York Jets, Miami Dolphins, Pittsburgh Steelers, Baltimore Ravens, Tennessee Titans and San Diego Chargers) currently are tied for that position, with 5-6 records. Three (Buffalo Bills, Cleveland Browns, Oakland Raiders) trail by just one game. Of those nine teams, which is most likely to make the playoffs? Least likely? Click on the images below to set your rankings!


AFC wild-card contenders
Bills
Browns
Chargers
Dolphins
Jets
Raiders
Ravens
Steelers
Titans
Your Rankings
1.

2.

3.

4.

5.

6.

7.

8.

9.

September 18, 2013
Sep
18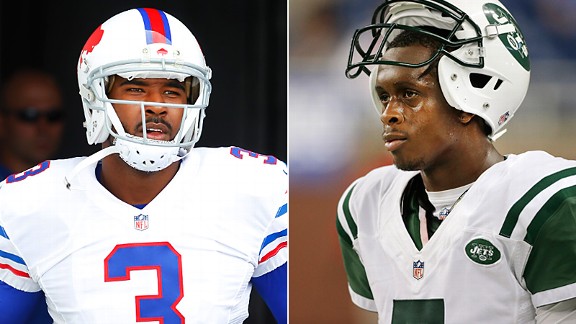 AP Photo
NFL Week 3: Bills at Jets
The winner of the Jets-Bills game in Week 3 will cling to the belief they have a shot at winning the AFC East. The loser will secure a familiar position in the bottom of the standings. Each team is led by a rookie quarterback who has shown flashes of what makes a starting quarterback a lasting one, but which will come out on top in this game? And is this the most intriguing quarterback matchup of the week?
Red Sox rout Tigers with 8 HRs

A lot happened in last night's 20-4 Red Sox win over the Tigers. David Ortiz got his 2,000th career hit. The Red Sox blasted eight home runs. Shane Victorino dove into the stands to catch a ball, and then courteously returned a phone a fan had dropped on the field. Most importantly, the balance of power between the Red Sox and Tigers may have been irrevocably altered. We'll see how much of Boston's offensive outburst carries over when it heads to New York to take on a suddenly resurgent Yankees team.

Smith, Manuel named starters

Two AFC East teams will sport different looks at quarterback in Week 1 of the 2013 season. The Bills have officially named EJ Manuel their Week 1 starter, while the Jets will be going with Geno Smith in place of the injured Mark Sanchez. Both teams have struggled to find long-term solutions at quarterback, so there's a lot of pressure on both Manuel and Smith to at least be competent, much less excel.

Greg M. Cooper/US Presswire

AFC East Preview -- 2013

Another year, another New England Patriots romp through the AFC East? Perhaps ... or perhaps things will change, after Bill Belichick, Tom Brady & Co. lost top receivers Wes Welker and Brandon Lloyd, saw Rob Gronkowski struggle through injury, and all involved dealt with the fallout from the shocking Aaron Hernandez situation. Most likely to challenge? Perhaps those Miami Dolphins, who made a big splash in free agency as they aim to emerge from their recent malaise. Speaking of malaise, how about them Jets?

More: NFC East | NFC North | NFC South | NFC West | AFC North | AFC South | AFC West

SportsNation

SportsNation


Congrats to WK13 Dat Dude's Dudes Star Lotulelei, @Gilberry92, Karl Klug, @Jurrellc, & @Smith_AU24! http://t.co/34mTXrMpUP
about 11 hours ago

marcelluswiley

Marcellus Wiley


Shout out to my Dat Dude's Dudes for Week 13: Star Lotulelei, @Gilberry92, Karl Klug, @Jurrellc and Ryan Smith.
about 12 hours ago

SportsNation

SportsNation


We've got @2chainz on the show tomorrow! Make sure to tune-in 3PM ET http://t.co/j4gBjE1oOz
about 13 hours ago

SportsNation

SportsNation


We're talking Ellsbury & showing the best #YankeesSignNext tweets. ESPN2 now!
about 14 hours ago

SportsNation

SportsNation


Keep 'em coming, best air on ESPN2 at 3 ET - RT @NY_Giantsrock #YankeesSignNext Willy "Mays" Hayes http://t.co/OtqlqEog9W
about 14 hours ago

SportsNation

SportsNation


RT @ScottEngelhorn: #YankeesSignNext Henry Rowengartner in his prime @SportsNation http://t.co/q788g2IIm5
about 15 hours ago

SportsNation

SportsNation


We still want your funnest choices for who #YankeesSignNext. Use hashtag; we'll RT our favorites and may use some on the show!
about 16 hours ago

kevinwildes

Kevin Wildes


The exclamation point is worrisome - Kobe Bryant Dunks in Practice!: http://t.co/htCBIIg40y via @youtube
about 16 hours ago

kevinwildes

Kevin Wildes


RT @sydbrownstone: Amazing: Scientists can now predict outbreaks of the flu in most American cities 9 weeks in advance. http://t.co/SbMJkD3…
about 18 hours ago

SportsNation

SportsNation


RT @bigwoody0008: #YankeesSignNext Yankees bring Brett Favre out of retirement @SportsNation http://t.co/hY8CAB8ml2
about 19 hours ago

SportsNation

SportsNation


We still want your funnest choices for who the #YankeesSignNext. Use hashtag; we'll RT our favorites and may use some on the show!
about 20 hours ago

SportsNation

SportsNation


FEED US MORE !! RT @TheRealMrBeach #YankeesSignNext baseketball stars Joe and Doug! http://t.co/D41zeAMs5C
1 day ago

SportsNation

SportsNation


RT @Lil_Phil02: #YankeesSignNext Cirque De Soliel http://t.co/c1qK3ohYEi
1 day ago

SportsNation

SportsNation


RT @PorcelainJesus: @SportsNation SpongeBob #YankeesSignNext http://t.co/BpEk3hsiYq
1 day ago

SportsNation

SportsNation


RT @JGRAD99: President Barack Obama #YankeesSignNext http://t.co/dTk7kH6Ua9
1 day ago

SportsNation

SportsNation


KEEP THEM COMING!! RT @SportAnding #YankeesSignNext Home Run Homer! http://t.co/usuiYe1aex
1 day ago

SportsNation

SportsNation


RT @Juiceman2311: #YankeesSignNext Bucky Lagrange http://t.co/x1L5KzQl7C
1 day ago

SportsNation

SportsNation


RT @amthony189: #YankeesSignNext Macklemore! http://t.co/NkQ5rLcqRK
1 day ago

SportsNation

SportsNation


RT @CHARLIECHEAPASS: #YankeesSignNext chalky studebaker http://t.co/0Dhrots0Tf
1 day ago

SportsNation

SportsNation


RT @kohny_2013: #YankeesSignNext Kanye @SportsNation http://t.co/j8eT41K3tj
1 day ago

BEST OF THE BEST

Best triple-double?

Who had the best triple-double -- Michael Carter-Williams, or Victor Oladipo? Cast your votes! »