SportsNation Blog Archives

Pittsburgh Steelers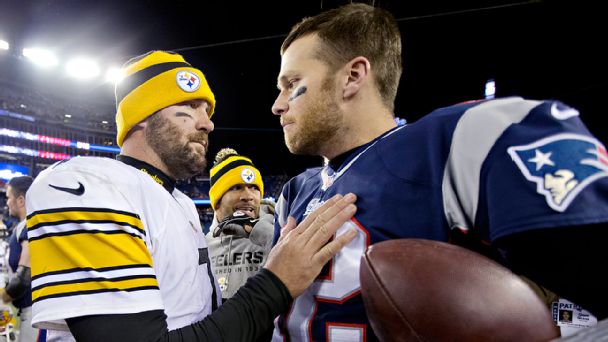 Matthew J. Lee/Getty Images
Big days for Ben and Brady
Sunday was a big day for multiple Super Bowl-winning quarterbacks from the AFC. Tom Brady went 30-for-35 with 354 yards and five touchdowns in the New England Patriots' 51-23 win over the Chicago Bears. Ben Roethlisberger had an even more memorable day, becoming the first QB in NFL history to notch a second 500-yard passing game (he went 40-for-49 with 522 yards and six touchdowns in a 51-34 win over the Indianapolis Colts). Not bad for a pair of players whose teams were considered done just weeks ago.
AP Photo/Denis Poroy

NFL Week 2 questions

The NFL's second week has come and gone, and both Washingtons made big news. The D.C. version saw its team lose quarterback Robert Griffin III to an ankle injury -- but win in big fashion anyway behind Kirk Cousins. The team from the state of Washington, meanwhile, was stunned in a 30-21 loss to the Chargers, with cornerback Richard Sherman being called out by San Diego players. What do you make of the week's major storylines?

Thoughts on NFL's opening week?

The NFL is back! On the first Sunday, some teams (San Francisco 49ers, Denver Broncos) won as expected, others (New Orleans Saints, New England Patriots) suffered surprising defeats, and a few more (Dallas Cowboys, Kansas City Chiefs) were downright demoralized. On Monday, the Detroit Lions grabbed the headlines by routing the New York Giants. What's your take on some of the major questions from Week 1 action?

Getty Images

Your 2014 NFL predictions?

The 2014 NFL season kicks off Thursday night, with the Super Bowl-winning Seattle Seahawks hosting the Green Bay Packers in the first of what should be many intriguing games in this wide-open league. What will happen this year? Read our experts' NFL preview, then cast your votes below!

More: Predict: Over/unders | Your Power Rankings? | Rank: #NFLRank top 20

Steelers to keep Polamalu

Loyalty usually isn't a two-way street in professional sports, but the case of Troy Polamalu and the Steelers may be an exception to that rule. Despite needing to create salary-cap space, the Steelers will not release Polamalu, citing the Rooney family's loyalty to the veteran safety. Polamalu has essentially been the face (and hair) of the Steelers' franchise since being drafted in 2003, and imagining him in a uniform other than Steelers black and gold is almost unthinkable. His production has been declining, however, and given that he'll be 33 this season, the Steelers might end up regretting their otherwise-admirable allegiance to one of their all-time greats.