SportsNation Blog Archives

Indianapolis Colts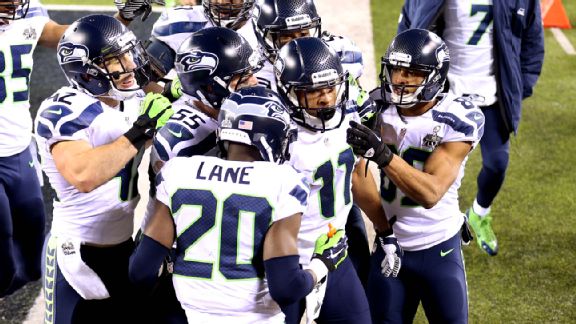 Joe Camporeale/USA TODAY SportsWhere do the Seahawks rank among the past 10 Super Bowl champions?
They didn't own the regular season; 13-3 is a fine record, sure, but not one for the history books. However, the way the Seattle Seahawks ended their campaign was something to behold. Basically dominating from the first play from scrimmage, Pete Carroll's team smashed the Denver Broncos 43-8 in Super Bowl XLVIII, allowing them to join the list of NFL champions in style. Does this make them the best title winner from the past 10 seasons? Click on the images below to set your rankings!
More: Dynasty? | Your grades | Commercials? | Manning's legacy | Rank: QBs


Rank: Past 10 Super Bowl Champs

2013 Seahawks

2013 Seahawks
13-3, beat Broncos 43-8

2012 Ravens

2012 Ravens
10-6, beat 49ers 34-31
2011 Giants

2011 Giants
9-7, beat Patriots 21-17
2010 Packers

2010 Packers
10-6, beat Steelers 31-25
2009 Saints

2009 Saints
13-3, beat Colts 31-17
2008 Steelers

2008 Steelers
12-4, beat Cardinals 27-23
2007 Giants

2007 Giants
10-6, beat Patriots 17-14
2006 Colts

2006 Colts
12-4, beat Bears 29-17
2005 Steelers

2005 Steelers
11-5, beat Seahawks 21-10
2004 Patriots

2004 Patriots
14-2, beat Eagles 24-21
Your Rankings
1.

2.

3.

4.

5.

6.

7.

8.

9.

10.

ESPN Illustration
Trading Places: Brady and Manning
What if Peyton Manning had come up under the coaching of Bill Belichick in New England with Randy Moss and Rob Gronkowski as targets? What if Tom Brady had been drafted in the sixth round by the Colts and formed a bond with Marvin Harrison and Reggie Wayne? Greg Garber reached out to several players and front-office personnel to get their opinions on just how much the coaching and supporting casts have meant to these two quarterbacks. We'll take it a step further and ask you: What if the players stayed put and the coaches switched sides? Cast your votes on all these scenarios and more below.
Getty Images

NFL Divisional Round Pick 'Em!

And then there were eight. With the Cincinnati Bengals, Green Bay Packers and Philadelphia Eagles all falling at home and the Kansas City Chiefs losing a heartbreaker on the road, the matchups are set for the divisional round of the NFL playoffs. And all but one is a rematch, with the San Francisco 49ers (at Carolina Panthers), New Orleans Saints (at Seattle Seahawks) and Denver Broncos (vs. San Diego Chargers) getting a chance to avenge mid- to late-season losses. In the other, a recent playoff rivalry gets rekindled: Indianapolis Colts vs. New England Patriots. Which teams will emerge victorious? What are your conference and Super Bowl picks?

One weekend down, four teams out of the NFL playoffs. Gone are three division champions and a strong wild-card team. How do the final eight squads rank? Did any of the wild-card-round winners move up or down? Click on the images below to set your list!

NFL playoff teams

49ers

49ers

12-4, 2nd in NFC West

Broncos

Broncos

13-3, 1st in AFC West

Chargers

Chargers

9-7, 3rd in AFC West

Colts

Colts

11-5, 1st in AFC South

Panthers

Panthers

12-4, 1st in NFC South

Patriots

Patriots

12-4, 1st in AFC East

Saints

Saints

11-5, 2nd in NFC South

Seahawks

Seahawks

13-3, 1st in NFC West

Your Rankings

1.

2.

3.

4.

5.

6.

7.

8.

Colts, Chargers advance in AFC

In the AFC, wild-card weekend went just as we envisioned, with the Indianapolis Colts falling behind 38-10 and beating the Chiefs anyway, and the San Diego Chargers effectively dominating the Cincinnati Bengals in Ohio. But hey, that's what's so exciting about the NFL. Now the victors move on to the divisional round, in which Andrew Luck's comeback Colts will visit the New England Patriots, while Philip Rivers' surprising Chargers get a chance to beat the top-seeded Broncos in Denver for the second time in five weeks. How will it all go down?

Max_Kellerman

Max Kellerman


.@DanFosterType #yankees staff like a glass half empty/full Rorschach test.
about 15 hours ago

Max_Kellerman

Max Kellerman


.@DanFosterType Pineda (labrum) already throwing 92 w/command, Kuroda was in Cy contention, Tanaka >> Irabu & check Nova's K/BB/IP last year
about 15 hours ago

Max_Kellerman

Max Kellerman


.@moe_1226 @ThyOnlyJon lots of ifs: if CC bounces back, Kuroda holds up another year, Nova puts it all together & Tanaka adjusts to MLB.
about 16 hours ago

Max_Kellerman

Max Kellerman


Health permitting, the #Yankees should pitch, and if he stays healthy, Pineda could be best they've got.
about 16 hours ago

Max_Kellerman

Max Kellerman


Quiet is kept, Pineda could be the key to the #Yankees season. Was ace material at 22, before the injury. http://t.co/Lujszult7A
about 16 hours ago

Max_Kellerman

Max Kellerman


RT @haralabob: I've been watching hoops for a very long time. I can't remember seeing a worse defensive team than this current Lakers squad.
about 18 hours ago

marcelluswiley

Marcellus Wiley


Repping my Clippers with Clipper Darrell on Sportsnation http://t.co/JPRA8ZsAIZ
about 19 hours ago

Max_Kellerman

Max Kellerman


Thanks to @SportsNation I've now had conversations with Dr. J, Yoda, and today, Kermit the Frog. Take that, 8 year old self!
about 23 hours ago

SportsNation

SportsNation


ICYMI: Here is @MichelleDBeadle and Kermit doing the "Arm Flail" https://t.co/V1Yfep5ozn
1 day ago

kevinwildes

Kevin Wildes


This article makes you 10X smarter about the NBA's future - Windhorst: Opting out is wrong move for Melo http://t.co/yXSyQZWlD0 via @espnnba
1 day ago

marcelluswiley

Marcellus Wiley


Check out this video that @raylewis and I did for @niccigilbert back in the days… http://t.co/P71SkGBQlb
1 day ago

SportsNation

SportsNation


Note to UC Santa Barbara fan: You can't yell "COME AT ME BRO!" while running backwards » http://t.co/C23YUll00c
1 day ago

SportsNation

SportsNation


BREAKING: The Knicks met with Phil Jackson about possibly becoming the head coach. Phil Jackson responded: http://t.co/I0hPwYBsle
1 day ago

SportsNation

SportsNation


Lakers GM Mitch Kupchak looking happy as can be watching the Lakers last night and posing with fans. http://t.co/dArPKVSBvK
1 day ago

SportsNation

SportsNation


The Charlotte Hornets have unveiled their sleeved jerseys already. (via @BringBackTheBuz) http://t.co/vAsIvBOrd1
1 day ago

Max_Kellerman

Max Kellerman


RT @MannyPacquiao: "Face Off with @Max_Kellerman: #PacBradley 2" debuts Sat., March 22 at 11:45pm ET/PT on @HBO. http://t.co/4LeCfbadti
1 day ago

kevinwildes

Kevin Wildes


This will be great - TV Review: 'Cosmos' http://t.co/Kv1g3tq72O via @Variety
1 day ago

SportsNation

SportsNation


ICYMI: @joelmchale stopped by the Nation and had a little too much fun - http://t.co/hm0T807kdi
1 day ago

marcelluswiley

Marcellus Wiley


With Joel McHale on @Sportsnation http://t.co/ft7wj6Dobn
1 day ago

marcelluswiley

Marcellus Wiley


Clippers are trying to make sure the Lakers can't go to the clubs in LA anymore #embarrassed
1 day ago

BEST OF THE BEST

Best dancers?

Which fans were better dancers at Tuesday night's Alabama/Kentucky matchup? Vote! »