SportsNation Blog Archives

Clemson Tigers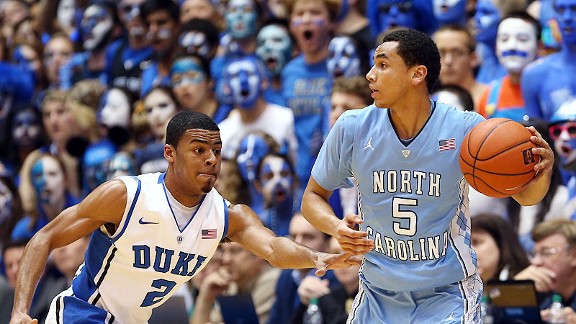 Welcome to the new-look ACC. A strong league got even stronger with the additions of Notre Dame, Pittsburgh and Syracuse now on its roster. Will these former Big East powers dominate in their first season in a new conference? Or will league staples Duke, North Carolina and North Carolina State top the standings? Set your rankings below!
Conference rankings: American | A-10 | Big 12 | Big East | Big Ten | C-USA | Pac-12 | SEC
More rankings: 2013-14 preseason Top 25 | Conferences


2013-14 ACC basketball teams

Boston College

Boston College
2012-13 overall: 16-17
2013 ACC: 7-11


Clemson

Clemson
2012-13 overall: 13-18
2013 ACC: 5-13


Duke

Duke
2012-13 overall: 30-6
2013 ACC: 14-4


Florida State

Florida State
2012-13 overall: 18-16
2013 ACC: 9-9


Georgia Tech

Georgia Tech
2012-13 overall: 16-15
2013 ACC: 6-12


Maryland

Maryland
2012-13 overall: 25-13
2013 ACC: 8-10


Miami

Miami
2012-13 overall: 29-7
2013 ACC: 15-3


North Carolina

North Carolina
2012-13 overall: 25-11
2013 ACC: 12-6


North Carolina State

North Carolina State
2012-13 overall: 24-11
2013 ACC: 11-7


Notre Dame

Notre Dame
2012-13 overall: 25-10
2013 Big East: 11-7


Pittsburgh

Pittsburgh
2012-13 overall: 24-9
2013 Big East: 12-6


Syracuse

Syracuse
2012-13 overall: 30-10
2013 Big East: 11-7


Virginia

Virginia
2012-13 overall: 23-12
2013 ACC: 11-7


Virginia Tech

Virginia Tech
2012-13 overall: 13-19
2013 ACC: 4-14


Wake Forest

Wake Forest
2012-13 overall: 13-18
2012 Big East: 6-12

Your Rankings
1.

2.

3.

4.

5.

6.

7.

8.

9.

10.

11.

12.

13.

14.

15.

Tags:
SportsNation Rank, NCB, Boston College Eagles, Clemson Tigers, Duke Blue Devils, Florida State Seminoles, Georgia Tech Yellow Jackets, Maryland Terrapins, Miami (FL) Hurricanes, North Carolina Tar Heels, North Carolina State Wolfpack, Notre Dame Fighting Irish, Pittsburgh Panthers, Syracuse Orange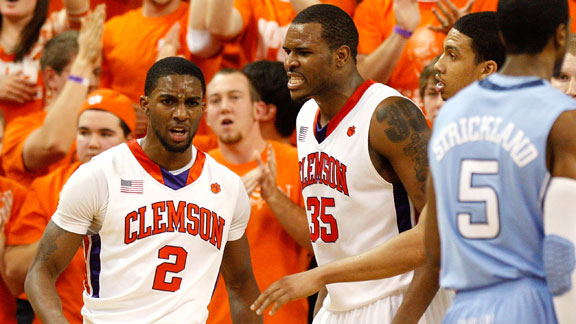 When it comes to celebrating a big win, are you more Barry Sanders or Chad Ochocinco?
Here's the scenario: Clemson routs North Carolina, ending a 10-game losing streak in the ACC not-so-rivalry (the Tigers have never won in Chapel Hill, for what it's worth). As Andy Katz recounts from the scene, Clemson fans storm the court and party it up. One catch. Clemson is ranked No. 19 in the ESPN/USA Today Top 25, all of six spots below the Heels.
The two teams only play once in the regular season, but somehow we don't see fans in Chapel Hill descending from the stands if their team won a return game. So if you're a team that seemingly has every chance to win the conference, should you really want it to seem like you just shocked the world by beating the Tar Heels at your place?
"

Oliver Purnell deserves to have his name on the court at Littlejohn. What he has done at Clemson is amazing. Thank you Oliver. Its been awhile since Rick Barnes left...you helped us forget him.

"

-- Bleedzorange1977
"

The court-storming was unnecessary.

"

-- nailsthesoxfan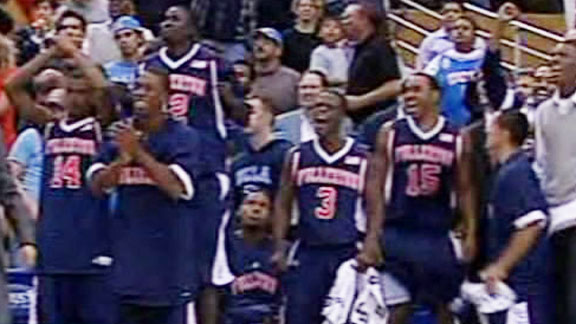 Any day with college basketball on television is a good thing. A day when college basketball is always on television is a great thing. With the march to the Final Four in Indianapolis underway (and the march to San Antonio for the women), ESPN is showing nothing but basketball Tuesday -- 12 games in 24 hours. And that doesn't even include the games going on ESPN2, ESPNU, ESPN360.com and ESPN Mobile. At this point, you've already missed the start of class (and Cal State Fullerton upsetting UCLA) but there's still time to salvage the day.
"

The benefits of working from home!

"

-- usf_football
"

I love the 24 hour marathon -- took Tuesday off from work. Good thing the Monday Night Fooball game is so terrible ... so I can get a nap in after work before the marathon tipoff.

"

-- bh4312
Tags:
Clemson Tigers, Liberty Flames, Northeastern Huskies, Siena Saints, Tulsa Golden Hurricane, Arkansas LR Trojans, Temple Owls, Pittsburgh Panthers, Georgetown Hoyas, Binghamton Bearcats, Louisville Cardinals, Arkansas Razorbacks, Gonzaga Bulldogs, Michigan State Spartans, Northern Illinois Huskies, Illinois Fighting Illini, Duquesne Dukes, Iowa Hawkeyes, Kansas Jayhawks, Memphis Tigers, Texas Tech Lady Raiders, Tennessee Lady Volunteers, Texas Longhorns, Connecticut Huskies