SportsNation Blog Archives

Georgetown Hoyas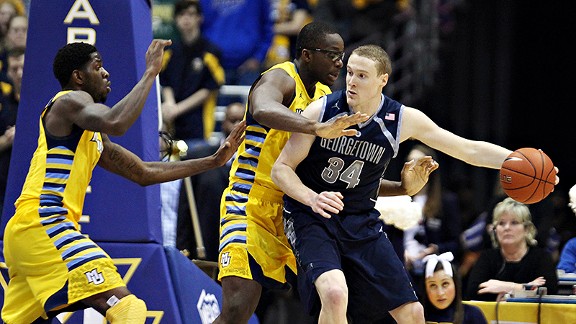 Butler, Xavier and Creighton look to make a new legacy as they've joined seven programs from the old Big East to form the new-look Big East. Will any of the league's newcomers step up and claim the conference title in its first season? Where will holdovers Georgetown and Marquette place? Click the logos below to set your rankings!
Conference rankings: ACC | American | A-10 | Big 12 | Big Ten | C-USA | Pac-12 | SEC
More rankings: 2013-14 preseason Top 25 | Conferences


2013-14 Big East basketball teams

Butler

Butler
2012-13 overall: 27-9
2013 Horizon: 11-5


Creighton

Creighton
2012-13 overall: 28-8
2013 Missouri Valley: 13-5


DePaul

DePaul
2012-13 overall: 11-21
2013 Big East: 2-16


Georgetown

Georgetown
2012-13 overall: 25-7
2013 Big East: 14-4


Marquette

Marquette
2012-13 overall: 26-9
2013 Big East: 14-4


Providence

Providence
2012-13 overall: 19-15
2013 Big East: 9-9


Seton Hall

Seton Hall
2012-13 overall: 15-18
2013 Big East: 3-15


St. John's

St. John's
2012-13 overall: 17-16
2013 Big East: 8-10


Villanova

Villanova
2012-13 overall: 20-14
2013 Big East: 10-8


Xavier

Xavier
2012-13 overall: 17-14
2013 A-10: 9-7

Your Rankings
1.

2.

3.

4.

5.

6.

7.

8.

9.

10.

It was a tall order to study all 74 teams to have won the NCAA basketball tournament over the years and then rank them, but that's exactly what our team of college hoops experts have done. We'll make your job a little easier and just list their top 20 for you to put in order. Click on the logos below to submit your ballot.


Best NCAA tourney champions

Kentucky (2012)

North Carolina (2009)

Florida (2007)

UConn (1999)


Kentucky (1996)

Arkansas (1994)

Duke (1992)

UNLV (1990)

Georgetown (1984)

North Carolina (1982)

Indiana (1976)

NC State (1974)

UCLA (1973)

UCLA (1972)

UCLA (1969)

UCLA (1968)

UCLA (1967)

UCLA (1964)

Ohio State (1960)

San Francisco (1956)
Your Rankings
1.

2.

3.

4.

5.

6.

7.

8.

9.

10.

11.

12.

13.

14.

15.

16.

17.

18.

19.

20.

It's never a good thing when a goodwill game ends in a brawl. The Georgetown Hoyas found that out in a big way on Thursday, fighting with the Bayi Rockets during their goodwill basketball tour of China. Players were hit by chairs, dodged thrown water bottles and were eventually pulled off the court by their coach, John Thompson III. Is this a significant event, or is it just a small hiccup in a long and successful exhibition program?
"I am a St. John's supporter and let me say for the record I have a ton of respect for the Georgetown guys and coach Thompson. What happened to them was terrible. I was impressed by the diplomatic message sent out by Thompson after the game." -- SN commenter NYCFAN76
---
Is this a big deal?
Representatives from the two teams met and exchanged handshakes and other pleasantries, so this incident could simply be confined to the game itself.

---
Just a big misunderstanding?
The Hoyas were briefed by the State Department on what to expect during their overseas trip, but heated exchanges on the court probably weren't in the presentation.

---
Are exhibitions a good idea?
Georgetown has a pretty significant history of playing exhibitions overseas, but is the quality of play worthy of the time, money, travel and energy needed to participate?

2. Which team wins tonight's game at Georgetown? (ESPN, 7 p.m. ET)
Gene Chizik says the time for celebrating a national title is over. We agree, but not because it's time to think about next football season. It's time to think about college hoops, including two Big East showdowns. Louisville visits Villanova on ESPN2 at 7 p.m. ET, but which teams wins between Pitt and Georgetown? Your Power 16?
"I'm not a fan of either team, but how is this sorry excuse for a team, Georgetown, favored by 3 points? My moneys for sure going on Pitt. Pitt will destroy Georgetown." -- SN commenter jasonrjenkins79
3. Which team wins tonight's Big East showdown? (ESPN2, 7 p.m. ET)
With just about half the conference ranked in the Top 25, it's not hard to stumble across a big game in the Big East. But tonight's showdown in South Bend still looks appetizing. Notre Dame lost to Kentucky three weeks ago and could use a win against Georgetown to validate its otherwise spotless 11-1 record. Your Power 16?
"It's winter break, your home court advantage is going to be minimal with most students being home. We also just destroyed Memphis and beat Mizzou and ODU on the road in very hostile environments. ND can't match up against all of Georgetown's weapons. Once again, Georgetown by 15." -- SN commenter jpbufe3
SportsNation

SportsNation


Should Jerry Jones be calling out the Cowboys? ICYMI here is a recap of MNF last night. ESPN2 now. http://t.co/mr3sYIvujY
about 13 hours ago

SportsNation

SportsNation


Here is the current state of the NBA right now. http://t.co/n90SeEeqHO
about 16 hours ago

SportsNation

SportsNation


.@deandrejordan had a bootleg Clippers jersey on last night. http://t.co/VRHmbaO02u
about 16 hours ago

marcelluswiley

Marcellus Wiley


"@marcusstroud99: @marcelluswiley look what I found! http://t.co/8YZALutxY2" $Wow, that's hilarious! Classic!
about 16 hours ago

SportsNation

SportsNation


DeMarcus Cousins might have just created the best offensive foul poster ever (via @SacramentoKings) http://t.co/ryQJR7FA9b
about 17 hours ago

SportsNation

SportsNation


You'd probably win in a blowout too, if this was your inspiration » http://t.co/nCiwfwW8ez
1 day ago

SportsNation

SportsNation


It's a DAMN shame that on a frigid December night, Tony Romo didn't get to serve up his favorite warm dish » http://t.co/rXNZk384rm
1 day ago

SportsNation

SportsNation


Tony Romo is the only player on the Cowboys tonight NOT pulling a Tony Romo... #MindBlown
1 day ago

SportsNation

SportsNation


Bears > Cowboys
1 day ago

SportsNation

SportsNation


To celebrate Bears' domination, here is a picture of Mike Ditka in short shorts » http://t.co/QnGFbO63DM
1 day ago

SportsNation

SportsNation


It SEEMS like Dallas is fielding a defense tonight, but apparently not...
1 day ago

SportsNation

SportsNation


Anyone care to explain why Ditka's number wasn't retired in like 1988 or something?
1 day ago

SportsNation

SportsNation


Mike Ditka jersey being retired…Bears fans be like » http://t.co/0Tmm8668wE
1 day ago

SportsNation

SportsNation


umm.. sooo... Alshon Jeffery = THE TRUTH
1 day ago

SportsNation

SportsNation


Brandon Marshall blocks = BONE CRUSHING
1 day ago

SportsNation

SportsNation


If you're a fan of great, defensive football, you're probably not digging this game too much...
1 day ago

SportsNation

SportsNation


THIS JUST IN: Despite kickoff being 30 minutes away, Tony Romo has already thrown 3 interceptions.
1 day ago

SportsNation

SportsNation


RT @ESPNNFL: In honor of #DitkaDay on @ESPNMondayNight, we present to you our NFL crew, DITKA-IZED!! http://t.co/jy80HtCTEI
1 day ago

kevinwildes

Kevin Wildes


LeBron James likely to start at center for Eastern Conference All-Stars http://t.co/TAv7L52FtL via @basketballtalk
1 day ago

SportsNation

SportsNation


Peyton Manning's preparation is EPIC!! http://t.co/apYRweYHbn
1 day ago