SportsNation Blog Archives

Pittsburgh Panthers
2. Which team wins tonight's game at Georgetown? (ESPN, 7 p.m. ET)
Gene Chizik says the time for celebrating a national title is over. We agree, but not because it's time to think about next football season. It's time to think about college hoops, including two Big East showdowns. Louisville visits Villanova on ESPN2 at 7 p.m. ET, but which teams wins between Pitt and Georgetown? Your Power 16?
"I'm not a fan of either team, but how is this sorry excuse for a team, Georgetown, favored by 3 points? My moneys for sure going on Pitt. Pitt will destroy Georgetown." -- SN commenter jasonrjenkins79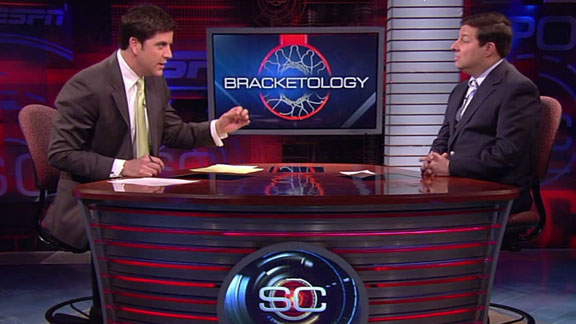 If this was the final week of competition before football bowl season, any discussion of a fifth-place team in the Big East would include names like Meinke Car Care Bowl, PapaJohns.com Bowl or St. Petersburg Bowl. Good times.
Thankfully it's March, which means Rick Pitino's so-so Cardinals have as much as the better part of a week on one of the biggest stages in the sport to vault themselves into national prominence and championship sleeper status. Notre Dame didn't even want a low-level bowl bid by the time its football season wrapped up, but the Fighting Irish will be playing like crazy for the chance to be at least No. 64 when the NCAA tournament comes out.
What we're saying is the Big East tournament is a pretty good gig. And with games on ESPN 360, it beats the heck out of real work. The big dogs (sorry, UConn) don't play until tomorrow, but which team has the best shot to knock off Syracuse?
Timothy (Morgantown)
Assume for a moment that WVU wins the Big East tourney... If that were to happen, then what else would the Mountaineers need to happen in order to move up to a #1 seed in the Big Dance?
Andy Katz

It's an interesting scenario. But the problem is that save the Villanova win it's not like WVA finished without any hiccups, losing to Pitt and Connecticut. I know the Mountaineers beat Ohio State but they did lose to Purdue. WVA is also the No. 3 seed in the Big East. I don't see it. Full transcript
David (CT)
Joe, here's the question that has captivated the country. If Uconn wins 3 are they back in?
Joe Lunardi

Well, David, it may have captivated one state. I think the rest of the country was tired of seeing UConn in my brackets. Three wins gets them back in the conversation. The rest is not knowable at this point. Full transcript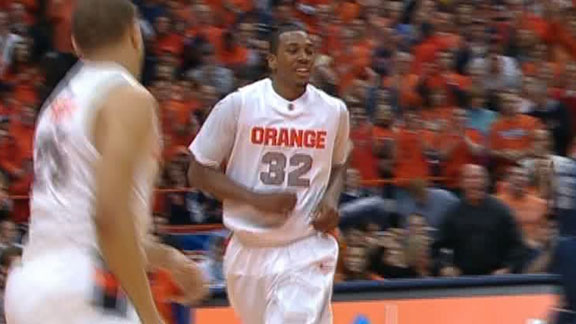 Forget about which team is No. 1; there's not much point arguing that unless unbeaten Kentucky stumbles (and don't count on a trip to South Carolina tonight to do it). The interesting race of the moment is one right out of Joe Lunardi's syllabus. Namely, which teams are on track for No. 1 seeds in the NCAA tournament?
Syracuse staked its claim with a convincing win against Georgetown Monday night, but the fourth-ranked Orange aren't even the Big East's top representatives in the polls. That honor goes instead to No. 3 Villanova, one of four Big East teams ranked in the top 10.
That's good conference prestige -- it might even mean the Big East is better in basketball than the SEC is in football. But could it be bad for Bracketology if Big East heavyweights beat up on each other while teams like Michigan State, Texas and Duke make light work of easier schedules?
By the Numbers (D.C.)
Joe - How is UK the #1 seed overall? Yes, they're undefeated; But I'm a numbers guy -- and I thought you were too. When you look at the numbers (other than win %), there's just no way UK beats out Kansas or Syracuse for the top spot. Check it out: Inside RPI - Syracuse #1; Kansas #2; Kentucky #7SOS - Syracuse #1; Kansas #14; Kentucky #117Top 50 - Syracuse 4-1; Kansas 5-1; Kentucky 2-0Computer ratings also have Syracuse and Kansas at the top, and Kentucky barely scratching the top 10. What gives?
Joe Lunardi

Like it or not, the polls have mattered when it comes to the very top seeds. If the season ended today, there's no doubt in my mind the Committee would install Kentucky as No. 1 overall. And it's my job to replicate what they're going to do.
Ryan (New York, NY)
Assuming both teams maintain themselves over the rest of the Big East, is there any chance that the looser of the Nova vs 'Cuse game could still get a number one seed?
Joe Lunardi

After the Big East got three No. 1 seeds last year, we no better than to disregard any such possibility. Full transcript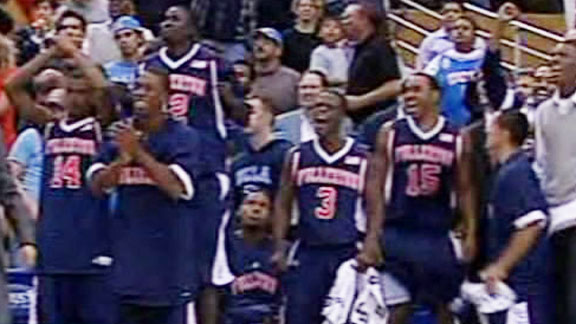 Any day with college basketball on television is a good thing. A day when college basketball is always on television is a great thing. With the march to the Final Four in Indianapolis underway (and the march to San Antonio for the women), ESPN is showing nothing but basketball Tuesday -- 12 games in 24 hours. And that doesn't even include the games going on ESPN2, ESPNU, ESPN360.com and ESPN Mobile. At this point, you've already missed the start of class (and Cal State Fullerton upsetting UCLA) but there's still time to salvage the day.
"

The benefits of working from home!

"

-- usf_football
"

I love the 24 hour marathon -- took Tuesday off from work. Good thing the Monday Night Fooball game is so terrible ... so I can get a nap in after work before the marathon tipoff.

"

-- bh4312