SportsNation Blog Archives

Iowa Hawkeyes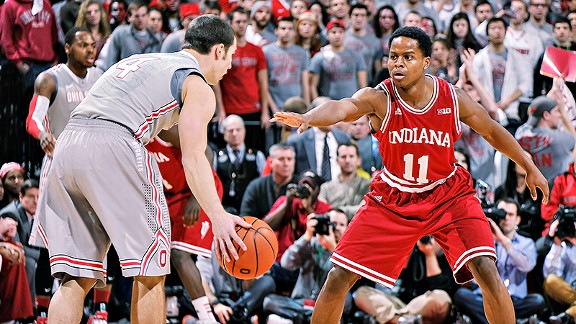 Five teams were within two games of each other for the top spot in the final Big Ten regular season standings -- Indiana, Ohio State, Michigan State, Michigan and Wisconsin. The Hoosiers took the regular season title, but it was the Buckeyes who won the conference tournament. The 2013-14 season looks to be just as competitive, as all but Indiana are ranked in the The AP preseason Top 25. Which team will come out on top this time around?
Conference rankings: American | A-10 | ACC | Big 12 | Big East | C-USA | Pac-12 | SEC
More rankings: Preseason Top 25 | Conferences


2013-14 Big Ten basketball teams

Illinois

Illinois
2012-13 overall: 23-13
Big Ten: 8-10


Indiana

Indiana
2012-13 overall: 29-7
Big Ten: 14-4


Iowa

Iowa
2012-13 overall: 25-13
Big Ten: 9-9


Michigan

Michigan
2012-13 overall: 31-8
Big Ten: 12-6


Michigan State

Michigan State
2012-13 overall: 27-9
Big Ten: 13-5


Minnesota

Minnesota
2012-13 overall: 21-13
Big Ten: 8-10


Nebraska

Nebraska
2012-13 overall: 15-18
Big Ten: 5-13


Northwestern

Northwestern
2012-13 overall: 13-19
Big Ten: 4-14


Ohio State

Ohio State
2012-13 overall: 29-8
Big Ten: 13-5


Penn State

Penn State
2012-13 overall: 10-21
Big Ten: 2-16


Purdue

Purdue
2012-13 overall: 16-18
Big Ten: 8-10


Wisconsin

Wisconsin
2012-13 overall: 23-12
Big Ten: 12-6

Your Rankings
1.

2.

3.

4.

5.

6.

7.

8.

9.

10.

11.

12.

He might be playing for the Detroit Pistons, but that doesn't mean Peyton Siva has forgotten about his old team. On Tuesday, Siva told ESPN.com that the Louisville Cardinals "really aren't missing anything" and will be "better" and "more talented" than the group that claimed the 2012-13 NCAA title. How do the Cardinals stack up against the presumed contenders in 2013-14? Click on the logos below to set your rankings!


College hoops in 2013-14

Kentucky

Louisville

Michigan State

Arizona

Kansas

Duke

Florida

Ohio State

Syracuse

Michigan

Oklahoma State

North Carolina

Wichita State

VCU

Memphis

Marquette

New Mexico

Gonzaga

Baylor

Indiana

Connecticut

Colorado

UCLA

Tennessee

Iowa
Your Rankings
1.

2.

3.

4.

5.

6.

7.

8.

9.

10.

11.

12.

13.

14.

15.

16.

17.

18.

19.

20.

21.

22.

23.

24.

25.

Tags:
SportsNation Rank, NCF, NCF, Kentucky Wildcats, Louisville Cardinals, Michigan State Spartans, Arizona Wildcats, Kansas Jayhawks, Duke Blue Devils, Florida Gators, Ohio State Buckeyes, Syracuse Orange, Michigan Wolverines, Oklahoma State Cowboys, North Carolina Tar Heels, Wichita State Shockers, Virginia Commonwealth Rams, Memphis Tigers, Marquette Golden Eagles, New Mexico Lobos, Gonzaga Bulldogs, Baylor Bears, Indiana Hoosiers, Connecticut Huskies, Colorado Buffaloes, UCLA Bruins, Tennessee Volunteers, Iowa Hawkeyes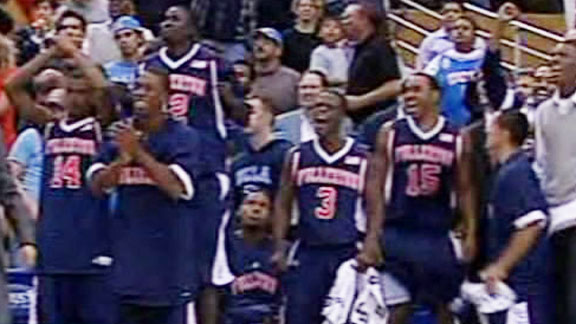 Any day with college basketball on television is a good thing. A day when college basketball is always on television is a great thing. With the march to the Final Four in Indianapolis underway (and the march to San Antonio for the women), ESPN is showing nothing but basketball Tuesday -- 12 games in 24 hours. And that doesn't even include the games going on ESPN2, ESPNU, ESPN360.com and ESPN Mobile. At this point, you've already missed the start of class (and Cal State Fullerton upsetting UCLA) but there's still time to salvage the day.
"

The benefits of working from home!

"

-- usf_football
"

I love the 24 hour marathon -- took Tuesday off from work. Good thing the Monday Night Fooball game is so terrible ... so I can get a nap in after work before the marathon tipoff.

"

-- bh4312
Tags:
Clemson Tigers, Liberty Flames, Northeastern Huskies, Siena Saints, Tulsa Golden Hurricane, Arkansas LR Trojans, Temple Owls, Pittsburgh Panthers, Georgetown Hoyas, Binghamton Bearcats, Louisville Cardinals, Arkansas Razorbacks, Gonzaga Bulldogs, Michigan State Spartans, Northern Illinois Huskies, Illinois Fighting Illini, Duquesne Dukes, Iowa Hawkeyes, Kansas Jayhawks, Memphis Tigers, Texas Tech Lady Raiders, Tennessee Lady Volunteers, Texas Longhorns, Connecticut Huskies