SportsNation Blog Archives

MMA
Demetrious Johnson had one of the best knockouts in flyweight history over Joseph Benavidez in Sacramento and it was enough to move him up a spot to No. 3 in the ESPN MMA pound-for-pound rankings. Jon Jones and Jose Aldo remain Nos. 1 and 2 respectively. Do you agree with the entire list? Click the photos below to submit your rankings.


Pound-for-pound MMA fighters

Jon Jones

Jon Jones
Light Heavyweight
19-1-0
P4P ranking: 1

Jose Aldo

Jose Aldo
Featherweight
24-1-0
P4P ranking: 2

Demetrious Johnson

Demetrious Johnson
Flyweight
19-2-1
P4P ranking: 3

Chris Weidman

Chris Weidman
Middleweight
12-0-0
P4P ranking: 4

Renan Barao

Renan Barao
Bantamweight
32-1-0
P4P ranking: 5

Cain Velasquez

Cain Velasquez
Heavyweight
13-1-0
P4P ranking: 6
Anthony Pettis

Anthony Pettis
Lightweight
17-2-0
P4P ranking: 7
Johny Hendricks

Johny Hendricks
Lightweight
16-2-0
P4P ranking: 8
Chad Mendes

Chad Mendes
Featherweight
16-1-0
P4P ranking: 9

Anderson Silva

Anderson Silva
Middleweight
33-6-0
P4P ranking: 10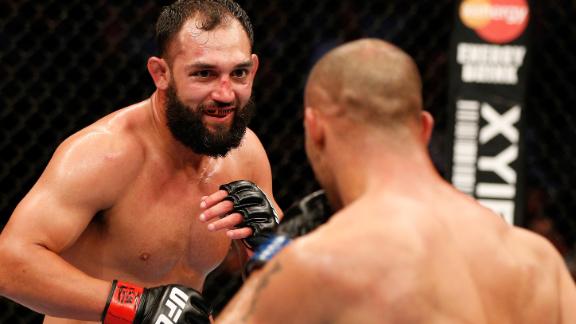 ESPN's Top 10 MMA welterweight rankings are out, with Johny Hendricks standing strong at No. 1. Hendricks is the first non-Georges St-Pierre welterweight champion since 2006, and he'll be hard-pressed to keep his title for nearly as long as GSP did. Did Hendricks' win over No. 2 Robbie Lawler cement his status as the man to beat in the welterweight class, or will Lawler come roaring back? How does your top 10 stack up?


MMA welterweight fighters
Ben Askren
Matt Brown
Carlos Condit
Nick Diaz
Johny Hendricks
Robbie Lawler
Hector Lombard
Rory MacDonald
Tarec Saffiedine
Tyron Woodley
Getty Images
Who would win these MMA fights?
What will 2014 bring in MMA? Brett Okamoto has 10 fights he wants to see. Now, these showdowns aren't certain to go down. But what would happen if they did?
Demetrious Johnson had one of the best knockouts in flyweight history over Joseph Benavidez in Sacramento and it was enough to move him up a spot to No. 3 in the ESPN MMA pound-for-pound rankings. Jon Jones and Jose Aldo remain Nos. 1 and 2 respectively. Do you agree with the entire list? Click the photos below to submit your rankings.

Pound-for-pound MMA fighters

Jon Jones

Jon Jones

Light Heavyweight
19-1-0
P4P ranking: 1

Jose Aldo

Jose Aldo

Featherweight
24-1-0
P4P ranking: 2

Demetrious Johnson

Demetrious Johnson

Flyweight
19-2-1
P4P ranking: 3

Chris Weidman

Chris Weidman

Middleweight
12-0-0
P4P ranking: 4

Renan Barao

Renan Barao

Bantamweight
32-1-0
P4P ranking: 5

Cain Velasquez

Cain Velasquez

Heavyweight
13-1-0
P4P ranking: 6

Anthony Pettis

Anthony Pettis

Lightweight
17-2-0
P4P ranking: 7

Johny Hendricks

Johny Hendricks

Lightweight
15-2-0
P4P ranking: 8

Anderson Silva

Anderson Silva

Middleweight
33-6-0
P4P ranking: 9

Chad Mendes

Chad Mendes

Featherweight
16-1-0
P4P ranking: 10

Chris Weidman successfully defended his UFC middleweight title for the second time by defeating Anderson Silva who suffered a broken leg in the process. With the victory, Weidman moves up to No. 3 in the ESPN MMA pound-for-pound rankings. How far should Silva fall coming off the loss? Click the photos below to submit your rankings.

Pound-for-pound MMA fighters

Jose Aldo

Jose Aldo

Featherweight
23-1-0
P4P ranking: 2

Renan Barao

Renan Barao

Bantamweight
31-1-0
P4P ranking: 5

Benson Henderson

Benson Henderson

Welterweight
19-3-0
P4P ranking: 10

Johny Hendricks

Johny Hendricks

Lightweight
15-2-0
P4P ranking: 9

Demetrious Johnson

Demetrious Johnson

Flyweight
19-2-1
P4P ranking: 4

Jon Jones

Jon Jones

Light Heavyweight
19-1-0
P4P ranking: 1

Anthony Pettis

Anthony Pettis

Lightweight
17-2-0
P4P ranking: 7

Anderson Silva

Anderson Silva

Middleweight
33-6-0
P4P ranking: 8

Cain Velasquez

Cain Velasquez

Heavyweight
13-1-0
P4P ranking: 5

Chris Weidman

Chris Weidman

Middleweight
11-0-0
P4P ranking: 3