SportsNation Blog Archives

UCLA Bruins
UCLA's dominance of college basketball under John Wooden is a big part of of the game's history -- and maybe that's the trouble in Westwood. Butler's Brad Stevens has reportedly joined VCU's Shaka Smart in declining to pursue the vacancy that opened when the Bruins fired Ben Howland after 10 seasons and three Final Four appearances. Is UCLA still a dream job? Or has Wooden's legacy of multiple championships left behind unrealistic expectations?
sscolin123: "UCLA is learning fast that they aren't who they used to be."
Dulcevida50: "UCLA is still a premiere job. The school will always be relevant in college hoop. The area, school, recruiting, it's all great. Expectations are a drawback but that's anywhere. Stevens won't come but they'll get a good coach."
AJAFX7: "Will Brad Stevens and Shaka Smart ever leave? You can only do so much at schools such as theirs. They probably have a school in mind they're willing to leave for. It just hasn't opened up yet."
yoshidawg93: "I love how Stevens and Smart feel like these jobs are downgrades to where they currently are. They could stay at Butler and VCU forever and just be awesome for the rest of ther careers.."
Extreme Kitten Catapult: "Would you rather jumpstart a program with a legacy or create one of your own?."
What do you think? Leave your comments below.
Things are getting ugly in L.A. With the Lakers getting off to a tepid start to the NBA season and USC football's dive from No. 1, many were looking to UCLA and its new talent to get back to the Final Four. If the first six games of the season are any indication, though, that expectation may be a little premature. The latest outing, in which the Bruins blew an 18-point second-half lead and lost to Cal Poly, has UCLA fans questioning coach Ben Howland. What does SportsNation think?
jmagee18@cfl.rr.com: UCLA is SOFT! Howland's style of play is boring on offense and very soft on defense. After a couple of trips to the Final Four UCLA has been nothing since. Howland seems to get great recruits but they never seem to put it together on the court. Team plays with no passion at all.
made4malice: UCLA still getting nothing from Smith. Parker and Anderson don't look ready to contribute right now. Shabazz can't score efficiently. And this team is clearly not in shape if they lose the second half and give up 43 to Cal Poly.
KSeebs22.1: UCLA isn't very good AND they're young. I do think they'll improve as the season goes on, but I question Howland's ability to coach, especially with a team that has some expectations. Losing a lead like this has something to do with skill, but a lot to do with inexperience.
ukrule68: What's the problem with UCLA? Too much talent to struggle like this. Josh Smith & Tony Parker must be in horrible shape if they can't get more action than the Wear twins. I believe that I'd play the 4 freshmen with Drew or Powell and see what happens.
gsquared112: Howland is the guy who couldn't win with Love, Westbrook, Collison, and Mbah a Moute. He was never a good coach. He needed to win this year to save his job. Maybe he and Mike Brown can go coach in the D-League.
Join the conversation or respond by signing in or creating a profile and blogging.
---
It's ... uh ... early?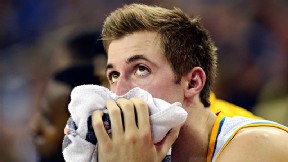 An ugly loss to Cal Poly and an 80-79 overtime win against UC Irvine that Bruins coach Ben Howland called "lucky" hasn't instilled confidence in fans.

---
Will the hot seat get hotter?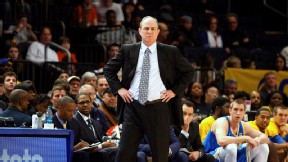 With no Sweet 16 appearances since the 2007-08 season and players such as Tyler Lamb and Brendan Lane jumping ship, how long does Howland have?

---
A Bruins bounceback?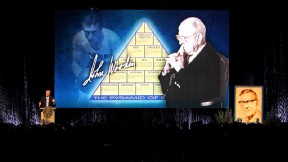 For some schools, just making the NCAA tournament is enough, but with 11 national championship banners hanging from the rafters, expectations will always be high.