SportsNation Blog Archives

North Texas Eagles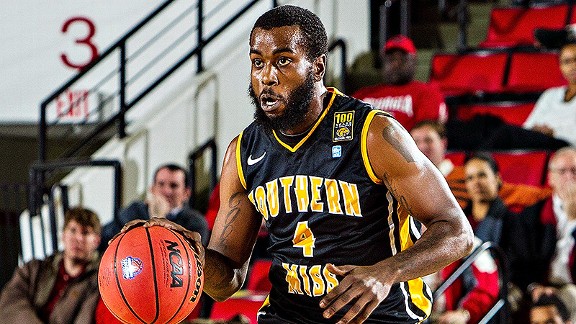 Conference USA underwent a massive overhaul with its best team Memphis leaving for the American Athletic Conference and seven new teams coming in. Will last year's regular-season and conference tournament runner-up Southern Miss take a step forward and be the C-USA's top team? Or will one of the league's first-year teams come out victorious?
Conference rankings: American | A-10 | ACC | Big 12 | Big East | Big Ten | Pac-12 | SEC
More rankings: 2013-14 preseason Top 25 | Conferences


2013-14 C-USA basketball teams

Charlotte

Charlotte
2012-13 overall: 21-12
2013 A-10: 8-8


East Carolina

East Carolina
2012-13 overall: 23-12
2013 C-USA: 9-7


Florida Atlantic

Florida Atlantic
2012-13 overall: 14-18
2013 Sun Belt: 9-11


Florida International

Florida International
2012-13 overall: 18-14
2013 Sun Belt: 11-9


Louisiana Tech

Louisiana Tech
2012-13 overall: 27-7
2013 WAC: 16-2


Marshall

Marshall
2012-13 overall: 13-19
2013 C-USA: 6-10


Middle Tennessee

Middle Tennessee
2012-13 overall: 28-6
2013 Sun Belt: 19-1


North Texas

North Texas
2012-13 overall: 12-20
2013 Sun Belt: 7-13


Old Dominion

Old Dominion
2012-13 overall: 5-25
2013 CAA: 3-15


Rice

Rice
2012-13 overall: 5-26
2013 C-USA: 5-15


Southern Miss

Southern Miss
2012-13 overall: 27-10
2013 C-USA: 12-4


Tulane

Tulane
2012-13 overall: 20-15
2013 C-USA: 6-10


Tulsa

Tulsa
2012-13 overall: 17-16
2013 C-USA: 8-8


UAB

UAB
2012-13 overall: 16-17
2013 C-USA: 7-9


UTEP

UTEP
2012-13 overall: 18-14
2013 C-USA: 10-6


UTSA

UTSA
2012-13 overall: 10-22
2013 C-USA: 3-14

Your Rankings
1.

2.

3.

4.

5.

6.

7.

8.

9.

10.

11.

12.

13.

14.

15.

16.

Tags:
SportsNation Rank, NCB, Charlotte 49ers, East Carolina Pirates, Florida Atlantic Owls, Florida International Golden Panthers, Louisiana Tech Bulldogs, Marshall Thundering Herd, Middle Tennessee State Blue Raiders, North Texas Mean Green, Old Dominion Monarchs, Rice Owls, Southern Miss Golden Eagles, Tulane Green Wave, Tulsa Golden Hurricane, UAB Blazers, UTEP Miners, UTSA Roadrunners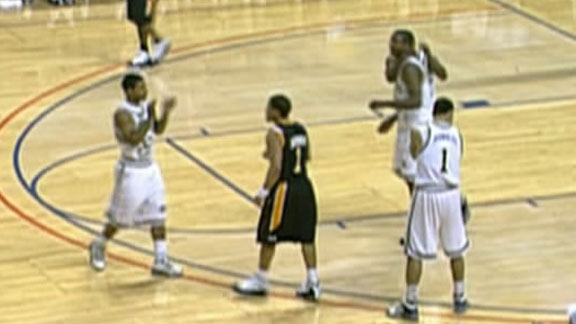 Monday was a good day for bubble teams. Siena and Old Dominion, regular-season champions in the MAAC and CAA, respectively, held off challenges to win conference tournaments and automatic bids to the NCAA tournament. WCC regular-season champion Gonzaga wasn't as kind, losing to Saint Mary's and potentially stealing an at-large bid from a bubble team (although Saint Mary's might have gotten in anyway).
And after spending months compiling a 15-3 record to win the Southern Conference regular-season title, with no at-large hopes in the event of a loss, tiny Wofford had to sweat out the final 20 minutes and a furious Appalachian State rally to earn its place in the NCAA tournament with an automatic bid.
With all the talk about expanding the NCAA tournament field, how about we start by just getting the most deserving teams in the current bracket by rewarding regular-season champions? Or on the flip side, is the drama of Championship Week enough to justify conference tournaments?
"

Aside from the Zags getting a lower seed from this, I think St. Mary's was in, regardless, so there were no bubble spots usurped in this one. Maybe a good wake up for Gonzaga going in to the dance. Always pull for the Zags when we're not playing them. With some 10 spots and 21 teams still in bubble land, those of us there are pulling for a minimum of upsets with the exception of within our own conference tournament.

"

-- datzMRDorsey
"

this is why the auto-bid for winning the conference tourney has got to go. If the NCAA wants to give a team a bid for an entire season of work, ie: winning the regular season title fine. But now St. freaking Marys is stealing a bid from a much more deserving team.

"

-- abe3232
"

Conference Championships are an embarrassment to College Hoops. Teams steal bid from other worthy teams. These Conference tournaments are not meaningful for teams that have already locked up NCAA births. Gonzaga looked like an NIT team tonight.

"

-- Goodtymes
BEST OF THE BEST
Best dancers?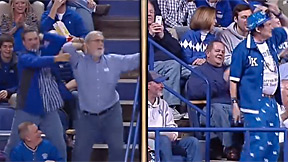 Which fans were better dancers at Tuesday night's Alabama/Kentucky matchup? Vote! »