SportsNation Blog Archives

Oklahoma City Thunder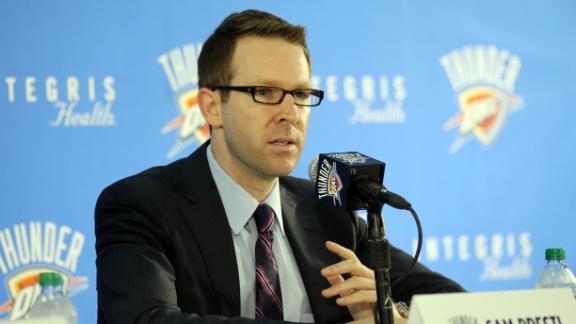 There's talk that the Oklahoma City Thunder possibly would trading Kevin Durant before he leaves in free agency. Thunder general manager Sam Presti has dismissed it. But should he be worried about losing the reigning NBA MVP?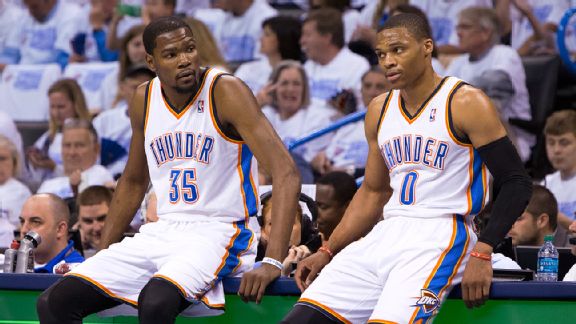 Richard Rowe/NBAE/Getty Images
Unless you've been separated from all technology for the past month, you're aware that Russell Westbrook is on an absolute tear -- five triple-doubles in six games, to be exact. But what you might not be aware of is that NBA analyst and former NBA executive Tom Penn thinks Westbrook's hot streak could have Oklahoma City Thunder management thinking about moving Durant next season:
"I think this burst from Westbrook makes it much more likely that Durant ultimately gets traded next year. ... Sam Presti has proven that he does not ever want to lose anybody for nothing. So he traded James Harden a year early to avoid a potential luxury tax problem a year later.
"The Kevin Durant drumbeat next year is going to be so loud because he will not commit early to Oklahoma City contractually because the rules are against that. He can't get the same contract if he signs early as if he just goes to free agency and resigns.
So if Sam Presti doesn't get that commitment, he'll look to to trade Kevin Durant. And looking at the performance of Westbrook and the team around Westbrook will make it easier for him to do that potentially."
Click here to listen to Penn's full appearance on "The Herd with Colin Cowherd."
Joe Murphy/NBAE/Getty Images
2014-15 NBA schedule released
The 2014-15 NBA schedule is here, with some pretty sweet matchups highlighting the season's big days. The opening-night slate comprises Dallas Mavericks-San Antonio Spurs and Houston Rockets-Los Angeles Lakers. On Christmas, the Cleveland Cavaliers make their first trip to Miami since LeBron James left the Heat, while Western Conference titans Oklahoma City Thunder and San Antonio Spurs square off in Texas. It's all part of a regular season that promises to be compelling.
Durant out of FIBA World Cup

Team USA suffered another high-profile loss Thursday, although this one was decidedly less frightening: Citing "physical and mental fatigue," Oklahoma City Thunder star and reigning NBA MVP Kevin Durant has pulled out of the FIBA World Cup. Paul George, who sustained a horrific leg injury last week, also will miss the Barcelona tournament, the winner of which earns an automatic bid into the 2016 Olympics in Rio de Janeiro.

Ronald Martinez/Getty Images

Spurs move ahead against Thunder

The Spurs returned to their dominant form once again against the Thunder, routing them 117-89 in San Antonio. Can the Thunder recover and force a deciding Game 7?