SportsNation Blog Archives

New York Yankees
The horse head mask has been weirding out the Internet for over a decade, but its dark powers have not yet been harnessed in the realm of sports -- at least, not until now: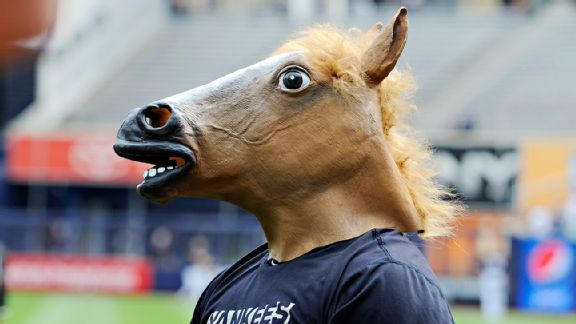 AP Photo/Bill Kostroun
That's Yankees pitcher Shawn Kelley during warm-ups on Saturday, wearing the horse head mask in an attempt to inspire his team. It's even worked, sort of. The Yankees are 5-0 since Kelley started wearing the mask, and though we recognize the volatility of small sample sizes, we really don't want to anger the horse.
"You can't help but laugh at a guy in a horse head," Yankees catcher Brian McCann told Yahoo! Sports, but we beg to differ. You can look at a guy in a horse head and cry. You can look at a guy in a horse head and shudder. You can look at a guy in a horse head and feel terror.
Getty Images
MLB second half predictions?
The MLB's second half is upon us, and only two teams have leads of more than 1.5 games in their respective divisions. In other words, this should get intense. Who will win all the divisions? The leagues? The World Series? Cast your votes below!
Rob Carr/Getty Images

Trout MVP in Jeter's final ASG

Beloved New York Yankees shortstop Derek Jeter helped the American League to a 5-3 All-Star Game win Tuesday night, going 2-for-2 with a double and a run in his final Midsummer Classic. MVP honors, however, went to the almost-undisputed best player in baseball, Mike Trout; the Los Angeles Angels outfielder went 2-for-3 with a double, triple and two RBIs -- including the game-winner. St. Louis Cardinals pitcher Adam Wainwright, meanwhile, stirred some controversy by saying he intentionally took it easy on Jeter (he later walked back a bit on his comments). Did Jeter get snubbed? Do you have a problem with Wainwright?

Tanaka to miss at least 6 weeks

A generally average year for the New York Yankees has been propped up by one major positive: Masahiro Tanaka, the first-year right-handed pitcher with a 2.39 ERA in 18 starts for the hovering-around-.500 team. But bad news hit hard this week, as Tanaka first was put on the 15-day DL, then was determined to need at least six weeks off with a partially torn elbow ligament. The $175 million man might even eventually need Tommy John surgery if rehab does not fix the issue. What does this mean for the suddenly struggling franchise?

Cano returns to Yankee Stadium

Robinson Cano is set to return to Yankee Stadium tonight, and though both his current and former teams have been outscored by eight runs this season, their relative positions are quite different. The Yankees find themselves atop the AL East, while the Mariners are struggling in the AL West. Less generous Yankees fans might end up choosing to remind Cano of that fact tonight, but it might not be particularly fair to boo a player that helped your team win a World Series. You never quite know with the Bleacher Creatures.