SportsNation Blog Archives

Jay Cutler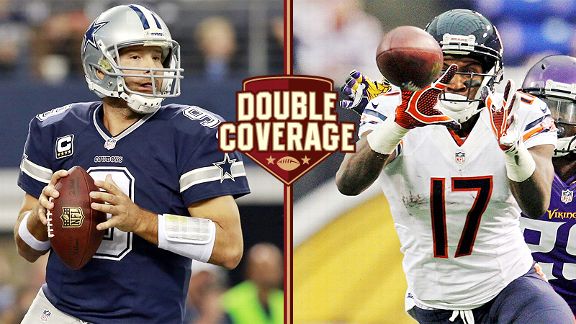 USA TODAY Sports
NFL Week 14 -- Cowboys at Bears
While the NFC West and NFC South might feature the conference's top contenders, the NFC East and NFC North aren't without heated divisional races. That's where these two teams come in: the 7-5 Dallas Cowboys, tied atop the East, and the 6-6 Chicago Bears, one game behind the Detroit Lions in the North. Which team will snag a critical win Monday night?
Ndamukong Suh's crushing sack of Jay Cutler, which briefly sidelined the Bears' quarterback in Chicago's win over the Lions Monday night, was ruled a legal play upon review by the NFL. Suh reportedly won't be fined, but Cutler's teammate Brandon Marshall believes differently. Marshall said on Twitter and ESPN's "First Take" that he thought the hit, in which Suh drove Cutler into the turf with his elbow on Cutler's helmet, was "dirty." Is Marshall right? Or is Suh's reputation, based on his aggressive hits and previous fines, putting a different spin on the play? Discuss and vote!

scampb01: "I am not a fan of either team so my opinion is not biased. I DO NOT LIKE SUH! He had one goal on that take down of Cutler and it was to injure him. There was no need for the 'trip' motion or the 'leg sweep' as Marshall calls it. That was Suh clearly trying to make sure Cutler had no protection as he body slammed him to the ground. Suh already had a firm hold of him to take him down. No need for it man, no need."
Your_A_Clown: "I get the fact that it was legal, no one is arguing that. But dude, really you need to sweep a quarterbacks leg and then drive his head into the ground? Bruised ribs suck, i would hope if cutler needs extra time that they would put in Campbell against a slumping carolina team at soilder. Give him the necessary time to gear up for a rough road ahead after Tennessee."
bodegabudd: "I like Cutler. I like Suh. What was he supposed to do? Two-hand touch him? Pull his flag? Gently set him on the turf? This is still football. Should Suh send him flowers?"
gravydidntdoit: "That was the most violent,"perfectly legal play", I've ever seen."
kdevries57: "Suh is one heck of a player no question. He is nasty, mean and will injure anyone in his way. That play reminded me of Charles Martin's WWF takedown of Jim McMahon, difference of course is Martin's takedown was done after the whistle and Suhs was in the heat of the moment and was a fierce legal play. Suh is like frankenstein in strength and intelligence."
gbum213: "How can you get a roughing the passer penalty on a legal sack??? No helmet to helmet, no horse collar, no facemask...if anything, this play gives credence to Suh when he says he doesn't play dirty, even though I don't necessarily agree with that."



Join the conversation or respond by signing in or creating a profile and blogging.

Jay Cutler's night didn't go all that well against the Packers; he threw four interceptions, was sacked seven times, and had a Total QBR of 4.7, which is ... less than ideal. He even shoved one of his linemen after a particularly frustrating series. Cutler was understandably upset at his linemen (all those sacks will do that do you), but was he a bad teammate for chastising his teammates so publicly?

LambeauorWrigley: "That was a team of contrasts. On defense, Urlacher was pure class. Knee injured. Probably in a lot of pain. Still being a leader and hunting people down and making plays like it was last year. He was the one who lent a hand to pick up Rodgers. Play is over, he is a professional. Then there was Cutler. Let us just say the anti-Urlacher.""
Trouble195488: "If Tom Brady or Peyton Manning yells at a lineman for missing his blocks, that's one thing.....but Jay Cutler has no "cred" to do that....there may just be an Ole' Block (like the matador at a bullfight) in Cutler's future...he should just shut his mouth and play."
ehauge21: "I love how Cutler talks about "getting down early forced us to pass." A 10 point game in the 3rd quarter doesn't force you to pass! The entire 1st half was a dogfight until that fake FG with less than 2 minutes. Why can he never just accept some blame?"
patmandewb: "a QB is only as good as his O line and receivers!"
Paul44071: "Cutler can't blame his line when he holds the ball for 7-10 seconds. What are they supposed to do? They could have won that game last night but Jay Cutler made sure they didn't."

Join the conversation or respond by signing in or creating a profile and blogging.