SportsNation Blog Archives

Stephen Curry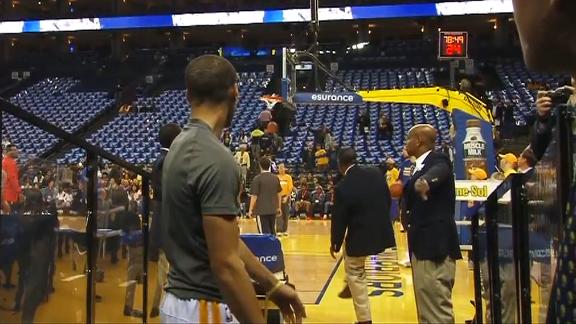 We all know that Stephen Curry is a once-in-a-generation talent as a shooter, but Kevin Durant is going one further -- he thinks Curry might be something much, much more:
Steph any day, best shooter to ever play RT @nickyokoyama: @KDTrey5 You or Steph Curry in a 3-Point Contest?

— Kevin Durant (@KDTrey5) January 23, 2014
High praise indeed from a guy who is treating defenders as something of a minor inconvenience this season. Curry's 3-point shooting percentage is actually down a bit this season, but he's making almost half of his two-pointers, and he is a constant threat to go on a run that will put any game out of reach. It'll be interesting to see if Curry's shooting prowess can translate into the Warriors' first title since 1975.
Durant calls Curry ''best shooter
Getty Images

Love, Curry, Kobe All-Star starters

It will be a contest for the young -- and, in a couple of cases, the old -- when the 2014 All-Star Game tips off in New Orleans on Feb. 16. Or it could be, if everyone is healthy by then. The starters have been unveiled, with four first-time starters -- the Western Conference's Stephen Curry and Kevin Love and the Eastern Conference's Paul George and Kyrie Irving -- joining regulars such as LeBron James, Dwyane Wade, Carmelo Anthony, Kevin Durant and, yes, Kobe Bryant. (Blake Griffin was the other.) Wade and, especially, Bryant earned votes despite fighting through injuries this season. Who didn't deserve the call? Who did but must wait until next Thursday, when the reserves are announced? Cast your votes below!

Rocky Widner/NBAE/Getty Images

Are the Warriors contenders?

Less than a week before Christmas, the Golden State Warriors fell by two to the San Antonio Spurs, dropping the Bay Area's team to a disappointing 14-13. Since? Stephen Curry & Co. have won seven straight, including a comeback over the Los Angeles Clippers on Dec. 25 and -- perhaps their most impressive result of the season -- a 123-114 win at the full-strength Miami Heat on Thursday night. Tom Haberstroh believes the Warriors are more serious contenders (if healthy) than the 25-7 Portland Trail Blazers. What do you make of Mark Jackson's crew?

Rocky Widner/NBAE/Getty Images

NBA 5-on-5: G.S. Warriors

It wasn't long ago that the Golden State Warriors were forgotten everywhere except Oakland. Yet on the back of a surprising run to the Western Conference semifinals, their hopes are as high as anyone's on the left half of the U.S. They added glue guy Andre Iguodala to a core that includes the electric Stephen Curry. Are they really that good? The NBA 5-on-5 guys had their say and now it's time for SportsNation to weigh in.