SportsNation Blog Archives

Bryce Harper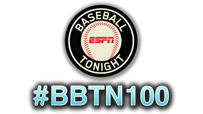 How do the top left fielders in Major League Baseball stack up? That question has been answered by our experts in the latest installment of the "Baseball Tonight" 100 (#BBTN100), a project to rank the top players across all 30 teams. We'll reveal a new position each day and unveil the overall 1-100 rankings March 27.
Do you agree with the experts' take on left fielders? Simply click on the images of the top 10 below to submit your ballot.


Rank: #BBTN100 Left Fielders
Domonic Brown

Domonic Brown
Philadelphia Phillies
BBTN Rank: 10

Yoenis Cespedes

Yoenis Cespedes
Oakland A's
BBTN Rank: 7
Shin-Soo Choo

Shin-Soo Choo
Texas Rangers
BBTN Rank: 5
Carlos Gonzalez

Carlos Gonzalez
Colorado Rockies
BBTN Rank: 2
Carl Crawford

Carl Crawford
Los Angeles Dodgers
BBTN Rank: 9
Alex Gordon

Alex Gordon
Kansas City Royals
BBTN Rank: 4
Bryce Harper

Bryce Harper
Washington Nationals
BBTN Rank: 1
Matt Holliday

Matt Holliday
St. Louis Cardinals
BBTN Rank: 3
Starling Marte

Starling Marte
Pittsburgh Pirates
BBTN Rank: 8
Justin Upton

Justin Upton
Atlanta Braves
BBTN Rank: 6
Your Rankings
1.

2.

3.

4.

5.

6.

7.

8.

9.

10.

Washington Nationals in 2014?
Things didn't go according to plan for the Washington Nationals in 2013. Expected to be one of the best teams in the majors, the Nats struggled so much early that their late playoff push fell short. But it's hard to deny the talent in the nation's capital, with Stephen Strasburg -- who shined in his spring debut Tuesday -- and Jordan Zimmermann leading the rotation and Bryce Harper and Jayson Werth among the team's impressive hitters. Will Washington stay healthy and bounce back under new manager Matt Williams?
Can Nationals make the playoffs?

Remember a few days ago, when the National League playoff picture was all but set -- at least in terms of which five teams would vie for the pennant? Not anymore. The Washington Nationals are soaring, winners of 10 of 11 after their valiant two-game sweep of the Atlanta Braves a day after tragedy struck the nation's capital. The team still sits 4.5 games behind the Cincinnati Reds in the race for the second wild-card spot. But with the kind of talent on the Nats, would it be that surprising if the final 11 games delivered joy to D.C.?

2013 Home Run Derby

Baseballs will fly at the Home Run Derby on Monday night (8 p.m. ET, ESPN), as eight of the game's best sluggers will try to deposit the most batting practice pitches over the outfield wall at Citi Field in New York. Is the Home Run Derby the best skills competition in the universe of All-Star sporting events? Will Orioles first baseman Chris Davis, with 37 homers to his credit in the first half, walk away with the trophy? Vote below!

It's official: Robinson Cano and David Wright have made their six choices, and we have the rosters for this year's Home Run Derby. Missing are big-name bashers such as Miguel Cabrera, Jose Bautista, Paul Goldschmidt and others -- but the field is not without its powerhouses. How do you think they stack up? Click the boxes below to make your picks!

Rank: Home Run Derby participants

Robinson Cano

Robinson Cano

Yankees, 20 HR in 2013.

Yoenis Cespedes

Yoenis Cespedes

Athletics, 15 HR in 2013.

Michael Cuddyer

Michael Cuddyer

Rockies, 15 HR in 2013.

Chris Davis

Chris Davis

Orioles, 33 HR in 2013.

Prince Fielder

Prince Fielder

Tigers, 15 HR in 2013.

Carlos Gonzalez

Carlos Gonzalez

Rockies, 24 HR in 2013.

Bryce Harper

Bryce Harper

Nationals, 13 HR in 2013.

David Wright

David Wright

Mets, 13 HR in 2013.

Your Rankings

1.

2.

3.

4.

5.

6.

7.

8.