SportsNation Blog Archives

MLB
You might recall last week when musician Jack White took in a Chicago Cubs game and looked, um, unhappy.
Well, his tour of baseball sadness continued Tuesday in Detroit, where White was invited to throw out the first pitch before the White Sox-Tigers game. Naturally, he seemed as melancholy as ever when he stepped up ...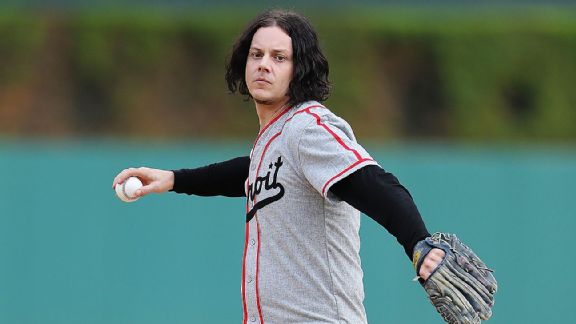 Leon Halip/Getty Images
And threw ...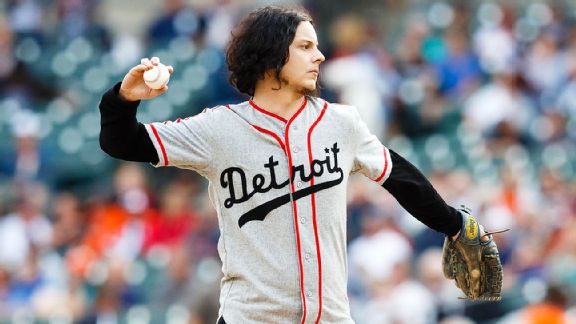 Rick Osentoski/USA TODAY Sports
And this is him before he -- wait. What is that? A SMILE?!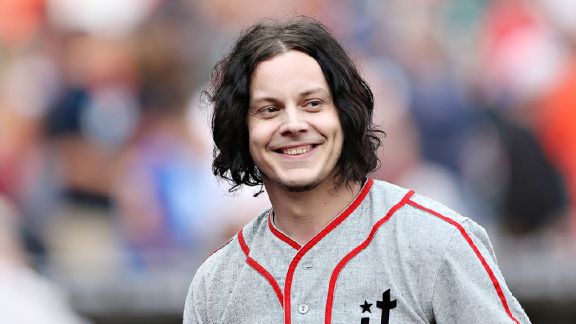 Leon Halip/Getty Images
What in the world could White possibly be happy about? Is it because Detroit is White's hometown? Or might it be, perhaps, because he threw the pitch to Santa Claus?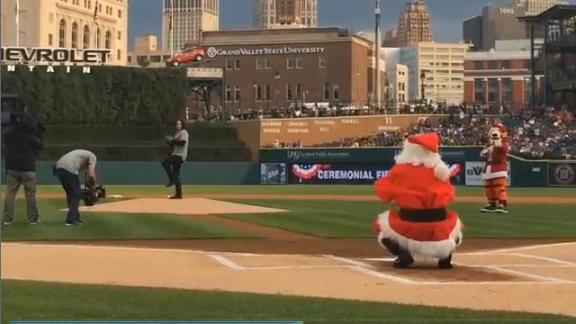 The glee didn't end there, though. Tigers mascot PAWS managed to snag a selfie with St. Nick and White in the tunnel, and:
#PAWSSelfie with Jack White and Santa!! <… pic.twitter.com/lema1KQY3x

— PAWS (@PAWSDetroit) July 29, 2014
We're just never going to get used to Happy Jack White.
ESPN Boston
With the July 31 trade deadline looming and the Red Sox hopelessly out of contention, itâ??s going to be an interesting few days on Yawkey Way.
The Red Sox should be open to dealing anyone for the right return at this point, outside of David Ortiz, Dustin Pedroia and Xander Bogaerts. But for the sake of brevity, weâ??ll look at the 13 players most likely coming up in trade talks.
While here in America we're more concerned with first pitch fails than actually cool commemorative throws, in Japan they had a pretty spectacular idea:

Get actress-slash-martial artist (and not the other way around) Rina Takeda to break 10 cement blocks with her head, then toss out the ceremonial ball before a game between Chiba Lotte Marines and Saitama Seibu Lions.

Check it out:

The throw was underwhelming, but so what? This is easily the best work Takeda's done since starring in "Dead Sushi*."

*Does this mean the sushi we've all been eating might be alive?!?!?!

AP Photo/Jeff Roberson

Tony La Russa in the Hall of Fame?

Three-time World Series champion manager Tony La Russa will be inducted into the Baseball Hall of Fame on Sunday, albeit with some of the same criticisms and questions that surrounded the Hall of Fame campaign of his most prodigious player, Mark McGwire.

There is no debating that La Russa perfected the art of managing in leading three different teams to World Series titles (the A's in 1989, Cardinals in 2006 and 2011) while racking up 2,728 wins, the third-most all time. But 43 percent of those wins came via the likely chemically induced home run output of McGwire -- the same McGwire who has been denied entry into the Hall of Fame by voters who believe his accomplishments are tainted.

La Russa has said he believes steroid-tainted players should be in the Hall of Fame, but with an asterisk, and that managers should perhaps have the same fate. Do you agree?