SportsNation Blog Archives

MLB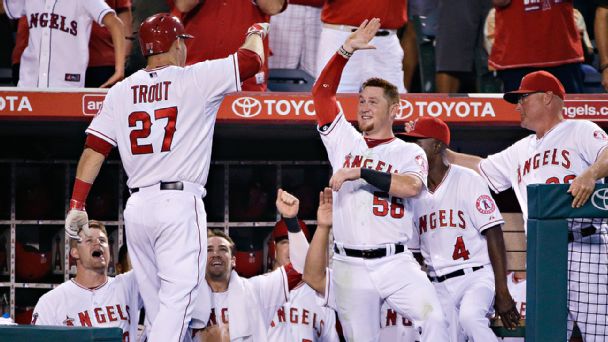 AP Photo/Jae C. Hong
Early MLB playoff predictions
MLB playoff-clinching season is here. The Los Angeles Angels snagged a playoff spot Monday and later locked up the AL West. The Baltimore Orioles and Washington Nationals cemented their respective division titles Tuesday. Meanwhile, it appears the wild-card races are the most competitive, with each league seemingly embroiled in a three-way scrape for two spots. How will it all play out?
Yasiel Puig was pretty upset after striking out swinging in the third inning of last night's game against the Padres. Naturally, he threw his helmet. He then proceeded to demonstrate the difference between an elite athlete in his prime and, say, you and me:

Those are some quick hands he's got there. We love how unfazed Puig is by the whole thing -- as if ridiculous feats of athletic prowess are just everyday occurrences for him, barely worthy of comment. He might not even remember it happening. For us, this was something awesome and memorable, but for Puig (as the line from the classic 1994 film "Street Fighter" goes), it was Tuesday.

Ronald C. Modra/Sports Imagery/Getty Images

Hall vote for Bonds and Clemens?

Pedro Martinez is almost definitely going to be inducted into the Baseball Hall of Fame, and he'd like Barry Bonds and Roger Clemens to join him. Martinez and Clemens were inducted into the Red Sox Hall of Fame on Thursday, along with Nomar Garciaparra and broadcaster Joe Castiglione, where Martinez said that he believes both Clemens and Bonds' numbers before accusations of steroid use against them broke would warrant induction. They're running out of time to pass the 75 percent threshold -- players' eligibility was recently reduced from 15 years to a mere 10.

Jamie Squire/Getty Images

Royals in 1st; playoffs next?

Do not adjust your Internet settings. The Kansas City Royals really are in first place on Aug. 11, after beating the Oakland A's for their eighth straight win -- their 16th win in the past 19 games -- while the Detroit Tigers lost their third in a row. The Royals, in first at the latest point in a season since 2003, once again are aiming to end their nearly three-decades-long playoff drought. The Tigers, meanwhile, were eight games ahead of the Royals less than a month ago and saw their onetime ace leave after just one inning Monday. What will happen?

It started with a couple of kids giving Hunter Pence a good-natured, sign-based ribbing when his San Francisco Giants visited the New York Mets:




The weekend of @hunterpence signs. pic.twitter.com/0d0gm7eik9

— MLB Fan Cave (@MLBFanCave) August 3, 2014

.@hunterpence continues to get OWNED by signs at Citi Field, also continues to crush the ball: http://t.co/ZzsUvfE6tA pic.twitter.com/SbAuPdkTaE

— Cut4 (@Cut4) August 4, 2014




Then, it became an all-out "thing," as other fans followed suit and the hashtag #HunterPenceSigns was born.




The @hunterpence signs keep coming. pic.twitter.com/VRwVSEpgoG

— MLB Fan Cave (@MLBFanCave) August 4, 2014

#HunterPenceSigns are everywhere. It's an epidemic. pic.twitter.com/hiYk46ram1

— MLB (@MLB) August 6, 2014




How did the former All-Star respond? By turning them into memes:




#HunterPenceSigns pic.twitter.com/Ri7GrWFbE4

— Hunter Pence (@hunterpence) August 6, 2014

#HunterPenceSigns pic.twitter.com/TL4FzjYVrU

— Hunter Pence (@hunterpence) August 6, 2014




Oh, and his girlfriend, Alexis Cozombolidis, did, too:




#HunterPenceSigns (cc:@hunterpence) pic.twitter.com/Pj5NSck6ZT

— Alexis Cozombolidis (@LetsGetLexi) August 6, 2014




Hunter Pence




wins the Internet.