SportsNation Blog Archives

NCB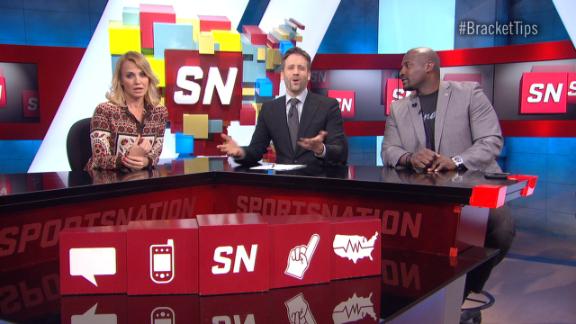 The NCAA tournament is nearly upon us, and chances are you might be filling out a bracket or two. SportsNation's hosts have some tips for you -- and they keep it very simple.
Getty Images
Dream College Hoops One-On-One Matchups
On February 21, 1970, Pete Maravich and Dan Issel gave electrifying performances -- 64 and 51 points, respectively -- in a Kentucky-LSU showdown to remember. In the spirit of the 45th anniversary of that matchup, ESPNU wants your take on which all-time great college players would have the edge if they went head-to-head by position.
Getty Images

On a Wednesday SiriusXM NBA Radio appearance, Phoenix Suns guard and former Kentucky Wildcat Eric Bledsoe said his school -- fresh off a 72-40 dismantling of the fifth-ranked Kansas Jayhawks -- would beat the 0-11 Philadelphia 76ers in a seven-game series.

"I'm definitely taking Kentucky," Bledsoe said when presented with the scenario. "I think Philly would probably get maybe one game."

Bold statement. Philadelphia indeed is terrible and Kentucky appears to be great. But would a cast of current NBA players really lose to future ones?

(Side note worth mentioning: The Suns play at Philadelphia on Friday.)

Getty Images

Tim Miles is the head men's basketball coach at the University of Nebraska.

Les Miles is the head football coach at Louisiana State University.

On Twitter, though, some people confused the latter (@LSUCoachMiles) with the former (@CoachMiles). And the Cornhuskers coach wasn't about to stand for it:

Classic. pic.twitter.com/SHNFdg8WbG

— Brandon Gries (@RightyBrandon) September 3, 2014

We can only imagine what would happen if someone confused @FauxPelini with the real Bo Pelini.

H/T SB Nation

Jamie Squire/Getty Images

John Calipari signs Kentucky deal

Like Nick Saban before him, John Calipari -- the source of frequent pro-coaching rumors -- has signed an extensive deal to remain at his college. Over the course of the seven-year deal, the Kentucky Wildcats will pay Calipari $52.5 million in salary and bonuses, in part as an attempt to keep him from returning to the NBA. Will it work? Are you OK with college coaches making this much money?