SportsNation Blog Archives

NCB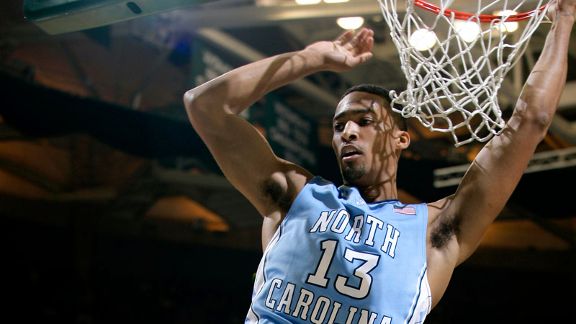 AP Photo/Al Goldis
What's the real North Carolina?
They lost to Belmont and UAB. Sandwiched between those games was a win over defending champion Louisville. Then, on Wednesday night, the North Carolina Tar Heels took to the Breslin Center to face No. 1 Michigan State -- and, you guessed it, won. By 14. Which is the real UNC? How far will Roy Williams' team go come postseason time?
Is Marcus Smart a future star?

Tuesday night was supposed to be all about the big names: Andrew Wiggins, Jabari Parker, and Julius Randle were playing on the same night for the second of five times this season. Marcus Smart, however, had other ideas in a 101-80 victory over Memphis. The Oklahoma State sophomore scored 39 points in the game, shot 11-of-21 from the floor, and hit five three-pointers. Smart's talents impressed Kevin Durant, who attended the game on a night off from putting up similar numbers for the Thunder. Durant thinks Smart could play in the NBA right now, which is high praise from one of the NBA's finest scorers.

Despite the school's struggles during the brief Lane Kiffin era, USC is still a desirable destination for coaches who want to try to establish a dynasty. Increasingly, it's been looking like USC might not have to look far in its search. Interim coach Ed Orgeron has the team on a 5-1 run since he took over in late September. Orgeron expressed his interest in the position in an interview, but he may have to contend with at least one other big name -- Broncos interim coach Jack Del Rio, an alum who interviewed with the Trojans during Denver's bye week.

Here's a sampling of what readers had to say in our Facebook conversation on the story:

Tyler Thoreson: "I love what Orgeron's done but lets not forget this team was ranked #25 to start the season so they have talent even with the reductions and sanctions. Secondly he has split against Notre Dame and Stanford who I wouldnt consider that good. "
Steven Rigisch: "Big Ed has earned the job. Give him the title now and let's start locking up some of those recruits that are on the fence. It is one of the best years for So Cal recruiting and many of the top players are looking to the south right now. Big Ed would nail them down."
Francisco Gomez: "I'm not saying that del rio is the guy to hire but people are making it seem like he would be a bad hire. If you guys don't remember Pete Carroll was too a cast away from the the NFL before becoming USC's coach so you never know. Look at Jim Mora Jr. and the job he's doing after two failed stops in the NFL."
Charles Evitch: "I'd hire Orgeron over Del Rio. Simply because I think Del Rio is a guy who would probably yearn for the NFL someday, whereas Orgeron might be more likely to stay at USC."
Ricardo Gonzales: "USC shouldn't make any hasty decision just based on a few wins. They did beat Stanford but did not outplay them. They were luck to win it. Scoring only 3 points in the second half and everyone is going crazy?"

What do you think? Leave your comments below.