SportsNation Blog Archives

NCB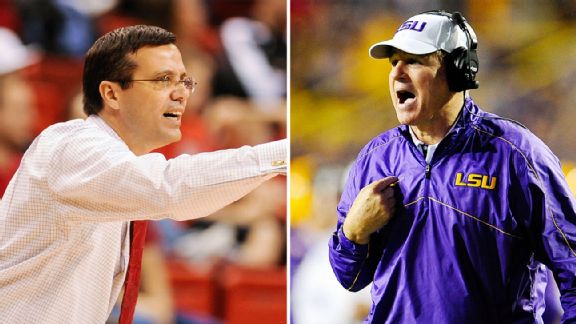 Getty Images
Tim Miles is the head men's basketball coach at the University of Nebraska.
Les Miles is the head football coach at Louisiana State University.
On Twitter, though, some people confused the latter (@LSUCoachMiles) with the former (@CoachMiles). And the Cornhuskers coach wasn't about to stand for it:
Classic. pic.twitter.com/SHNFdg8WbG

— Brandon Gries (@RightyBrandon) September 3, 2014
We can only imagine what would happen if someone confused @FauxPelini with the real Bo Pelini.
H/T SB Nation
McGary to NBA after drug test
Michigan's Mitch McGary has declared for the NBA draft after testing positive for marijuana. The Wolverines sophomore was facing a one-year ban by the NCAA for the positive test. How will this affect McGary's draft stock? Should the NCAA even be testing its players for marijuana use? Vote below.
Big problems with the NCAA?

Kentucky coach John Calipari isn't all that pleased with how the NCAA does things. According to a report in The Wall Street Journal, the Wildcats coach in his new book compares college sports' governing body to the last years of the Soviet Union, saying it has failed to change with the times. Calipari also proposes several changes, including allowing players to transfer without sitting out if their coach leaves, a $3,000-to-$5,000 stipend and more. What's your take?

John Calipari to the Lakers?

Kentucky fans might suffer more than one loss this month if the gossip on Twitter has any validity. Coach John Calipari denied rumors that he'd leave to coach the Los Angeles Lakers next season, a theoretical move that would mean big things both in Los Angeles and Lexington. Calipari's success in the college ranks is undeniable, but coaching a bunch of NBA prospects for one season is much different than coaching those prospects once they're locked up to big-time contracts. Considering the state the Lakers are in now, however, Calipari's denial might just be ironclad.