SportsNation Blog Archives

NBA
The Spurs' four best players now live on the head of a man from Texas. A customer at KardzMatic Barbershop in San Antonio got lifelike representations of Tony Parker, Tim Duncan, Kawhi Leonard, and Manu Ginobili shaved into his head, and the result is incredibly impressive, if a little unsettling. Memo to those fans who get championship tattoos before their team actually wins a championship -- this might be a better way of going about it.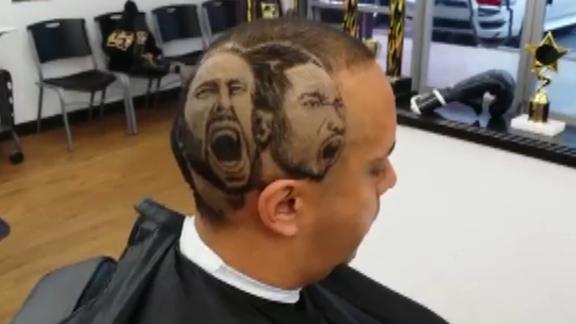 Is Blake Griffin a flopper?
Earlier this week while on "The Wheelhouse" on 95.7 The Game radio in San Francisco, Warriors guard Klay Thompson called out Clippers forward Blake Griffin: "He's kind of like a bull in a china shop, kind of out of control sometimes. And then you do just see him flop sometimes like, how can a guy that big and strong flop that much?" Is Blake Griffin a flopper? Do you have a problem with Thompson's comments?
Baseball hasn't always been kind to basketball players trying to switch sports -- look at Michael Jordan's brief stint in the minors as the prime example -- but former Rockets star Tracy McGrady seems to be making it work so far, giving up one run on three hits in one inning in his debut with the Sugar Land Skeeters of the Atlantic League:




SKEETERS WIN: The Skeeters kicked off their Spring Training tonight with a 10-1 victory over the Alvin Dolphins! pic.twitter.com/y7Riny4IHa

— Sugar Land Skeeters (@SL_Skeeters) April 17, 2014

Admittedly, that performance came against Alvin Community College in a scrimmage, but he threw 60 percent of his pitches for strikes. That's not bad! If he can improve on that accuracy a bit, his 85 mph fastball might win him a Skeeters roster spot this season.

Rob Kinnan/USA TODAY Sports

Jabari Parker enters NBA draft

Duke freshman sensation Jabari Parker has declared for the NBA draft. Parker was one of the top players in college basketball in his only season at Duke, averaging 19.1 points, 8.7 rebounds, 1.2 blocks and 1.2 assists per game. He'll be joining several other prominent players in this year's draft, but would he be the best choice to take at No. 1?

Boston sports stars came together in the aftermath of the Boston Marathon bombings to try to help their city. Rajon Rondo showed his support in the Celtics' final regular-season game with a unique pair of "Boston Strong" shoes:




April 17, 2014

Rondo's shoes have the initials of victims of the marathon on them, along with the date of the attack. This might be Rondo's final game in a Celtics uniform, but it's clear the city still holds a special place in his heart.

Rajon Rondo wearing shoes to honor victims of the Boston Marathon bombing. Will donate to the One Fund afterwards. pic.twitter.com/AbBAXkihu8

— Abby Chin (@tvabby) April 16, 2014