SportsNation Blog Archives

NBA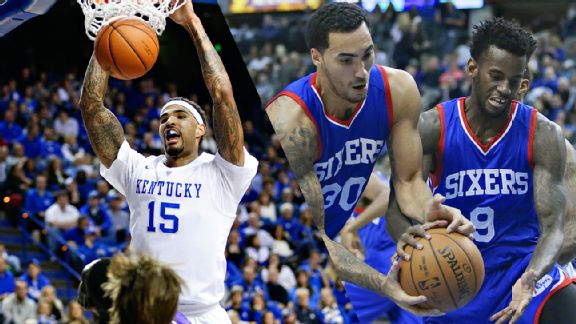 Getty Images
On a Wednesday SiriusXM NBA Radio appearance, Phoenix Suns guard and former Kentucky Wildcat Eric Bledsoe said his school -- fresh off a 72-40 dismantling of the fifth-ranked Kansas Jayhawks -- would beat the 0-11 Philadelphia 76ers in a seven-game series.
"I'm definitely taking Kentucky," Bledsoe said when presented with the scenario. "I think Philly would probably get maybe one game."
Bold statement. Philadelphia indeed is terrible and Kentucky appears to be great. But would a cast of current NBA players really lose to future ones?
(Side note worth mentioning: The Suns play at Philadelphia on Friday.)
By
Joe DeMartino
| ESPN.com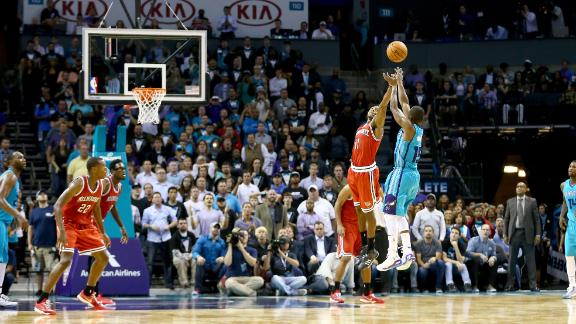 Kemba Walker's last-minute shot to lead the Hornets to an overtime win over the Bucks was pretty sweet, but look at how Michael Jordan reacted to it from the sidelines:
That's exceptional. We can't think of many better ways to start off a season -- at least for Hornets fans.
Even with Kobe Bryant back, the Los Angeles Lakers seem sure to endure another difficult campaign in the impossibly good Western Conference.
AND IT'S GETTING WORSE.
That's right -- trouble's a-brewing in the Southland, and it has to do with Nick Young. Not his six- to eight-week absence with a torn thumb ligament, but new point guard Jeremy Lin's refusal to call Young by his somewhat self-applied nickname, "Swaggy P."
"He's super-cool," Lin told the media last week. "But I just find it ridiculous that everyone comes in and just calls him 'Swaggy.' You've got to earn it or something, and maybe he has but I just got here, so maybe I'll adopt [it] eventually."
What must he do to earn it, asked a reporter?
"It has to be something that I see," Lin said, "that when I look at him he just glows with Swaggy-ness."
Perhaps sensing the oncoming controversy, Lin walked back on his stance a little, adding: "He's hilarious. He's hilarious. He's really cool. So just out of respect for him being eight years in, if he wants me to call him Swaggy P, I guess I will. But besides that I'll call him Nick Young."
Sorry, Mr. Lin. Damage, done. If the Lakers don't make the playoffs, it won't be because the San Antonio Spurs, Oklahoma City Thunder, Los Angeles Clippers, Golden State Warriors, Dallas Mavericks, Memphis Grizzlies, Portland Trail Blazers, Houston Rockets, Phoenix Suns, Denver Nuggets and New Orleans Pelicans are all probably better.
It'll be because you questioned Nick Young's swaggy-ness.
MORE NICK YOUNG OFFSEASON FUN
• Riding a Zamboni with the Los Angeles Kings
• Volunteering as Lakers coach; throwing out horrible first pitch at Dodgers game
• Playing 3-on-3 with random dudes in NYC
Kyrie Irving is already doing good things with the new-look Cleveland Cavaliers. But whatever, we knew that was coming.
This Nerf dunk, though?
IMPRESSIVE. I mean, it's Nerf, so who knows how high up that hoop is. Also, while the pass from teammate/fellow New Jerseyan (and Florida Gators guard) Eli Carter was sweet, poor friend/stranded defender Jux Jones had no chance on that 2-on-1.
Still, something tells us we might see something like this a time or two at the Q this year. Not with a Nerf ball, though. That would be illegal.
We know the images of sports well, through awe-inspiring photographs and embedded-in-our-brains highlights.
This artist, though, is looking at the athletes and coaches we love a little differently. Well, OK, a lot differently. With some of the most minimalist sports portraits you'll find, Instagram user @lessonsinsport allows us to see big stars in quite a different light.
Check out our favorites:
Barry Sanders
Jim Harbaugh
Kareem Abdul-Jabbar
Muggsy Bogues
Steve Spurrier