SportsNation Blog Archives

NBA
The Clippers have a problem common to teams that approach offense with a fanatic's zeal: They can't stop other teams from matching them point-for-point. Los Angeles is giving up 102.1 points per game, the sixth-worst mark in the league, and is in the midst of a two-game losing streak in which it allowed the Hawks to drop 107 points on it. Chris Paul thinks the Clippers need to find a defensive identity, but when you're coming off a game in which the opposing team shoots 52.2 percent from 3-point range, it might simply be that you don't have the personnel to do the job.
Here's a sampling of what readers had to say in our Facebook conversation on the story:
Ian Moore: "I'm sorry but this to me indicates how overrated Blake and DeAndre are. Offensively they're explosive, defensively they horrible. You have two 6'10 and 250lb guys who can kiss the rim but can't average a block a game. That's horrible when a guard like Wade plays better defense. "
Evander Smart: "That the stars see the problems, and are accepting responsibility is a great sign. This team will get better as the season goes along. They will be a team you don't want to face in the Playoffs. Doc will help them figure it out."
Josh Lee: "While Blake Griffin is a tremendous athlete, he's not the type of big man you want to win a championship. If he develops a post game, improves his post defense, and can consistently hit mid range, then he will be a huge threat in the post-season. Till then, Blake will only be a showtime highlight player in the regular season. CP3 needs a post man as well as a wing player that is all-star caliber and a great scorer."
Jessie Ortiz: "Is anyone surprised that the Clippers are once again loaded with talent and can't seem to "figure it out". That's always been the case with the lowly Clippers."
Miles Peterson: "The Clippers are never gonna win unless they get different players, 'cause its not like Doc can go out there and play again. He's not gonna make much difference."
What do you think? Leave your comments below.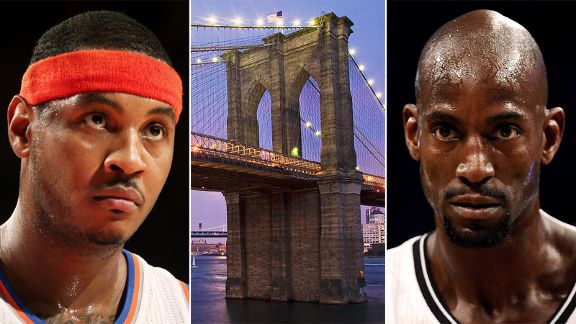 Getty Images
Brighter outlook -- Knicks or Nets?
The New York Knicks weren't supposed to light up the league this season, but their floor seemed like a low playoff seed in the Eastern Conference. And yet, after Thursday night's game at the Brooklyn Nets, Carmelo Anthony & Co. are just 4-13. The Nets, meanwhile, are 5-14 -- but lost Thursday's game by 30. And they were supposed to be the contending team of the two. Woof. Needless to say, things don't look good in Gotham. Which franchise's outlook is better, if ever-so-slightly?
AP Photo/Matt York

Just how good are Trail Blazers?

While their neighbors to the north were making noise in the NFL, the Portland Trail Blazers stepped up themselves Monday night, beating the previously one-loss Indiana Pacers 106-102 -- on the second night of a back-to-back. For those not paying attention, that pushes Portland to 15-3, with two of those losses, strangely, coming against the 9-8 Phoenix Suns. Are these Pacific Northwesterners legit contenders in the Western Conference?

Kobe Bryant returns Sunday

The Lakers have been treading water waiting for Kobe Bryant, but this Sunday, we'll be able to see just how good they are at full strength. Bryant will return from an Achilles tendon injury against the Raptors. Most players Bryant's age who have suffered such an injury might retire, but not Bryant -- he made his comeback in less than a year and announced his return with a somewhat artistic two-minute video on his Facebook page.

Robert Griffin III's knee injury still seems to be affecting his game, as his mediocre stats and lack of explosiveness this season suggest. 49ers linebacker Ahmad Brooks said that he doesn't believe Griffin should be playing until he's fully recovered. Brooks has a unique perspective on this -- he sacked Griffin twice and hit him two other times in the 49ers' 27-6 victory over the Redskins on Monday night. The idea of sitting Griffin might have some merit for the Redskins, as they're 3-8 and need to think long term about Griffin's career.

Here's a sampling of what readers had to say in our Facebook conversation on the story:

Glenn Cannon II: "Everybody expected the same results from last year from a player who had NO OFFSEASON to develop, and mesh with his less then talented WR Core. Then they have him miss all of the preseason games only to start him in the first game to shake off the rust?"
Jared Waters: "Any one of you who actually watch the redskins know it's not his fault. The man has absolutely no offense line, no time to throw, coaches who can't call plays, and a terrible defense behind him. The man is scrutinized for every little thing he does. Give him a break. Clear the house and get someone who will coach and help him and the team ."
Mike Vogel: "RG3 is a a one-of-a-kind, tough, classy player who took the league by storm. When the 22 kid got badly hurt and was playing on one leg, Shanahan kept putting him back in until he was damaged goods forever. Yes, RG3 wanted to go back, but he's a kid and its the job of the coach to be an older, wise head. But Shanahan is all about Shanahan. Fire him now!"
Andy Sipes: "The Skins are extremely lucky to have Cousins as a backup. He would start for other teams in the league right now and be a better option for them. The Skins aren't going to make the playoffs. Sit RGIII to get him healthy, play Cousins to get him some experience and get a good draft pick (O-Line perhaps?) in this year's draft to help further protect your investment in your QB."
Michael Williams: "RGIII is a good player one day he will be great. He needs a better protection scheme! He also needs a couple more weapons at WR or TE. The defense could play better too.Just give him some time."

---

Health concerns

Griffin's Total QBR is lower than a lot of struggling quarterbacks' marks, including those of Ryan Fitzpatrick, Christian Ponder and Mike Glennon.