SportsNation Blog Archives

NHL
Growing up, Patrick Kane played on local rinks throughout his native Buffalo, New York.
Recently, the two-time Stanley Cup champion and 2013 Conn Smythe Trophy-winning Chicago Blackhawks forward returned to his hometown to do that once again.
So this Kane guy showed up to the @Piranhas3DPuck game last night... he was pretty good pic.twitter.com/vX5WaXTNYS

— Px Hockey League (@PxHockeyLeague) July 22, 2014
The results, naturally, were devastating. For his opponents, anyway. Five goals. Five assists. A 13-5 win.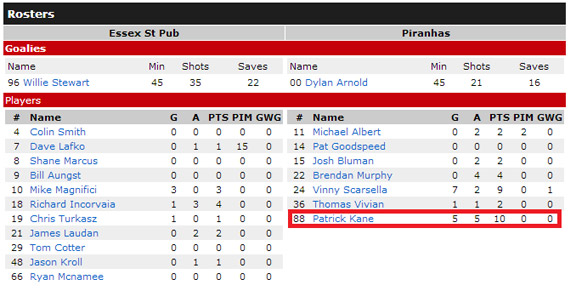 Performax Hockey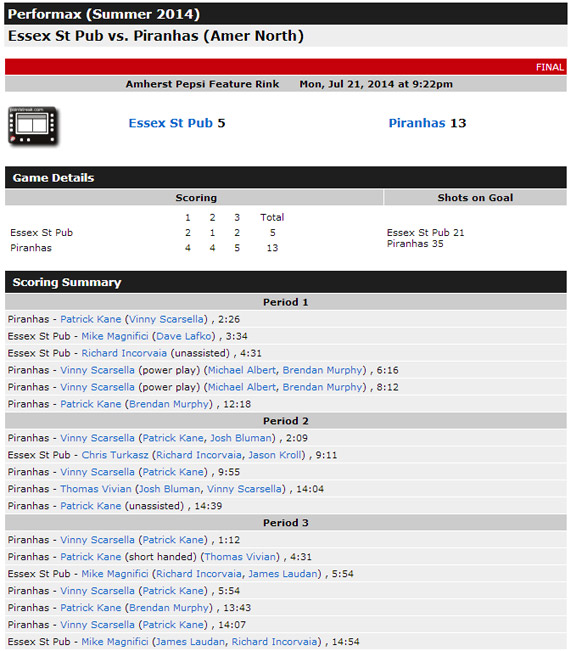 Performax Hockey
Let's not overlook the man on the receiving end of Kane's five assists: Vinny Scarsella, a 24-year-old most recently of the ECHL's Utah Grizzlies, who scored seven goals and added two assists.
Nor should we ignore the fact that this is Kane's second game with Piranhas -- and he only tallied one goal and two assists in the first (a 12-1 win).
WHAT HAPPENED IN THAT GAME, KANE?
H/T BarDown
Juan Ocampo/NHLI/Getty Images
Stanley Cup -- Kings or Rangers?
The Los Angeles Kings and New York Rangers will square off for the Stanley Cup, meaning for the first time since 1981 -- provided we don't count Anaheim and New Jersey -- L.A. and NYC will square off in the finals of one of the U.S. and Canada's four major sports. Which team will win? Which city do you prefer? Cast your votes below!
The Kentucky Derby is on Saturday, and between the hats, the outfits, the mint juleps, and the mud, there will be an actual horse race going on. The Derby is perhaps the most prestigious race in all of sports, with winning horses achieving something close to legendary status. Can you name the past 10 horses to come in first place at the Derby? Take our quiz!

Check out more quizzes in our Quiz Archive!

Jared Wickerham/Getty Images

Your NHL playoff predictions?

Which team will win each second-round playoff series? Cast your votes below!

Three Game 7s in the NHL

Tonight's going to be an exciting night for hockey fans, as three of the Stanley Cup playoff series will drop the puck on their respective Game 7s. Wayne Simmonds' hat trick last night helped the Flyers force a deciding Game 7 against the Rangers, the Sharks face an interesting goaltending decision in their decisive matchup against the Kings, and the Avalanche will try to come back after a disastrous third period against the Wild in their Game 6. It's often been said that the NHL has the most intense playoff series in all of sports, and tonight's slate of games will likely show why that's true.