There's no love lost between the New York Jets and New England Patriots, whose decade-plus-long rivalry has morphed from on-field feud to a full-fledged daytime soap opera, replete with name-calling, cheating accusations, betrayals, barbs fired through the media and, of course, fake handshakes and hugs.
The latest chapter was written Tuesday, as New York filed tampering charges against the Patriots apparently in retaliation for New England filing its own charges against the Jets a few weeks ago.
In light of this latest twist, we take a look back at five drama-filled moments in the New York-New England feud:
Parcells plants seeds of discord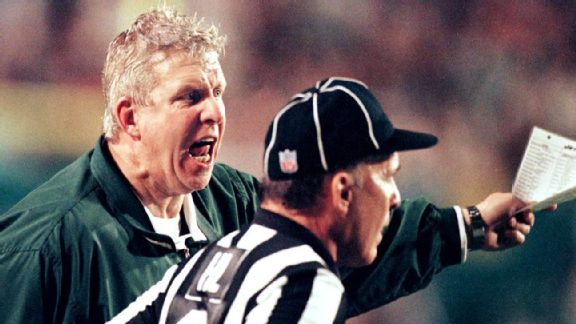 Rhona Wise/AFP/Getty Images
Shortly after guiding New England to Super Bowl XXXI, Bill Parcells bolted for New York amid clashes with Pats owner Robert Kraft, lighting the embers to the ensuing border battle. The messy divorce forced then-commissioner Paul Tagliabue to intervene, placating New England with a bevy of picks as compensation for Parcells' exit. A year after his migration south, Parcells struck back by luring Curtis Martin to New York, sapping New England of its top rusher. Parcells went 29-19 as Jets coach, while his replacement, Pete Carroll, was 27-21 until ...
Belichick switches allegiance, launches Pats dynasty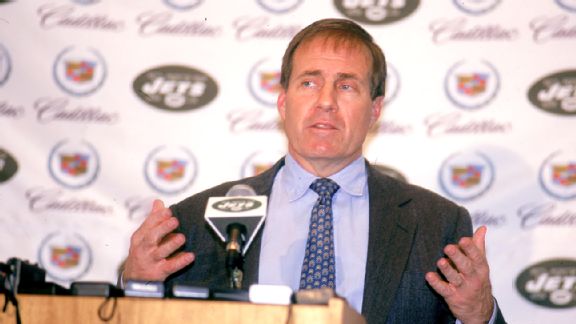 Al Pereira/Getty Images
During the early back-and-forth, the Patriots landed a severe blow in January of 2000, hiring Bill Belichick a mere 24 days after he resigned as Jets head coach. Belichick's arrival -- along with the emergence of Tom Brady, who, ironically, became New England's starter after a crushing hit by Jets LB Mo Lewis sidelined Drew Bledsoe -- swung the pendulum of power firmly in the Patriots' favor. The Jets then watched their ex-hire claim three Super Bowls during his first five seasons in New England.
Belichick confidant turns informant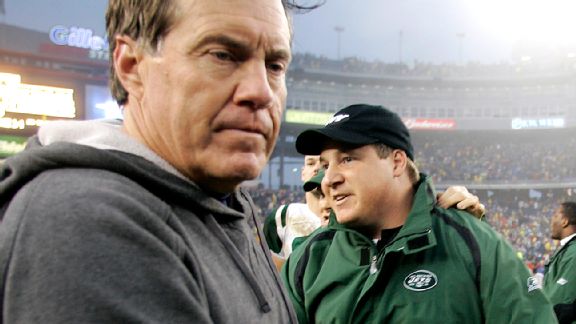 AP Photo/Winslow Townson
While the Pats were laying claim to the NFL's latest dynasty, the Jets again looked to the Pats sidelines to bridge the gap. Their pursuit led them to defensive coordinator and Belichick protégé Eric Mangini. While the Mangini era produced a pair of winning seasons and a playoff berth, it will be most remembered for the "Spygate" incident in which it was later revealed that Mangini dimed out his former boss for filming signals of the Jets' coaches. Belichick and the team were fined and stripped of their '08 first-round pick, giving Patriots fans more reason to hate those "damn" Jets.
The Ryan show takes over Broadway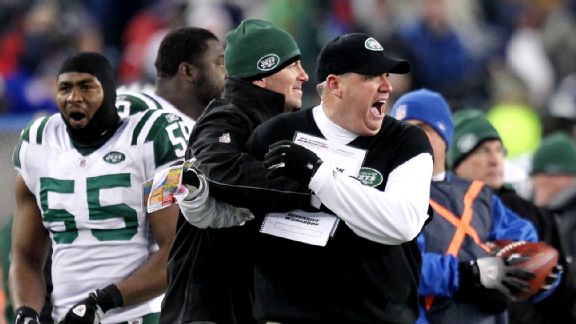 Bill Greene/The Boston Globe/Getty Images
Mangini's dismissal ushered in Rex Ryan -- and a circus the Jets had not seen since the days of Joe Namath. The bombastic coach announced his arrival by boldly proclaiming "I'm not here to kiss Belichick's rings." He brought respectability back to New York with consecutive AFC championship game appearances -- going through Belichick & Co. in Gillette during his first year -- and endeared himself to Gang Green with his brash talk, which also permeated the roster (see Antonio Cromartie on Brady).
Revis plays both sides
AP Images
Darrelle Revis' savvy in manipulating the free-agency market is well-documented, and he was able to land successive lucrative deals from both teams. After his release from Tampa Bay, Revis, a Jets draft pick in '07, eschewed a return home for a one-year fling in New England. The decision paid off on the field -- Revis won his first ring in February -- and off, he raked in $12 million. When New England declined to pick up his option, Revis returned to his first love thanks to a wildly seductive five-year, $70 million contract, which brought on the tampering charges.
And the drama continues ...