Commentary
Silver Stars improve in the paint
Sophia Young getting help inside from Jayne Appel, Danielle Adams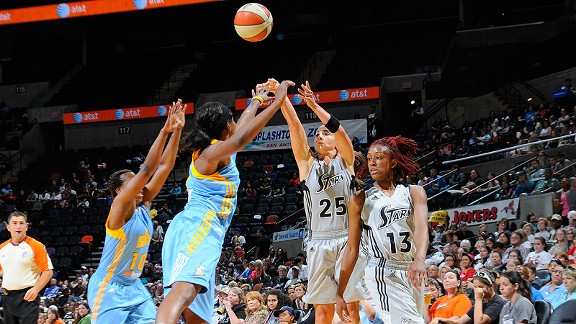 D. Clarke Evans/NBAE/Getty ImagesBecky Hammon leads San Antonio with 17.2 ppg; six players average at least 8.0 points.
The last time San Antonio experienced the Olympic break in the WNBA schedule, it worked out pretty well for the Silver Stars.
They finished with a 24-10 record, earned the No. 1 seed in the Western Conference and reached the WNBA Finals in 2008.
"We had the best record after the break four years ago," said head coach Dan Hughes, who was also the Silver Stars' head coach back then. "We benefitted from the rest, but also from practicing together. That was pretty true for us four years ago. Most of our squad was here for the break, Becky [Hammon] was the only one gone and it was a really good period for us. It helped us with our development."
The same could end up being true now for a team that's increasingly built around young talent, but still dependent on the veteran scoring guard to get them back to the postseason.
Hammon will again be the only player gone for the Olympic break -- she will be in London playing with the Russian national team -- while players such as Danielle Robinson, Danielle Adams and Jayne Appel stay in steamy Texas and work on laying the groundwork for another playoff run.
[+] Enlarge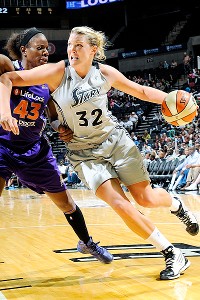 D. Clarke Evans/Getty ImagesJayne Appel ranks second on the Silver Stars with 5.8 rebounds per game.
The heat is already on in San Antonio, and the weather is only part of it. Minnesota is off to one of the hottest starts in league history, with Los Angeles not far behind. The Silver Stars (2-3) certainly want to stay in postseason position with Tulsa (0-6), Phoenix (2-4) and Seattle (1-5) all struggling out of the gate.
"We've got to hang in the pack early and then escalate as the year goes on," Hughes said. "We are all going to beat on each other. But we need to be persistent and get better and that's how you get on some streaks."
The biggest emphasis for the Silver Stars has come in the paint, where San Antonio posted the worst rebounding numbers in the league last year (opponents had nearly a plus-6 rebounding advantage). With Ruth Riley gone to Chicago in free agency and veteran Tangela Smith out following knee surgery, there is an opening for third-year center Jayne Appel to make a mark after two years of battling injury.
Appel, the Stanford All-American, has moved into the starting lineup, playing in combination with second-year post Danielle Adams, who is proving scoring punch off the bench. The two combine to average about 15 points and 10 rebounds per game.
Hughes has asked Appel to do the blue-collar work underneath the basket: pull down defensive rebounds, defend inside, pass well, help the offense function.
"What I've noticed is that the crowd is starting to react to her hustle play and her persistence," Hughes said. "And then we bring in Adams and she stretches the floor and she's very skilled at that. The two of them together, we need them to head off players like Sylvia Fowles and Tina Charles. So we play both of them, back-to-back."
Appel said she is healthy for the first time since her pro career began. And she is feeling more comfortable with teammates who returned to the team after what Hughes called a "remodel" following the 2010 season.
"It helps that we have a lot of people back," Appel said. "I really enjoy playing with people I know well. The puzzle pieces seem to fit better. We have gotten through things at practice a lot more quickly. We can pick up and apply things right away."
Hughes still considers his team a work in progress. The Silver Stars' three losses are against Chicago, Connecticut and Minnesota. On Sunday against the unbeaten Lynx, the Stars rebounded from a 26-point deficit and fell to the defending champions by just four points.
"Our first half wasn't the greatest, but at the same time, it showed that we can play with the best," said Robinson, the second-year point guard from Oklahoma. "We want to be among those top four teams come playoff time and we have to protect our home court."
Appel said the Lynx game shows this team's resilience.
"We know we have it in us to make a comeback," Appel said. "I think that's the most encouraging."
Contributor, espnW.com
Based in the San Francisco Bay area
Has covered pro and college sports for AOL Fanhouse and the San Francisco Chronicle
Founder of leftcoasthoops.com which covers women's basketball on the West Coast
MORE WOMEN'S BASKETBALL HEADLINES

MOST SENT STORIES ON ESPN.COM