Commentary
Charles in charge as Sun sweep
Updated:
September 30, 2012, 10:20 PM ET
By
Graham Hays
| espnW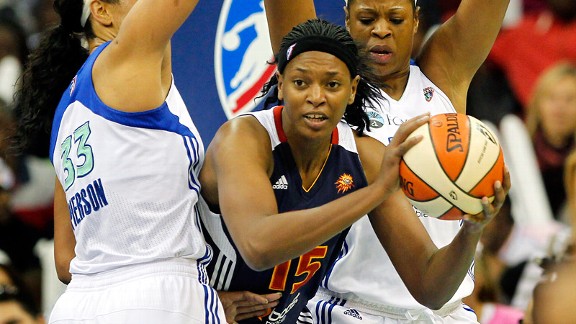 AP Photo/Mel EvansConnecticut's Asjha Jones looks to pass between New York defenders Plenette Pierson, left, and Kia Vaughn.
NEWARK, N.J. -- In at least one key respect, Connecticut Sun coach Mike Thibault didn't know what he had when his team opened its first-round playoff series against the New York Liberty.
By the end of Saturday's game at the Prudential Center, the Liberty looked like a team that knew all too well what had just hit them. Namely, the league's Most Valuable Player and the Sun's most invaluable warrior.
Down big early in the second game of a best-of-three series against a team playing with the urgency of potential elimination, the Sun rallied for a 75-62 win to clinch the series.
Calling on 60 combined points from Tina Charles, the MVP, Asjha Jones, the indomitable warrior, and Kara Lawson, the Sun won a playoff series for the first time since reaching the conference finals in 2006 and await either the Indiana Fever or Atlanta Dream in the next round.
The Sun trailed by 16 points less than two minutes into the second quarter. They outscored the Liberty 64-35 the rest of the way.
[+] Enlarge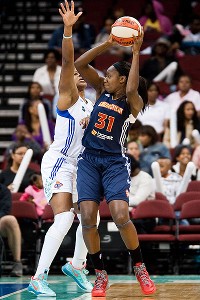 AP Photo/Duncan Williams/CSMConnecticut center Tina Charles, the WNBA's MVP, scored 25 points and had 14 rebounds in Saturday's victory against the New York Liberty.
"It was as ugly a start as you can get," Thibault said. "I'm sure nobody liked watching it, particularly me. But one of the best things about this team is we've hung in in a lot of situations on the road. Tonight you could see why we had the road record we did during the season, because we finish games.
"We've talked about for the last month, it's one thing to start things, but it's a bigger thing to finish. They stepped up."
To be sure, Thibault knew he had a good team entering the playoffs, good enough to earn the top seed in the Eastern Conference and post the second-best record in the league in the regular season.
But he didn't know if, or in what capacity, the Sun would have the services of Jones, the Olympian and only remaining link to the last Sun team to win a playoff series who missed most of this regular season's final month with foot injuries.
And if one of their few veterans was a specific question mark, it only underscored the broader one surrounding a team with a great record but no playoff wins together. A sloppy win in the first game was good enough, with Jones playing an important supporting role, but it didn't completely answer the questions that loomed all the louder when the Liberty jumped out to a 27-11 lead on their home court in the second game.
This wasn't what the best team in the East was supposed to do against the only team in the division that made the playoffs with a losing record.
A season ago, Lawson said, there wouldn't have been a comeback, the poise necessary to construct one missing. On Saturday, there wasn't any panic.
"I didn't know we were down that much," Lawson said. "I thought the most we were down was like 12. I don't really look at the scoreboard in those cases. I knew they were up double digits, but at that point you just have to narrow your focus to stopping them, getting stops defensively."
The Sun did that, limiting the Liberty to 36 percent shooting after the home team's torrid first-quarter performance. And they got the ball to Charles and Jones. Again and again and again.
A season ago, Charles struggled in her first trip to the playoffs. She did work on the boards and the defensive end, but she shot just 31 percent from the floor and 63 percent from the free throw line as the Sun were swept out of the tournament by the Atlanta Dream.
She was effective in the opening win at home but not commanding, totaling just three rebounds while her team lost the battle of the boards. There were no such problems Saturday.
Charles scored 16 of her 25 points after halftime, hitting 6-of-10 shots from the field and 4-of-5 shots from the free throw line in the final two quarters. She also finished with 14 rebounds.
"If there was anybody that doubted the kind of player that she is, you saw it tonight," Thibault said. "She made every kind of play -- jump shots, layups, offensive rebounds. She and Asjha, I thought, did a great job playing off each other, particularly late in the game. It's fun to watch when they play like that."
Ice bags secured everywhere there was space on her lower body in the locker room after the game, Jones looked either decidedly serene or simply too tired to emote. Not only did she play for the second game in a row, she totaled 20 points, eight rebounds and four assists in 28 minutes.
She missed just four shots and wore out Liberty forward Plenette Pierson, whose energy helped define her team's early dominance. Elbow jumpers, back-downs, post-to-post passes, Jones had every bit of her game going on the offensive end and gave just as much on the defensive end to keep Pierson from making an impact.
Imagine what she would do if healthy.
"I had no idea, to be honest with you," Thibault said of his expectations for Jones entering the series. "This was, on my part, a little bit of blind luck in the sense that you just don't know."
He didn't know because even she didn't know.
"Not really," Jones said when asked if she knew she was physically ready for the role she played. "But they've been playing great without me for a month and a half or so, so I just wanted to come in and help a little bit if I could. If I did more than that, awesome. If not, they've been playing well without me."
Jones made cameo appearances in the final two games of the regular season, totaling just 17 minutes and staying on the bench after halftime in each game. But with help from Mistie Mims, who quietly chipped in eight points in 14 minutes and allowed Jones enough rest to be fully charged for her 12-point third-quarter, she was as valuable as any player on the floor Saturday night, even the league's most valuable player.
For all of that, and because of the depth of the hole they dug early in the game, the Sun still trailed by a point with five minutes to play after a Cappie Pondexter 3-pointer and Pierson turnaround capped a mini-run for the Liberty. But Lawson, the Sun's second-leading scorer and other player with All-Star credentials in the present and Olympic gold in her past, was fouled in the act of shooting a 3-pointer and converted a 4-point play.
The Liberty didn't score another point.
"It was a turning point because I felt like it really buoyed our spirits, but I kind of felt like it deflated them a little bit," Lawson said. "After that, what did we score, 14 straight points? We came down and were able to get whatever we wanted."
First Charles and Jones. Then Lawson. The Liberty knew what they were up against in that moment. The rest of the playoff field should, too.
espnW.com
Graham Hays covers college sports for espnW, including softball and soccer. Hays began with ESPN in 1999.
MORE WOMEN'S BASKETBALL HEADLINES

MOST SENT STORIES ON ESPN.COM