Commentary
Breaking down the Atlanta Dream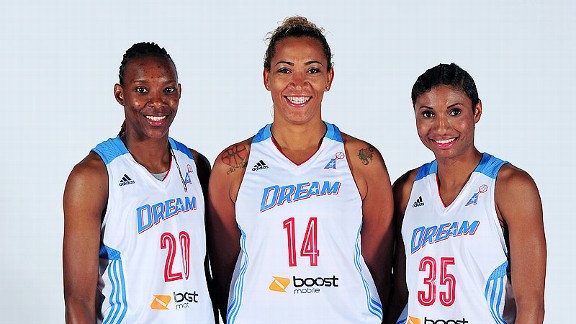 Scott Cunningham/NBAE/Getty ImagesCan Sancho Lyttle, Erika de Souza and Angel McCoughtry lead the Dream back to the playoffs?
Atlanta finished third in the East last season at 19-15 but then wasn't able to close out its first-round playoff series with eventual WNBA champion Indiana. That ended a season in which the Dream did have some success despite some dysfunction.
The Dream have back all the pieces from that playoff squad except one big loss: point guard Lindsey Harding. She signed with Los Angeles. So the main question surrounding the Dream is: Who will be directing traffic?
DREAM AT A GLANCE
2012 record: 19-15
Last we saw: Finished third in the East; lost in the first round to Indiana
Season opens: May 25 at home vs. Tulsa
The front line of Erika de Souza and Sancho Lyttle is strong. The team's star, again, will be guard/forward Angel McCoughtry. Because of injuries and, shall we say, various issues, she played in just 24 games last season. However, averaging 21.4 points per game, she won the league's scoring title. She also had a terrific performance off the bench at the London Olympics in helping the U.S. team win the gold medal.
But there were problems with Dream coach/GM Marynell Meadors, who ended up being fired last August. Assistant Fred Williams took over, and he's at the helm again this season.
It sounds simplistic, but much of this team's success rides on McCoughtry being in the right frame of mind and involving her teammates. She's going to get her points no matter what; she's just that talented a scorer. But especially with Harding gone, there needs to be more leadership on the floor from everybody else. And if McCoughtry and Williams stay on the same page, it will make a big difference.
What's new?

Thomas
Guard Jasmine Thomas was traded to Atlanta from Washington in February. The Dream also brought in guard Sydney Carter, who briefly played for Chicago last season, and veteran free agent veteran forward Le'coe Willingham. The Dream's rookies are guards Alex Bentley of Penn State and Courtney Clements of San Diego State. Also new: The former Armintie Price is now going by her married name of Herrington. And Williams has added longtime WNBA coach Julie Plank to the Dream's staff. She previously has been an assistant and a head coach in the league.
What's missing?
As mentioned, the main absence is Harding (12.3 ppg, 4.5 apg in 2012), who started the past two seasons for Atlanta. Her absence could hurt the Dream. We'll see how well can she be replaced by another former Duke standout, Thomas, and/or whoever else runs the point.
Biggest challenges
Along with filling the hole at point guard, what might be hard for the Dream is simply staying ahead of three teams in the East that might be better this season than last: Chicago, New York and Washington.
Playoff prospects
The Dream have been to the postseason four of the five seasons of the franchise's existence, missing only in their inaugural season. But something has to give this season with the improvement from other East teams. Atlanta could find itself on the outside looking in during the playoffs, along with Connecticut. Again, a lot will depend on if McCoughtry can elevate her whole team.
espnW.com
Mechelle Voepel joined ESPN.com in 1996 and covers women's college hoops, the WNBA, the LPGA, and additional collegiate sports for espnW.
2013 WNBA SEASON PREVIEW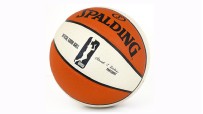 The WNBA's 17th season tipped off May 24.
Schedule » Scores » Teams » Video »
WNBA SEASON PREVIEW
WEST BREAKDOWNS
EAST BREAKDOWNS
MORE WOMEN'S BASKETBALL HEADLINES

MOST SENT STORIES ON ESPN.COM