Commentary
Plot thickens as 2013 season nears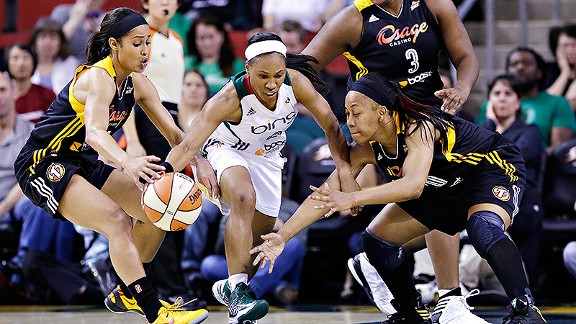 AP Photo/Elaine ThompsonCan rookie Skylar diggins, left, lead Tulsa to new heights this season?
Last week, women's basketball Twitter queen Skylar Diggins sent out a short, perfectly apt tweet. It was in response to a big surprise with her new team, the Tulsa Shock, but it could apply to the entire WNBA season, which officially starts this week.
"The plot thickens …" was @SkyDigg4's comment. And indeed, there are a lot of storylines to follow, many of which could -- and probably will -- impact who we see in October battling for the WNBA championship.
KEY DATES

The preseason is underway. Rosters need to be cut to 11 players by May 23. A look at some of the key dates for the 2013 WNBA season:
| | |
| --- | --- |
| May 24 | Regular season opens |
| July 27 | WNBA All-Star Game |
| Sept. 15 | Regular season ends |
| Sept. 19 | Playoffs open |
| Oct. 16 | Last WNBA Finals date |
Diggins was referring to the news that center Liz Cambage is coming back to play for the Shock this season despite the announcement in April that she wasn't. Cambage is supposed to be wheels down in Oklahoma this week for the first time since the end of her rookie season in 2011.
And while Shock fans perhaps started happily (and hopefully) humming "Dizzy, Miss Lizzy," WNBA observers thought, "Wow, yet another interesting development."
There have been plenty of those since the Indiana Fever's triumph last October, when the team finally took Tamika Catchings and Katie Douglas off the list of "best players never to have won a WNBA title." That Douglas had to experience the league Finals from the bench with an injured ankle actually didn't make her any less thrilled to be a WNBA champ.
But some folks who definitely weren't thrilled with how the 2012 postseason played out were the Connecticut Sun brass. The Sun had the best record in the Eastern Conference but didn't make it to the WNBA Finals, let alone take the championship they've been seeking since the franchise's move from Orlando, Fla., for the 2003 season.
Alas, a big domino then fell: The Sun let coach Mike Thibault go. Washington -- which had parted ways with coach Trudi Lacey and finished fourth in the draft lottery just after the regular season ended -- had a perfect landing spot for Thibault.
"Want to come here and fix everything?" the Mystics asked Thibault. As a matter of fact, he did.
While Thibault got a fresh start in D.C., Anne Donovan woke up from a nightmare that she was trying to be successful at Seton Hall and found herself back in the WNBA. Now, she is Connecticut's coach and will guide a team led by 2012 league MVP Tina Charles.
Donovan is well traveled, but the pinnacle of her WNBA coaching career was in Seattle, where she won a league title in 2004 behind stars Lauren Jackson and Sue Bird -- neither of whom will be playing in the WNBA this season as they recover from injuries.
[+] Enlarge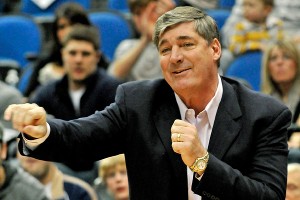 AP Photo/Jim MoneBill Laimbeer led Detroit to three WNBA titles while coaching the Shock from 2002 to 2009.
LJ has missed time before with injuries/Australian national team commitment. But this will be the first Bird-less WNBA season since 2001. (There hasn't been a lot of good news regarding pro basketball in Seattle in 2013, has there?) Bird was the No. 1 draft pick in 2002 and has won two championships with the Storm.
The career-title expectations are at least that high for this season's top selection: Baylor center Brittney Griner joins a healthy-again (for the most part) Phoenix team that was 7-27 and last in the Western Conference in 2012.
While some fans league wide grumbled (or screamed) about Phoenix positioning itself for the draft lottery last season, the Mercury fans seemed to take the dismal record with a grain of salt.
Or several grains, that is, atop their margarita glasses as they patiently endured a season going nowhere in hopes that the payoff would be bountiful. And it was: Griner should fit in very well with the Diana Taurasi-led Mercury and is one of the projected "game-changers" among the rookie class.
So, has it really taken this long to get to that phrase "3 to See?" Yeah, made you wait for it. We've already mentioned two of the Holy Rookie Trinity, with Notre Dame's Diggins and Griner. The third is just as intriguing, in part because most women's hoops fans still haven't seen her play that often.
Delaware's Elena Delle Donne is no longer the crown jewel of the Colonial Athletic Association. She's ready for her big-time close-up in the Windy City and might be the piece that completes the Chicago Sky's playoff puzzle.
The No. 2 pick overall, Delle Donne will not have to change her athletic color scheme much -- it's still blue and gold (yellow, whatever) -- but she will be able to slightly adjust her mindset.
Delaware was "Delleware" during her college career; she was always the center of attention, and she handled it extremely well. But now she has some teammates who are at the same elite individual-skill level as she is, led by center Sylvia Fowles.
That doesn't mean that Delle Donne should take a back seat and just watch how the pros do things. To the contrary, this is her chance to blossom even more as a leader, which will be welcomed in Chicago. But she won't have to shoulder quite so much of the load on court.
REGULAR-SEASON TV SCHEDULE
ESPN2 and ABC will combine to present 14 regular-season WNBA games. The 2013 schedule opens with a Memorial Day doubleheader featuring the WNBA Draft's top four picks. ESPN2 will showcase the majority of the postseason. The WNBA Finals begin on Oct. 6 for a best-of-five series. (All tip times are ET.)
Date
Matchup
Network
May 27
Mystics at Shock
3 p.m.
ESPN2
May 27
Sky at Mercury
5 p.m.
ESPN2
June 8
Mercury at Fever
3:30 p.m.
ABC
June 12
Sun at Fever
8 p.m.
ESPN2
June 25
Sun at Silver Stars
8 p.m.
ESPN2
July 2
Shock at Sun
8 p.m.
ESPN2
July 9
Dream at Lynx
9 p.m.
ESPN2
July 11
Sparks at Shock
9 p.m.
ESPN2
July 18
Mercury at Sparks
10 p.m.
ESPN2
July 23
Liberty at Fever
7 p.m.
ESPN2
July 27
All-Star Game
3:30 p.m. (Mohegan Sun)
ABC
Aug. 6
Storm at Mercury
10 p.m.
ESPN2
Aug. 20
Sparks at Storm
10 p.m.
ESPN2
Aug. 24
Fever at Lynx
7 p.m.
ESPN2
Sept. 11
Mercury at Sky
8 p.m.
ESPN2
As for Diggins, she's working with mostly an open canvas. She had four years of success at Notre Dame, while the Shock in Tulsa have had three seasons of single-digit victory totals.
Diggins has embraced being the face of her new franchise. Now, we'll see how coach Gary Kloppenburg's upwardly mobile team from last season -- nine wins might not seem like much, but it equaled the previous two seasons combined -- fares in the Western Conference in 2013. Playoffs, anyone?
OK, wait, there's a loud knock at the door. Like, REALLY LOUD. Hold your horses, we're coming … why, look! It's Bill Laimbeer, back in the WNBA -- he took over at New York -- and wondering why he hasn't been mentioned yet.
Well, Coach, we told you there were a lot of storylines. We'll get to you in a minute. How do you think the Minnesota Lynx feel? Two-time defending West champions, and all they're hearing is how hot Phoenix will still be in October for the WNBA Finals this season.
Actually, both the Lynx and the Los Angeles Sparks might not really be too bothered by all the hoopla about the Mercury. Because they know they are also strong contenders in the West.
The Sparks added point guard Lindsey Harding, who should mesh well with Candace Parker, Kristi Toliver, 2012 rookie of the year Nneka Ogwumike and Harding's former Duke teammate, Alana Beard.
And with the likes of Maya Moore, Seimone Augustus, Lindsay Whalen and Rebekkah Brunson back -- along with the return to Minneapolis of former Minnesota Gophers star Janel McCarville -- there is a lot to work with for Lynx coach Cheryl Reeve.
Who, incidentally, last fall predicted that we might not have seen the last of her former boss in Detroit, Big Bill, in the WNBA. She was right; Laimbeer is now coach and general manager of a Liberty team that he believes can become a championship contender.
First though, he'll have to navigate his way through the Eastern Conference this season. The East favorite should be the defending champions, as Lin Dunn's Indiana squad brings back all its key players from the title team.
To some degree, Laimbeer is re-creating his former Detroit team in New York, but guard Cappie Pondexter remains the main threat for the Liberty. At 20.4 points per game last season, Pondexter finished third in the league in scoring behind Atlanta's Angel McCoughtry (21.4) and Phoenix's DeWanna Bonner (20.6).
McCoughtry's Dream saw the departure of free agent Harding to the Sparks, so probably the key question in Atlanta is, Who will direct the traffic? The Dream have been to the postseason the last four seasons -- including WNBA Finals appearances in 2010 and '11 -- but might face some struggles making the postseason in 2013.
Not because the Dream aren't a good team, but because last season's playoff outsiders -- Chicago and Washington -- both appear to be better. Top to bottom, in fact, the East might be the stronger of the two conferences. It's not hard to see all six of the East teams in the playoff race.
However, the West is more monstrous at the top, with Minnesota, Phoenix and Los Angeles. But Seattle, as mentioned, is missing its dynamic duo, San Antonio will be without injured star Sophia Young (knee) and Tulsa will have to live up to its hoped-for promise by doing things that haven't been done there before.
For such tasks, Diggins is perfectly cast. She's the most glamorous, media-savvy sports figure to hit Tulsa since … well, Oklahoma coach Sherri Coale's last visit. Diggins has moved on past the disappointment of coming so close but not winning an NCAA title. There is a whole new challenge in front of her.
South Bend, Ind., was her hometown, but Tulsa can become the new hub of SkylarWorld. You can be sure fans are ready to embrace her and see what she has to offer. Same for the other star rookies and the coaches in new places, plus, the familiar faces we've become accustomed to providing summertime hoops entertainment.
The plot really has thickened. This WNBA season shows every indication of being quite a page-turner.
espnW.com
Mechelle Voepel joined ESPN.com in 1996 and covers women's college hoops, the WNBA, the LPGA, and additional collegiate sports for espnW.
2013 WNBA SEASON PREVIEW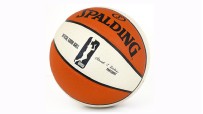 The WNBA's 17th season tipped off May 24.
Schedule » Scores » Teams » Video »
WNBA SEASON PREVIEW
WEST BREAKDOWNS
EAST BREAKDOWNS
MORE WOMEN'S BASKETBALL HEADLINES

MOST SENT STORIES ON ESPN.COM