Commentary
Who are the top five centers?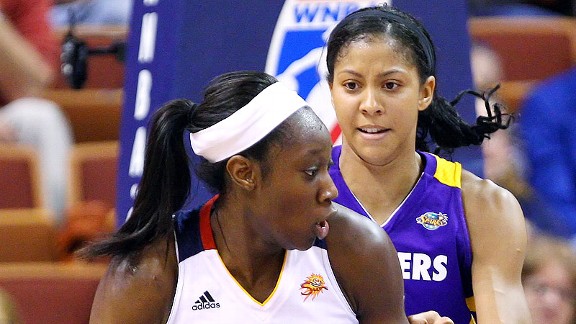 Cal Sport Media via AP ImagesTina Charles and Candace Parker have both won WNBA MVP honors.
As Brittney Griner is quickly finding out, it's not easy being a center in the WNBA.
It's rough down there in the paint -- the size, the physical play, the jostling, the foul trouble.
The best women's league in the world is home to the best centers in the world in 2013, a group that includes grizzled veterans, gold medalists and some of the most promising young talent one could imagine.
Even with Storm center Lauren Jackson out of the league for the season, taking a year off from Seattle to heal her hamstring, the best centers in the WNBA make for a star-studded list of talent and experience. These strong, powerful women score inside at will. They battle for the boards, block shots and stretch defenses.
In this game-changing season for the WNBA, espnW will rank the top players at each position. We start with the WNBA's five best centers:

Parker
1. Candace Parker, Los Angeles:
It seems like the WNBA was waiting forever for Parker to be her best, most-healthy self. Although she became the first player to win MVP and rookie of the year honors in 2008, it wasn't until the 2012 season that she finally busted out for the Sparks, averaging 18.5 points and 12.5 rebounds a game. A center for the purposes of this conversation (the Sparks don't differentiate their post positions), Parker has always been so much more than a back-to-the-basket post. She is as versatile as ever, strong inside, great off the dribble and a deft ball handler. And she's awfully hungry, still waiting and wanting her first WNBA title.
-- Michelle Smith

Charles
2. Tina Charles, Connecticut:
Charles is a double-double machine for the Sun, with career averages of 17.1 points and 11.1 rebounds a game. Her consistency at filling the stat sheet in both columns -- posting career-bests with 19.0 points and 12.7 rebounds a game in 2012 -- places her among the league's best all-time posts. She is big, powerful and potent, and the only thing that is missing from her résumé is a long postseason run.
-- Michelle Smith

Fowles
3. Sylvia Fowles, Chicago:
Big Syl went to the Final Four all four seasons she was at LSU (although not to the championship game), and she has won two Olympic gold medals. But she has yet to appear in the WNBA playoffs. Maybe this is the year for her and the Sky. Fowles is off to a strong start in 2013, averaging 14.3 points and 15.0 rebounds in three games, including 24 and 22 in her head-to-head matchup May 31 versus Tina Charles. She has battled some injuries over the years, but when she's healthy, Fowles can dominate the paint. And she now has another top scorer in teammate Elena Delle Donne to give her more room to work with inside.
-- Mechelle Voepel

Griner
4. Brittney Griner, Phoenix:
No player has come into the WNBA as a rookie with higher expectations or more eyes on her. Phoenix has lost its first two games, meaning Griner already has as many losses in the WNBA as she had in her last two seasons combined at Baylor. But she and the Mercury aren't panicking. Griner is averaging 17 points and 7.5 rebounds a game, and she has blocked seven shots. She seems mostly comfortable on the court as a pro but will have to adjust to officiating. She had four fouls in each of her first two games.
-- Mechelle Voepel

de Souza
5. Erika de Souza, Atlanta:
While she isn't a "great" pro player -- which the previous four either are or likely will become -- de Souza has been consistently good in the interior for an Atlanta franchise that has made the playoffs in four of its five seasons of existence. Now 31, de Souza is in her fifth year as a full-time starter in the WNBA, although she played just 15 regular-season games last season because of her commitment to the Brazilian national team for the Olympics. She is averaging 10 points a game, which is near her WNBA career average, but only four rebounds a contest, which is low for her.
-- Mechelle Voepel
Contributor, espnW.com
Based in the San Francisco Bay area
Has covered pro and college sports for AOL Fanhouse and the San Francisco Chronicle
Founder of leftcoasthoops.com which covers women's basketball on the West Coast
espnW.com
Mechelle Voepel joined ESPN.com in 1996 and covers women's college hoops, the WNBA, the LPGA, and additional collegiate sports for espnW.
MORE WOMEN'S BASKETBALL HEADLINES

MOST SENT STORIES ON ESPN.COM