Commentary
A-to-Z rundown of what to expect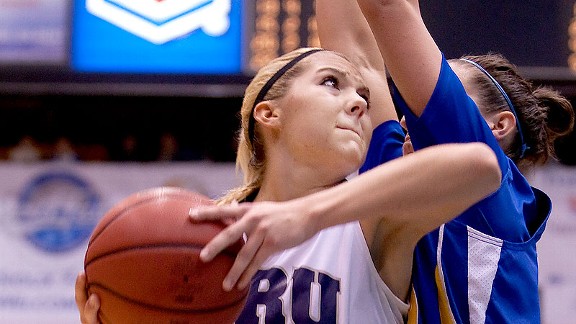 John S Peterson/Icon SMIOnly Elena Delle Donne averaged more ppg than Oral Roberts' Kevi Luper (23.8) in 2012.
The college basketball season has arrived. Players, coaches and fans are preparing for a five-month trek that takes them through the preseason, conference play and postseason tournaments and ends with a party in New Orleans for the Final Four.
And while most teams will measure their season by W's and L's, we are starting out on a different route. Here is a look at the upcoming season, from A to Z.

A: Arizona State. Coach Charli Turner Thorne took a year off to recharge and spend time with her family, a rare opportunity in the coaching universe. But she's back on the floor with the Sun Devils and it's time to rebuild a program that fell to the middle of the Pac-12 in her absence.
B: Brittney and Baylor. The best player in the country, Brittney Griner, anchors the best team in the country in a quest to become the first team to win consecutive national titles since Connecticut did it in 2009 and 2010. No one player or program will get more attention this season than Griner and the Lady Bears. It's easy to argue that both deserve it. But it will not be a cakewalk. Baylor will navigate through a nonconference schedule that includes Kentucky, Stanford, Notre Dame, Tennessee and Connecticut -- and the Big 12 is no picnic, either.
C: Chiney. No longer simply known as Nneka's little sister, Chiney Ogwumike is the most athletic player in the country. The Stanford forward is going to have to lead the Cardinal on her own for the first time as they try for a record sixth straight trip to the Final Four.
[+] Enlarge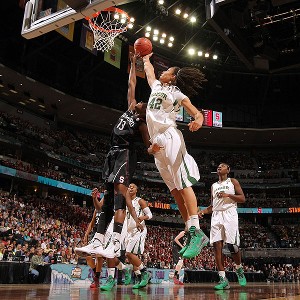 Doug Pensinger/Getty ImagesChiney Ogwumike and Britney Griner are preseason AP first-team All-Americans.
D: Diggins. Notre Dame point guard Skylar Diggins will be taking on a larger load with an inexperienced Notre Dame team looking to get to its third straight Final Four.
E: Elena. Hoping to take Delaware further than last March's second-round loss to Kansas, Elena Delle Donne's drive for her senior season will be intense.
F: Fennelly. Venerable Iowa State coach Bill Fennelly spent last season battling cancer in his vocal chords. But Fennelly is recovered now and ready to use his voice to coach a young team that has just four upperclassmen on the roster.
G: Gray. Duke guard Chelsea Gray finished off a dazzling freshman season by leading the Blue Devils to the Elite Eight. Is it time to take it to the next step and get Duke back to the Final Four for the first time since 2006?
H: Holly. Taking over the reins at Tennessee for the first women's basketball season in 38 years in which Pat Summitt is not at the helm, Holly Warlick inherits a team that is rebuilding as much as any Lady Vols squad in memory. Tennessee, which graduated five seniors from last year's team, is picked to finish fourth in the SEC. Is that possible?

I: Illinois. New head coach Mark Bollant goes from mid-major to major conference this season. After a great track record of success at Green Bay (148-19 in five seasons), Bollant is ready to take on the Big Ten. Last year, Bollant's Phoenix team went 4-0 against Big Ten opposition.
J: Juggling geography. For the first time in Big 12 tournament history, the women's tournament will be held in a different city than the men's. The women will play in Dallas, as the conference hopes for an attendance boost. Not that the Big 12 schools have much trouble drawing fans.
K: Kevi. Name not ringing a bell? Oral Roberts senior Kevi Luper was the nation's second-leading scorer last season (behind Elena Delle Donne), averaging 23.8 points.
L: Lower the rims? Will Geno's suggestion be the conversation of the season?

M: Mountaineers. West Virginia makes its debut in the Big 12 this season, logging plenty of travel miles and getting a taste of women's basketball's most passionate fan base.
N: New Orleans. The Crescent City is hosting the Women's Final Four for the third time (and first since 2004). New Orleans also hosted the men's Final Four last season and is the first city to host the women's event three times.

O: Oklahoma State. A year after the tragic deaths of head coach Kurt Budke and assistant Miranda Serna, the Cowgirls are ready to raise the stakes this season after winning the WNIT title. Five starters are back, yet they've been picked to finish near the bottom of the Big 12. No respect might mean a lot of motivation.
P: Phoenix. The Mercury have the No. 1 pick in the WNBA draft. They will be rubbing their hands together with glee waiting for the college season to be over for their chance to add a franchise-changing talent, presumably Griner, to their roster.
Q: Quentin. Syracuse head coach Quentin Hillsman led his team to a semifinal appearance in the WNIT last season. The Orange, picked to finish seventh in the Big East, are thinking NCAA tournament in their last season before moving to the ACC.
R: Referees. They'll be keeping their eyes open in various areas they've been instructed to "monitor" by the NCAA, including incidental elbow contact, traveling calls on spin moves and pace of play.
S: Stewart. The next it-girl of women's basketball, freshman Breanna Stewart is perhaps the player who can get the Huskies back to the title game for the first time in three years. Coach Geno Auriemma is contributing to the hype, saying Stewart has a chance "to be as good as anyone we've ever brought in here." No pressure or anything.

T: Texas A&M. The Aggies make the highest-profile move of the new season, as Gary Blair's program makes its debut in the SEC.
U: Unranked. Six teams that were not in the Top 25 in March find themselves in the AP preseason poll to begin 2012-13: DePaul, California, Oklahoma, Vanderbilt, West Virginia and Oklahoma State.
V: Victory streaks. Baylor owns the nation's longest winning streak at 40 games. Stanford owns the country's longest home winning streak at 79.
W: Wiggins. Mississippi hired away Adrian Wiggins from Fresno State. But Wiggins didn't even make it to the first game of the season, fired along with two assistants for alleged "impermissible recruiting contact and academic misconduct." Mississippi hired Brett Frank as interim head coach for the season while school officials clean up the mess.
X: As in the Roman numeral. It has been 10 years since the women's NCAA tournament went to the Sunday-through-Tuesday format for the Final Four. That Final Four in Atlanta drew 28,210; only once in the next decade has the Women's Final Four drawn more.
Y: Yet to be determined. Trenton was originally scheduled to host a regional site for the NCAA tournament, but in October, the NCAA elected to relocate several championships from New Jersey because of a new state law allowing sports wagering on professional and collegiate games. So which city will join Norfolk, Oklahoma City and Spokane along the road to New Orleans?
Z: Zero. Is Baylor ready for another zero-loss season? It could happen.
Contributor, espnW.com
Based in the San Francisco Bay area
Has covered pro and college sports for AOL Fanhouse and the San Francisco Chronicle
Founder of leftcoasthoops.com which covers women's basketball on the West Coast
2012-13 SEASON PREVIEW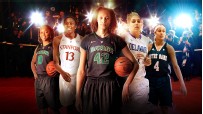 Get ready for 2012-13 with espnW's women's college basketball preview.
EXPERT ANALYSIS
FEATURES
CONFERENCE PREVIEWS
VIDEO
SPORTSNATION
MORE WOMEN'S BASKETBALL HEADLINES
MOST SENT STORIES ON ESPN.COM