Commentary
Griner repeats as player of year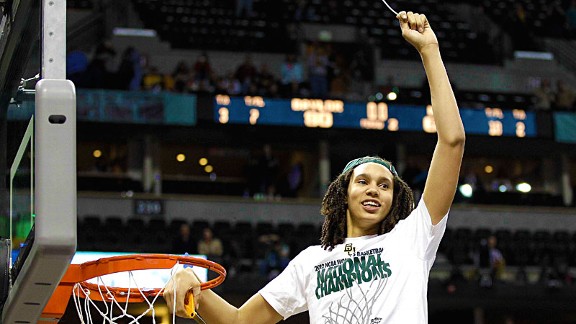 AP Photo/Eric GayJust like no one could stop Baylor in '12, Brittney Griner's the one-and-only pick for player of the year.
Most folks are not going to see a whole lot that needs improvement with Baylor center Brittney Griner. But Bears coach Kim Mulkey's job to find such things and challenge Griner to go to work on them.
The 6-foot-8 senior has responded every time Mulkey has pointed out a new focus for her. That determination to improve -- even when she's already physically so gifted -- is a big reason Griner is espnW's preseason player of the year for a second consecutive season.
espnW on Griner

Brittney Griner was espnW's unanimous choice as the preseason player of the year. Here is what our experts have to say about the Baylor senior:
"She is the most unique combination of size and skills that the game has ever seen. Griner doesn't change games, she changes game plans, and doesn't necessarily have to score to do so. When she does, the results are devastating." -- Charlie Creme
"She is probably the focus of more game-plan energy than any player in the history of women's college basketball, and she still shot 60 percent from the field and 80 percent from the free throw line last season. So whatever the best coaching minds in the business are doing, which is everything they can think of, it isn't working. And she's even more dominant on the other end of the court." -- Graham Hays
"She is the dominant force in the women's game. There is no player in college basketball that even comes closer to her size, skill and presence. She is the game-changer of this generation." -- Kate Fagan
"There is no other women's player in the world like her. An imposing 6-foot-8 athlete, she makes teams change the way they play both offense and defense. We've never seen a women's player with her size, athletic ability and skill, and probably won't ever again." -- Rebecca Lobo
"She has physical attributes -- height, arm span and athleticism -- that are absolutely unique in the game. But it's what she has done with those natural advantages that makes her the best player in the college game. She has worked to harness her gifts, honed quickness and become so much more than the big girl in the paint." -- Michelle Smith
"She is still eager to improve, so she has worked on her face-up shot and her offensive rebounding as the areas she most wants to be better at for her senior season. Griner also has turned into a solid team leader for a Baylor team that will have to stay hungry to repeat." -- Mechelle Voepel
Griner won the Wade Trophy and all the other player of the year awards in 2012, but she's still totally open to constructive criticism.
"Brittney's maturity each year is very obvious to the casual observer," Mulkey said. "I think the specific parts of her game that I challenge her on, she has accomplished."
After her freshman season, it was for Griner to improve her free throw shooting. Then it was moving her feet to become a better defender.
"Then this year, looking at her stats to give Brittney something to really focus on, I just thought that offensive rebounding could be better," Mulkey continued. "She's not even our best offensive rebounder on the team -- that would go to Destiny Williams and Brooklyn Pope."
That said, Griner actually did get more offensive rebounds than any other player for the 40-0 national champions last season: 129. Williams, a fellow starter who played two fewer games, had 126. Pope, a reserve who played not even half as many minutes as Griner, had 86.
Griner is still doing very well overall on the glass: She averaged a team-best 9.5 rebounds last season, along with 23.2 points and 5.2 blocked shots. And part of what lowers her offensive rebounding numbers is that she doesn't need to put back very many of her own misses: Griner shot 60.9 percent from the field last season.
Still, Mulkey wants a little more, while at the same time being aware of why it's difficult.
"Of course, people are focused on her," Mulkey said. "And that's probably why she isn't a very good offensive rebounder -- because she has two and three people blocking her out. But a lot of it is a mindset, and I want her to be conscious of it. I just want her to understand that as good as she is, she can get better in several areas."
This a key reason why Griner wanted to play at Baylor: She knew Mulkey would be supportive of her, but also always challenge her. It has been a great union of coach and player: They have different personalities, but are both highly competitive in their own ways. Plus, Griner has never let Mulkey down in terms of work ethic.
In her final season at Baylor, Griner has younger players to teach, and Mulkey also likes what she has seen from her superstar in terms of mentorship.
"Brittney has become comfortable being a leader each year she's been in the program," Mulkey said. "That's what you want to see from your great players. …
"It's always good to have your better players be your hardest workers. Because it's not what they say, but how they act and what they do in practice that freshmen look at and want to emulate."
espnW.com
Mechelle Voepel joined ESPN.com in 1996 and covers women's college hoops, the WNBA, the LPGA, and additional collegiate sports for espnW.
2012-13 SEASON PREVIEW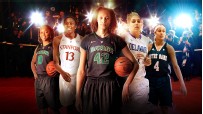 Get ready for 2012-13 with espnW's women's college basketball preview.
EXPERT ANALYSIS
FEATURES
CONFERENCE PREVIEWS
VIDEO
SPORTSNATION
MORE WOMEN'S BASKETBALL HEADLINES
MOST SENT STORIES ON ESPN.COM