Commentary
Louisville finally healthy again
After injuries derailed 2012, Cardinals can't wait to see what they're capable of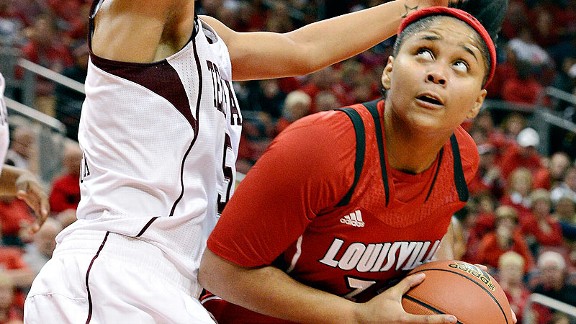 AP Photo/Timothy D. EasleyMonique Reid led Louisville in scoring in 2009-10 and 2010-11 before missing last season.
LOUISVILLE, Ky. -- Louisville coach Jeff Walz is on the floor at the sparkling new Yum Center, hours before his team tips off the season against No. 15 Texas A&M. He's watching his team go through its pregame shootaround, and as he walks by the scorer's table, he says, "If we stay healthy, I think we have something."
That 'if" is the difference between elite and not, between top of the standings and middle of the pack, between satisfactory and special. The difference, simply, between good and great.
Last year, Louisville was not healthy. Two of the Cardinals' seniors -- Monqiue Reid and Tia Gibbs -- missed major portions of the season with significant injuries. And his team, while hardly a failure with an NCAA tournament second-round appearance and a four-point loss to Maryland to close the season, felt the consequences.
TOP 10 FOCUS

Baylor was the unanimous choice as the No. 1 team in our Preseason Top 25. As the rest of the country tries to stop the Lady Bears from repeating as national champions, we are taking an in-depth look at the other nine teams in our top 10.
So how does Louisville, which we ranked No. 8, stack up?
With their two victories already this season, the Cardinals have shown they can win by scoring little (47 points against Texas A&M) and scoring big (95 against Portland). But how would they do against the large threat of Baylor, should they confront the Lady Bears in the NCAA tournament?
"Having forward Monique Reid back this season from injury should really help the Cardinals' offense," espnW's Mechelle Voepel says. "Post player Sara Hammond might have taken a big step forward as a sophomore. And junior guard Shoni Schimmel returns as Louisville's leading scorer.
"Picked to finish third behind UConn and Notre Dame in the Big East, Louisville should be a pretty strong team by the postseason. Maybe not enough to match up with Brittney Griner and Company. But the Cardinals could take advantage if they get an NCAA draw they can work with."
This year, with a No. 8 national ranking, more depth and a better balance of talent, Walz knows his program has potential to cross that threshold, the same one the Cardinals crossed in 2009 when Angel McCoughtry led the them to the Final Four.
"I think we are going to be very competitive," Walz said. "The fact that we are a top-10 team says a lot about what we've done the last six years. We've done it, kind of our own way. We get kids that really want to be here."
Kids like Sarah Hammond, the sophomore forward, who put in a summer's worth of work, talked herself out of all the pressure she was feeling and started the season on a great note with a 20-point, 13-rebound performance against Texas A&M.
Or a kid like Jude Schimmel, who came to Kentucky in the shadow of older sister Shoni, and is playing her way into her own identity, including the heads-up hustle of a steal and layup that sealed Friday's win over the Aggies with 24 seconds to go.
"We have a program here," Walz said. "We are not one player. I think that showed (against Texas A&M)."
In fact, the Cardinals' improved depth gives Louisville hope that it can weather some bumps and bruises and stay with the teams at the top of the Big East.
Reid, who led Louisville in scoring in 2009-10 and 2010-11, is starting the season playing limited minutes, while Gibbs should be back by the time Big East play starts (if not sooner). Her shoulder is no longer the problem. Now Gibbs is healing a hip injury. Junior Asia Taylor is still recovering from hip surgery.
With his veterans still on the mend, this feels like a young squad. Walz started a junior, three sophomores and a freshman against A&M. Bria Smith, one of the top freshmen in the Big East last season, will take on a larger scoring role, along with sophomore Shawnta' Dyer. Freshman guard Megan Deines will play a lot of minutes from the get-go out of necessity.
Hammond's improvement will figure huge. The 6-foot-2 forward from Mt. Vernon, Ky., felt the weight of being a local kid made good last season, and in fact, at times felt as if she was playing for her entire town. And the college game was even faster and more physical than she anticipated.
"I stayed here on campus, I conditioned, and right now it's paying off," Hammond said. "I feel like we are maturing, we're growing. Last year, in tough situations, we would have broken down or looked to Shoni to make the play, but we can go to other people this year and we can finish games."
But whether his team can hang in against Connecticut and Notre Dame, finish ahead of strong conference teams such as St. John's and DePaul & it all hinges on the 'H' word for Walz.
"We have got to get healthy," Walz said. "I don't need 100 percent. We can have somebody miss two or three games. But we can't have two or three kids miss the entire season."
Junior guard Shoni Schimmel remains the backbone, the leading returning scorer after averaging 14.3 points a game last season. Still trying to temper some of her more free-wheeling tendencies -- both in the passing and shooting departments -- Walz sees maturity and leadership, a settling from the Oregon product.
"The kid loves to play, so now that we are getting to the season she is becoming more focused," said Walz, woh wants Schimmel to cut down on turnovers and improve her shot selection. "I think she's capable of having a 3-to-1 assist-to-turnover ratio. It's just a matter of taking a pass or two out of the game and make it an easy pass.
"& She's really evolved in her understanding of the game. She's understanding, 'Why would I take a 30-footer, when I can take it from 23?'"
Shoni Schimmel wants to see a team that is more "grown-up" than last seson.
"We have a lot of returners, but we have a lot of young kids and we need to play together," she said. "We are playing good basketball together now, but we need the whole picture to come together. We need everybody back in the flow."
Contributor, espnW.com
Based in the San Francisco Bay area
Has covered pro and college sports for AOL Fanhouse and the San Francisco Chronicle
Founder of leftcoasthoops.com which covers women's basketball on the West Coast
2012-13 SEASON PREVIEW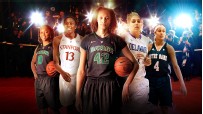 Get ready for 2012-13 with espnW's women's college basketball preview.
EXPERT ANALYSIS
FEATURES
CONFERENCE PREVIEWS
VIDEO
SPORTSNATION
MORE WOMEN'S BASKETBALL HEADLINES
MOST SENT STORIES ON ESPN.COM