Stewart is preseason player of year
Originally Published:
November 8, 2013
espnW.com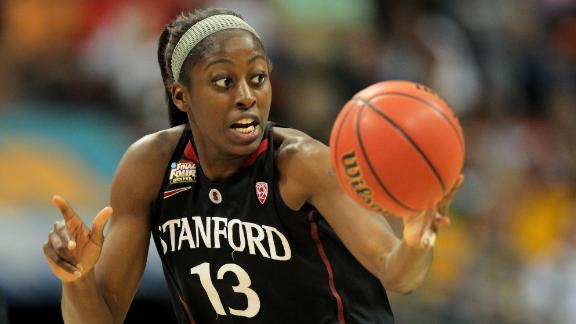 Preseason POY Picks
At Connecticut, they call her "Stewie."
At espnW.com, we call her the 2013-14 preseason player of the year.
Breanna Stewart is merely a sophomore, a player with just one college basketball season under her belt. But it was a pretty impressive rookie run, ending with a national championship and Stewart being crowned as the Final Four's most outstanding player, the first freshman since 1987 to win the award.
But to say the Huskies' 6-foot-4 forward was the runaway choice among the espnW.com women's basketball staff is an injustice to the bevy of other talented players who will come to define the 2013-14 season. In fact, in perhaps the most difficult decision our team has made over the years, Stewart ultimately emerged with the most votes, edging Stanford senior Chiney Ogwumike and Maryland senior Alyssa Thomas. Each has a legitimate case to be considered the best player in the land heading into the season.

Breanna Stewart
Sophomore forward
Connecticut Huskies
2012-13 STATS
GM

36

MPG

23.7

PPG

13.8

RPG

6.4

FG%

.508

FT%

.777
But Stewart, the best player on the best team, came out on top.
"She is the most talented player in the country," ESPN analyst Kara Lawson said. "I think she will be dominant this season on both ends of the floor. She probably presents the toughest matchup in the country with her size and her ability to shoot the 3. Defensively, she's athletic. She can come from the weak side and block shots."
Stewart arrived at UConn loaded with expectations, the most highly regarded high school player to come along since Brittney Griner, a preordained star with the requisite "it girl" skill set of versatility, length and a game that is as dominating on the perimeter as in the paint. Before Stewart had taken the court, even Geno Auriemma, who can be as hard on his star players as any coach, declared, "She could be one of the all-time greats who ever played here."
Of course, Stewart's first season had its ups and downs.
"But when it came time for the NCAA tournament and the most important games of the season, it was all 'up' for her," espnW.com columnist Mechelle Voepel said. "Her varied offensive skills are what everyone notices right off. It's just very difficult to find any effective way to defend her when she's on her game."
In the national championship game, she tallied 23 points, nine rebounds, three assists, three blocks and three steals. Stewart totaled 52 points in the Final Four, shooting 61 percent from the floor. In wins against Kentucky, Notre Dame and Louisville in the final three rounds of the NCAA tournament, Stewart averaged 24.3 points, 6.0 rebounds and 3.3 blocks.
As a sophomore, she will be a proven product, but one likely facing less pressure as she settles into the familiarity of college basketball.
But the expectations remain high.
"Most players improve the most from freshman to sophomore year; that's when they make the biggest jump," Lawson said. "That's kind of scary to think of."
SPONSORED HEADLINES
MORE WOMEN'S BASKETBALL HEADLINES
MOST SENT STORIES ON ESPN.COM
2013-14 SEASON PREVIEW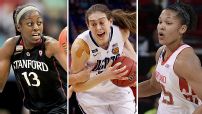 Get ready for 2013-14 with espnW's women's college basketball season preview.
TOTAL ACCESS
VIDEO