Commentary
Stefanie Dolson is heart of Huskies
Senior center, not Stewart or Mosqueda-Lewis, is UConn's most important player
Updated:
December 18, 2013, 9:43 AM ET
By
Kate Fagan
| espnW.com
DURHAM, N.C. -- Less than four months from now, the University of Connecticut will win the national championship.
There are plenty of reasons this will happen. There is, of course, the simple fact that UConn plays better defense and, for that matter, offense, than any other team in women's college basketball, which was again confirmed during the Huskies' easy 83-61 road win over Duke on Tuesday night.
[+] Enlarge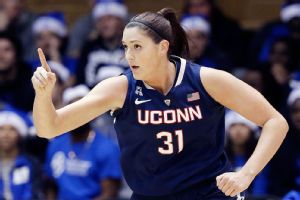 AP Photo/Gerry BroomeStefanie Dolson, who had a triple-double last month, tallied 14 points (on 6-of-8 shooting), 9 boards and 6 assists Tuesday.
Entering the game, Duke was ranked second in the country, one spot behind UConn, but the gap between the two teams seems much bigger, as if the Huskies are on their own island and the Blue Devils are frantically paddling for shore.
And there's actually a much more specific reason the Huskies will win -- OK, will almost certainly win -- the program's ninth NCAA title at the end of this season.
Stefanie Dolson.
As in, the teammate of star forward Breanna Stewart. Dolson doesn't get as many headlines, but the 6-foot-5 senior center is the one who seamlessly directs UConn's relentless defense -- and, more often than not, its offense.
Dolson isn't the most talented player on the UConn roster. That title belongs to Stewart, who scored 24 points against Duke. Nor is Dolson the smoothest member of the squad. That would be junior forward Kaleena Mosqueda-Lewis, who played for the first time in eight games and dropped 21 points on 7-for-11 shooting from beyond the 3-point line.
But Dolson is the most important player.
"

I know I'm on a team with two of the best players in the country. My role isn't the same as theirs. Sometimes my role is to do a little bit of everything. To keep everything moving.

"

-- UConn's Stefanie Dolson
When UConn coach Geno Auriemma walked into the press room after the game, he looked at the stat sheet and said, "How many assists did Stefanie have? Six? There are some centers in the country who don't get six assists in a full year."
So that's one thing about Dolson: her court vision. And the thing about having a center who passes like a point guard is that she's usually catching the ball in the heart of the defense, with all angles open. A center who can pass is like having your queen in the middle of the chess board.
"I love passing," Dolson told espnW after the game. "I know I'm on a team with two of the best players in the country. My role isn't the same as theirs. Sometimes, my role is to do a little bit of everything, to keep everything moving."
Against Duke, Dolson kept the ball moving to Mosqueda-Lewis, firing crisp overhead passes to UConn's best shooter, to the player Auriemma called an "artiste" after the game because of her deft touch. "I didn't have any expectations necessarily of how she would do," the coach said of Mosqueda-Lewis, who suffered a nerve contusion in her right elbow on Nov. 11. "We were prepared to go the whole game without her."
Dolson finished the game with 14 points and nine rebounds in 38 minutes, numbers similar to her season averages. But because the categories "Baselines Cut Off" and "Screens Called Out" don't exist on a stat sheet, her true effectiveness is hard to quantify. She does not let a defensive possession pass without doing everything possible to keep all of her teammates in the exact right position, and because she usually has her head under the rim -- back to the baseline, eyes forward -- it turns out she's the perfect person for the job.
[+] Enlarge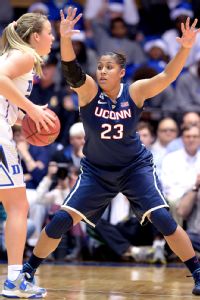 Lance King/Getty ImagesPlaying for the first time since Nov. 11, Kaleena Mosqueda-Lewis returned to hit a career-high seven 3-pointers.
When Auriemma subbed Dolson out at the end of the game, he stopped her on the way to the bench to let her know that she now has a career record of 2-0 at Cameron Indoor Stadium. Dolson looked as if she wanted to keep chatting, but Auriemma turned his attention back to the action. Afterward, he joked to the media that Dolson told him in the locker room she "has no weaknesses." Dolson, sitting next to her coach at the podium, quickly objected and said, "Wait, let's not put words in my mouth!" (Later, she made clear that he was basically making things up for the heck of it.)
The takeaway is that Auriemma trusts Dolson. He seems to know she is the player most responsible -- minute in, minute out -- for making the Huskies the No. 1 team in the country. Sure, when Stewart remembers how much better she is at basketball than most everyone else, UConn becomes better, too. Scary good. But that is not all of the time. (On Tuesday, Stewart was 6-for-12 from the field in the first half, 2-for-7 in the second.) Dolson is as steady as they come.
If you want to understand how essential Dolson is to UConn, look no farther than the Duke locker room, home of the country's second-best team.
"We have to own up," Blue Devils coach Joanne P. McCallie said. "Own up and grow and change and use this. It's very disappointing because we didn't fight throughout. We fought and then we didn't fight. It wasn't the consistent fight that we wanted to have as a team, but this helps us on our journey to get better and figure things out, whether it's ball movement or stops on defense. There are quite a few things we can look at."
Consistency. Fight. Ball movement. Defensive stops.
Sounds like a scouting report on Stefanie Dolson.
Columnist, espnW.com
Joined espnW in Jan. 2012
Spent three seasons covering the 76ers for the Philadelphia Inquirer
Played women's basketball at University of Colorado from 1999-2004