Commentary
Gonzaga Way drives Zags again
BYU expected to join Gonzaga in NCAA tourney to give WCC two representatives
Originally Published:
March 11, 2014
By
Charlie Creme
| espnW.com
LAS VEGAS -- Tuesday's West Coast Conference championship game followed a familiar script. Gonzaga was here for the eighth straight year. BYU made its second appearance in three seasons since joining the conference.
And for the sixth time in seven years, coach Kelly Graves and his Zags hoisted the trophy as confetti fell from the rafters of the Orleans Arena in Las Vegas.
Despite extending its domination of the conference, this isn't classic Gonzaga -- at least not in the same category as the Courtney Vandersloot-led Zags that reached the Sweet 16 and Elite Eight in consecutive seasons in 2010 and 2011. This isn't even the same caliber as the 2012 version, when Kayla Standish guided the Bulldogs to the Sweet 16.
This team likely won't have an All-American (though Haiden Palmer might have a chance), and even reaching the Sweet 16 would be a minor surprise.
But these Zags still have a special place in the history of Gonzaga basketball.
[+] Enlarge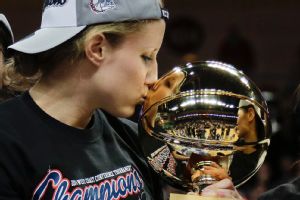 AP Photo/Julie JacobsonStephanie Golden and Gonzaga won its sixth WCC tourney championship in seven years.
"We expect success and we work hard to achieve that," said Graves, who's in his 14th season leading the program he built into a household name. "It's the Gonzaga Way and I have never had a group that worked harder than this one."
Juniors Keani Albanez and Sunny Greinacher combined for 36 points, but that Gonzaga Way -- the work, the commitment, the teamwork -- was best epitomized by a defense that stifled the Cougars after an opening spurt by Jennifer Hamson, BYU's senior who was both the WCC's player of the year and defensive player of the year. The Zags forced 21 turnovers, blocked seven shots and made 13 steals. They intimidated with hustle and everyone had a hand in that.
"Today we played as good of defense as we've played all season," Graves said in a tone that indicated even he was impressed.
Hamson finished with 24 points, but after scoring eight in that early BYU run, the center disappeared for a long stretch, at least as much as someone 6-foot-7 can disappear.
Both BYU and Gonzaga are expected to have a strong presence when the NCAA tournament tips off March 22. The Cougars are projecting as an at-large entrant with a No. 9 seed; Gonzaga is a 6-seed in the latest Bracketology.
Hamson's size combined with the shooting of Lexi Eaton and Kim Beeston (Eaton was an uncharacteristic 2-of-18 from the field Tuesday) make the Cougars a headache for opponents to contend with.
Gonzaga will be an even bigger challenge, especially if the Zags end up in Seattle for the early rounds, a placement sure to cause a lot of grumbling for anyone outside the Evergreen State. Gonzaga has played first- and second-round games in either Spokane or Seattle for five straight tournaments to the angst of more than a few coaches and fans around the country.
But no matter where Gonzaga is placed in the bracket, whether it's Seattle or College Park, Md., the Zags won't be any fun to play. After all, that's the Gonzaga Way.
Women's College Basketball
Charlie Creme projects the women's NCAA tournament bracket for ESPN.com.
MORE WOMEN'S BASKETBALL HEADLINES
MOST SENT STORIES ON ESPN.COM