Commentary
Stanford toughs out win over Cal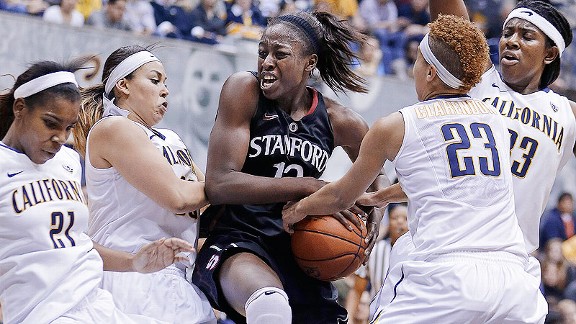 AP Photo/Ben MargotStanford's Chiney Ogwumike led all scorers with 26 points.
BERKELEY, Caif. -- Is Stanford tough enough?
That was the question facing the previously top-ranked Cardinal heading into Tuesday's Pac-12 showdown with No. 7 California.
Is Stanford tough enough to rebound from the Dec. 30 home blowout against Connecticut; tough enough to put it away and move forward; tough enough to withstand the best, most worthy conference challenger they've seen in a few seasons? On the road?
In the first half on Tuesday night at Haas Pavilion, Stanford didn't appear to know the answer. Tentative and unsure at moments, the Cardinal played only well enough to hang with a motivated Cal team and trailed by two points at halftime.
But the second half was a different story. Stanford scrapped and dove, pulled down some key rebounds and defended the Bears into submission, coming out with a gritty 62-53 victory.
The Cardinal won on the road despite being outrebounded 45-31 overall and 21-5 on the offensive end. They won despite giving up 22 second-chance points. They won despite going 0-for-8 from beyond the 3-point arc.
They won because, in the second half, they found their tough.
They had better hang on to it. This same Cal team, now stung by Tuesday's loss, heads to Maples Pavilion on Sunday for the rematch on ESPN2 (4 p.m. ET), the unusual home-and-home format a function of the new Pac-12 schedule that has compressed the season by a week in order to stagger the men's and women's postseason tournaments.
[+] Enlarge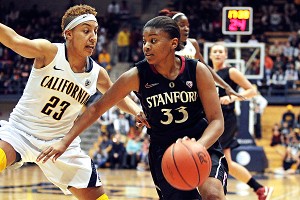 Kelley L Cox/USA TODAY SportsLayshia Clarendon and Cal led by two at half, but gave up eight straight points in a pivotal three-minute stretch late in the second half.
Cal (12-2, 2-1) badly wanted this, viewing this home game as a huge opportunity for a national statement, and played that way for 35 minutes, besting the Cardinal in a number of ways. But a poor shooting night -- Cal shot just 30.2 percent for the game and went 2-for-21 from beyond the arc after Stanford clogged the paint and forced the Bears to the perimeter -- cost the Bears the ability to pull off the upset as the Cardinal pulled away with a 15-3 run that broke a 46-46 tie with 8:46 to go.
"There were a lot of good shots that didn't fall," Cal coach Lindsay Gottlieb said. "On the bench, we felt like the next one was going in every time. I think our crowd was ready to erupt. If we could have gotten a couple to go down, it could have changed the tone of things.
"I thought the basket would open up for us and it never did, and that grinds on you."
Chiney Ogwumike led the charge for the Cardinal in the second half, making 5-of-6 shots from the floor to finish the game with 26 points. Sophomore guard Amber Orrange closed with 15 points and eight rebounds. Joslyn Tinkle added eight points and the strange play of the day: With two seconds on the shot clock, her in-bounds pass from the sideline near the scoreboard banked high off the glass before Ogwumike pulled in the rebound and scored the putback to give Stanford a 54-46 lead with 4:57 to go.
Ogwumike admitted she questioned her team's mental toughness after the loss to the Huskies.
"I didn't question our ability to stick with things. I think we stick with things pretty well, that's our identity," Ogwumike said. "That Connecticut game was a big low, but I'm proud of how we bounced back. We are discovering ourselves, but I think we are tough."
VanDerveer, not surprisingly, credits Ogwumike as the tone-setter.
"She just stays in there and I really got a sense that, after some of the disappointment we had at home with Connecticut, that we've really learned from that," VanDerveer said. "When you play who we've played, whether it's Baylor or Tennessee … I think we have played the toughest schedule in the country. You are either going to get tougher or you are going to get out of town."
Cal got 17 points from senior Layshia Clarendon, who struggled with a 6-for-20 shooting night.
"They are a team that you don't get easy shots," Clarendon said. "It wears on you, such an up-tempo game, such a good team."
Gottlieb often talks about the leap from being a national program to an elite program. Stanford sits across the bay as the standard. In the Bears' collective mind, beating Stanford gets you there.
"Obviously, we want to win one of these once to make it the rivalry it should be," Gottlieb said.
The Cardinal return home, the site of the unsightly UConn loss of nearly two weeks ago, with an 81-game conference win streak that dates back to a Cal win on Jan. 18, 2009.
The Bears will take their next shot at it, but perhaps not the last of the season if the two teams meet in March in the Pac-12 tournament.
"I wouldn't say it was our 'A' game," VanDerveer said. "But considering the travel we had and what we've been through the last two weeks, I'm proud of how hard we played. Let's see if we can play better on Sunday."
Contributor, espnW.com
Based in the San Francisco Bay area
Has covered pro and college sports for AOL Fanhouse and the San Francisco Chronicle
Founder of leftcoasthoops.com which covers women's basketball on the West Coast
MORE WOMEN'S BASKETBALL HEADLINES
MOST SENT STORIES ON ESPN.COM