Commentary
Terps' season still full of potential
Game will help decide ACC -- and which center is the best in the league
Originally Published:
February 8, 2013
By
Rebecca Lobo
| espnW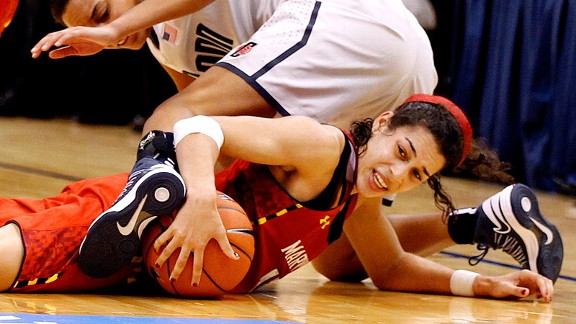 David Butler II/USA TODAY SportsTerps freshman Chloe Pavlech's poise and determination won over at least one analyst.
I was sitting courtside at the XL Center in Hartford in early December waiting for Maryland to take the floor for shootaround when something caught my eye. Looking like the Imperial Walker from the "Star Wars" movies, four very long crutches emerged from the locker room tunnel and clank-clanked their way to the court. Attached to the crutches was Maryland's starting backcourt -- Brene Moseley and Laurin Mincy -- both lost for the season with torn ACLs. Behind them was another be-crutched ACL casualty, 6-foot-7 Essence Townsend. And attached to all of those crutches, I thought, was Maryland's chance at an ACC title and run to the Final Four.
ESPNW
Beth Mowins and Debbie Antonelli discuss the latest WNBA news, get ready for a Big Monday doubleheader and talk to Connecticut Sun head coach Ann Donovan.
A month later, Maryland lost freshman Tierney Pfirman to a dislocated kneecap. Which means the Terrapins now travel with the same number of crutches -- eight -- as healthy bodies. But somehow, they keep clanking along. And not just clanking, but motoring to a No. 7 ranking and chance at first place in the ACC, provided they win on Big Monday (ESPN2, 7 p.m. ET).
Duke, Maryland's opponent, was well-acquainted with injuries earlier in the season but is healthy now. If you wrote off Duke after the beatdown at UConn a month ago, you need to give the Blue Devils another look. They are a much-improved team since that 79-49 Jan. 21 loss.
What has changed? The Blue Devils have inserted Chloe Wells into the starting lineup and she has been solid on offense (shooting 56 percent on 3-pointers) and a spark on defense. The move also allowed coach Joanne P. McCallie the luxury of bringing the country's third-most-accurate 3-point shooter (46-for-96, 48 percent shooting), Tricia Liston, off the bench. The Blue Devils are still working to become a team that plays well for an entire 40 minutes instead of just 20, but they are getting closer each game.
Here's what I'll be looking for in this inside, outside and upside down Big Monday matchup:
Inside

Thomas

Hawkins
Maryland showcases one of the best frontcourts in the country. Alyssa Thomas and Tianna Hawkins are pro-ready posts. They are Nos. 1 and 2, respectively, in the ACC in rebounding and combine to average 36 points and 20 rebounds a game. Hawkins, who ranks first in the ACC in scoring (19.6 ppg), has expanded her game each year and is very efficient from the floor (59 percent shooting from the field) -- impressive considering she regularly shoots out to 17 feet.
Thomas (17.1 ppg, 10.3 rpg) is a point-forward who has shouldered much of the ballhandling responsibility since the injuries to Moseley and Mincy. Thomas is one of the strongest players in women's college basketball and is at her best when she can get a defensive rebound and push the ball in transition. She is a great scorer who can really pass the basketball (second in the ACC with 5.5 assists per game). Thomas is one of my favorite players to watch because of her willingness to sacrifice her body and because of how hard she plays.
Outside

Jones

Gray
Duke has an outstanding running game led by Chelsea Gray, the best open-floor passer in the country. The Blue Devils complement that with dangerous shooters behind the arc, leading the country in 3-point field goal percentage (43.4 percent). Five players shoot better than 38 percent from deep, and the Blue Devils recently torched North Carolina while draining 11 3-pointers.
Alexis Jones is a terrific freshman guard who can break down defenders, run the point to give Gray a break and shoot the 3. She opened some eyes in the first half against UConn and continues to show fans the future flair of Duke women's basketball.
Upside down
I became an instant fan of Maryland's Chloe Pavlech early in the UConn game when she dove -- head over heels -- into the announcers' table to save a ball from going out of bounds. She hit play-by-play announcer Dave O'Brien's soda -- spilling it all over his notes and pants. O'Brien called the rest of the game looking at ink-stained boards while squirming in wet and sticky slacks. Pavlech played the rest of the game with poise and determination.

Williams
She'll need to continue to exhibit that poise (she ranks second at Maryland in assists and made 3-pointers and third in the ACC in assist-to-turnover ratio) going against Duke, which ranks fifth in the country with 13.1 steals per game.
I haven't even mentioned Duke's Elizabeth Williams, one of the best post players in the country. This game will help decide whether Williams or Hawkins is the best center in the ACC.
Lots to watch. And during timeouts, you can count crutches.
Rebecca Lobo
Women's Basketball
Lobo won the 1995 National Player of the Year Award after leading the UConn women's basketball team to its first national championship. She was the youngest member of the 1996 gold-medal-winning Olympic team, and now, after seven seasons in the WNBA, covers basketball for ESPN.
MORE WOMEN'S BASKETBALL HEADLINES
MOST SENT STORIES ON ESPN.COM