Commentary
Cardinal must be more than Chiney
In the days after Stanford's Sweet 16 loss to Georgia in Spokane this past spring, Tara VanDerveer stewed. And then …
"She cleared all of the couches out of our locker room and replaced them with cardio equipment," fifth-year senior post Mikaela Ruef said. "She thought we needed a culture change. She wanted to set the tone for a new season, that we were going to be a hardworking team."
And so the equipment remained there all spring and all summer. A reminder, a motivator, a mandate and, yeah, maybe a little bit of a punishment.
"We got the message," Ruef said.
As the season began, the couches were back, but the message hasn't wavered. After five consecutive trips to the Final Four -- a string of success that linked Candice Wiggins to Jayne Appel to Kayla Pedersen to Jeanette Pohlen to Nneka Ogwumike -- exiting in the regional semifinals was not acceptable.
"We were complacent," said VanDerveer, who opened the season Saturday with a victory at Boston College. "I didn't feel like we were competitive enough."
[+] Enlarge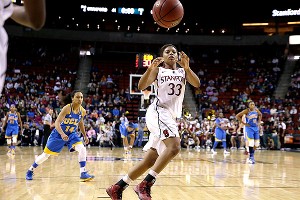 AP Photo/Elaine ThompsonJunior guard Amber Orrange averaged 10.8 points and 4.1 assists per game last season.
It's time for Stanford -- which plays defending champion Connecticut (ESPN2 and WatchESPN, 7 p.m. ET) on Monday as ESPN's 2013 Tip-Off Marathon opens -- to put its hard work to work.
And it's time to see how Chiney Ogwumike can finish off her stellar career. The senior power forward, who averaged 22.4 points and 12.9 rebounds a game as a junior, said she feels "no pressure" in her final collegiate season.
"I think last year was the year I felt the most pressure, with Nneka leaving and me being the leader of our team and hopefully living up to the expectations of our program," Ogwumike said.
Right after the locker room remodel last spring, Ogwumike left the country to spend a quarter studying in Nigeria. VanDerveer was actually thrilled to see her star player depart. She wanted her players to experience life without Chiney, to fend for themselves without the player whom, in her view, did far too much last season.
"We rode Chiney and we rode Amber [Orrange] hard all season," VanDerveer said. "I could never take either of them out. I told our team, 'This is unfair.'"
Senior Sara James said Ogwumike's absence forced other leaders to emerge.
"We all know what she does for us," James said. "I think it was huge for us. People stepped up, starting talking, putting up extra shots. I know it helped me to become more of a leader."
Ogwumike didn't have to be around all spring to know what her coach was going for. It was time to set aside the idea that the Final Four was the goal.
"The actual culture we want to have is to do everything as a national championship-caliber team," Ogwumike said. "So we've been recalibrated a little bit."
[+] Enlarge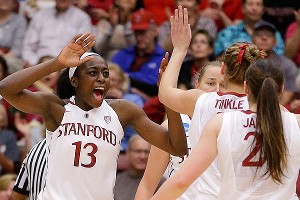 AP Photo/Ben MargotStanford's run of five consecutive Final Fours ended last season. But Chiney Ogwumike and the Cardinal won't be content on just reaching Nashville.
It is the prize that has eluded this program for more than two decades. Stanford's five-year run of Final Fours included two appearances in the national title game, but the program still hasn't won an NCAA title since 1992.
If the Cardinal are true contenders for a title, they will almost certainly do it behind Ogwumike. But VanDerveer has good reason to think she'll get more team-wide contributions. The Cardinal have four returning starters and a handful more players who have extensive experience, not to mention a highly rated freshman class that already is making practices more competitive.
Orrange, the junior guard, is in the best shape of her career, worked on her shot in the offseason and has evolved into a more vocal leader on the floor. Ruef, coming back for a fifth year, will complement Ogwumike in the post.
"People are looking for their shots, particularly me," Ruef said. "My [defender] wasn't guarding me last year. They were sagging to guard Chiney. I need to shoot more, Amber needs to shoot more. Our wings need to hit open 3s. And they've been doing that in practice."
Stanford's roster includes five freshmen who bring quickness, athleticism and the potential for immediate impact. The most likely players to see time early will be forward Kailee Johnson and wing Erica McCall, both of whom scored in double figures in Stanford's exhibition win on Nov. 3.
This season will certainly include VanDerveer's 900th coaching victory, making her one of three active coaches (along with C. Vivian Stringer of Rutgers and Sylvia Hatchell of North Carolina) to hit that milestone. The Cardinal's nonconference schedule includes Connecticut, Gonzaga, Tennessee, Texas and Purdue before the toughest Pac-12 slate in recent memory.
But the win that matters most is the last one.
"We love Final Fours, we loved the streak, so it was disappointing to lose [in the Sweet 16]," Ogwumike said. "I think we all realize we had that great history, but is that satisfying? No. We want to win a national championship."
Contributor, espnW.com
Based in the San Francisco Bay area
Has covered pro and college sports for AOL Fanhouse and the San Francisco Chronicle
Founder of leftcoasthoops.com which covers women's basketball on the West Coast
2013-14 SEASON PREVIEW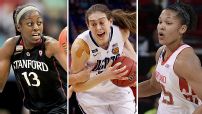 Get ready for 2013-14 with espnW's women's college basketball season preview.
TOTAL ACCESS
VIDEO
MOST SENT STORIES ON ESPN.COM