Commentary
Terps survive Cardinals, advance
Updated:
March 20, 2012, 12:24 AM ET
By
Kate Fagan
| espnW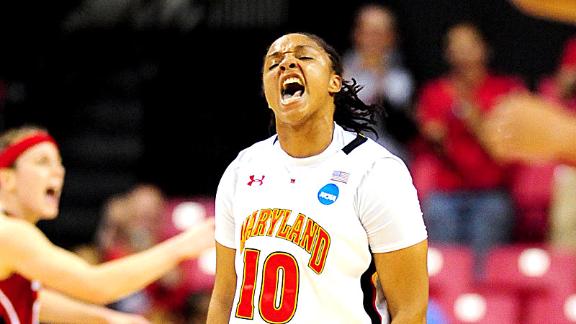 Review/Preview: Maryland moves on
LaChina Robinson and Bob Wischusen break down Maryland's win over Louisville.
Review/Preview: Maryland moves on
As the Louisville Cardinals jogged through the tunnel minutes before their game against Maryland, they did so repeating the phrase, "Attack, Attack."
The No. 7-seeded Cardinals didn't have the luxury of playing possum with the No. 2-seeded Terrapins, especially not on Maryland's home court, in front of just less than 5,000 fans. Especially not in the second round of the NCAA women's tournament, where slip ups and miscalculations end your season.
And so the Cardinals put their foot on the gas. They started in an aggressive three-quarter-court zone press. They switched defenses so often they occasionally appeared to confuse themselves. They flashed the green light to guard Shoni Schimmel. And they jumped out to leads of 6-0 and 17-9.
[+] Enlarge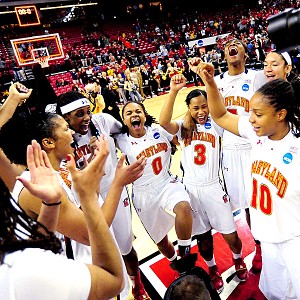 Evan Habeeb/US PresswireLaurin Mincy, who had 24 points, and Maryland slipped by a familiar Louisville team.
But all of that was not enough.
Walking near the Terrapins locker room afterward, after they barely escaped Louisville's full-tilt upset attempt, the vibe was very distinct: We survived another day -- that's all. No more, no less.
Maryland put together just enough plays to defeat Louisville, 72-68, and advance to the Sweet 16. The Terrapins missed 12 free throws, battled foul trouble all game, and gave up 36 points in the paint.
"There was a lot of adversity for us," Maryland coach Brenda Frese said. "Foul trouble, slow start. We went into the locker room saying it was an uncharacteristic half for us."
Part of that was the familiarity these two teams have with each other.
Louisville is coached by Frese's former assistant, Jeff Walz, who spent six seasons on staff with Frese. These same teams met in the 2009 tournament, with the Cardinals winning and advancing to the Final Four.
When Monday's game tipped, it appeared both coaches had instructed their teams to start in the same press: a 1-2-2. Louisville was able to set its defense first because the Cardinals scored off the opening tip, but both teams clearly had "attack" in mind.
The entire game felt like a tug-of-war: When Louisville called an offensive play, the Maryland players would repeat it among themselves. During one crucial late-game set, Walz called a timeout seconds after Frese's timeout because his former mentor had set up an unexpected defense.
"You watch a lot of film, you watch teams, you see how they play," Walz said. "It's a game we could have won."
Louisville designed an excellent game plan for Maryland forward Alyssa Thomas, the ACC Player of the Year. Instead of backing off Thomas' weak outside shot, Walz had his players pressure on the catch. Thomas scored only six points, shooting 3-for-10 from the floor. She came into the game averaging 17.4 points. Although Thomas was also slowed by foul trouble -- Frese was forced to sub her out on final defensive possessions -- she was struggling even before the first whistle on her.
"We wanted to get into her, and I thought that frustrated her," Walz said. "We had a very good game plan."
Also in the Cardinals' game plan was "making all the loose-ball plays." But that part didn't happen. The Cardinals surrendered too many turnovers, 16, off of which the Terps scored 22 points. Against Maryland, turning the ball over is almost the same as putting two points on the board.
After Louisville's fast start, Maryland, like all good teams, found its way back into the game. The game was tied, 64-64, with 4:26 left in the game.
Maryland came up with one or two open-court steals and clamped down on Louisville's final two possessions when Schimmel dished to teammate Becky Burke for the potential game-tying 3-pointers. The first bounced off the back of the rim. The second was blocked, never reaching the rim.
Schimmel dominated the offense for Louisville, finishing with 22 points on 8-for-25 shooting. Guard Laurin Mincy dropped 24 points for Maryland, shooting a much more efficient 6-for-10 from the floor.
"They came up with the loose-ball plays that we knew we needed to come up with to win this game," Walz explained.
In the moments after Maryland's win, as the players and coaches streamed back to the locker room, there was an element of relief to their excitement. They hugged one another, repeated the phrase, "Sweet 16!" But they knew that very easily, on this night, the Cardinals could have danced out of the Comcast Center, having toppled one of the favorites to reach the Final Four.
The Terps survived. In March, that's all you gotta do.
Columnist, espnW.com
Joined espnW in Jan. 2012
Spent three seasons covering the 76ers for the Philadelphia Inquirer
Played women's basketball at University of Colorado from 1999-2004
MORE WOMEN'S BASKETBALL HEADLINES
MOST SENT STORIES ON ESPN.COM