Commentary
Kentucky's press will test Dayton
Wildcats coach Mitchell stresses conditioning with tournament in mind
Updated:
March 25, 2013, 6:20 PM ET
By
Kate Fagan
| espnW
QUEENS, N.Y. -- Usually when coaches send five substitutes to the scorer's table early in a game, it's because they're unhappy with how the starters are playing.
But for Kentucky coach Matthew Mitchell, it's not that at all. It's a simple strategy. Since the second-to-last game of the regular season, the Wildcats have played their starters until the first media timeout, at which point Mitchell sends in five new players -- a pre-planned mass substitution meant to open the eyes, and lungs, of the opposition. "We're trying to make sure the other team knows that the first eight minutes are going to be really tough, really difficult," Mitchell said. "We're trying to establish a pace to the game, then see where it goes from there."
[+] Enlarge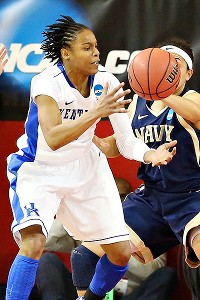 Anthony Gruppuso/USA TODAY SportsWildcats guard A'dia Mathies joked: "I know I would much rather coach [the press] it than play it."
On Saturday, it went pretty well for Kentucky, as the No. 2 seed defeated No. 15 seed Navy, in the first round of the NCAA tournament. Kentucky will face regional foe Dayton, the No. 7 seed, in Tuesday night's second round (7:15 p.m. ET/ESPN2). The winner advances to the Sweet 16 of the Bridgeport Regional. During Saturday's second game, Dayton defeated 10th-seeded St. John's, the host school, in a double-overtime thriller.
Kentucky and Dayton have already played each other once this season, in an October scrimmage. The two schools are only 150 miles apart, so they've played behind closed doors for the past two seasons, as an early-season test for both squads. But Mitchell said he couldn't envision how those scrimmages would inform either team's game plan for Tuesday. "What we usually use a scrimmage for is to see where we are defensively, from a fundamental standpoint," Mitchell said. "We don't have our press in, or our offensive sets. I really don't know how much they can gain from the scrimmage."
And anyway, Kentucky doesn't really keep its game plan under wraps. On the cover of the team's media guide are the words "40 minutes" -- as in, the Wildcats aim to bring all-out pressure for the entire game. That relentless defensive intensity is their trademark, which all teams, Dayton included, already understand. "I know they're going to try to get the ball out of my hands," said Flyers senior point guard Samantha Mackay. "But we have plenty of guards on our team who can handle the ball."
Kentucky's style of play is draining -- even to watch. Mitchell said the only reason his players can harass the ball, rotating nonstop, for a full game is because of how the team trains during the summer, and then how it practices in the fall. The coach explained that he rarely stops his squad during practices, sometimes disregarding the out-of-bounds lines and even tossing another ball into play if an errant pass sails off the court. The whole point is to condition his team to keep playing, no matter what. "He trains us, literally, from the fall until now to stay in that press," said junior forward Samarie Walker.
Kentucky guard A'dia Mathies, the team's leading scorer, joked about how tiring the press can be for the players, saying, "I know I would much rather coach it than play it." Mathies laughed, then added, "But once you see the results, it's exciting."
The Wildcats will try to get another positive result on Tuesday, while the Flyers will try to stay poised for the full game -- including those brutal opening eight minutes.
Columnist, espnW.com
Joined espnW in Jan. 2012
Spent three seasons covering the 76ers for the Philadelphia Inquirer
Played women's basketball at University of Colorado from 1999-2004
EIGHT IS GREAT FOR UCONN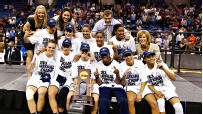 Connecticut routed Louisville 93-60 to win its eighth national title
Tourney home » Bracket » Challenge » Video »
NATIONAL CHAMPIONSHIP
VIDEO
BLOGS
MORE ON TOURNEY
MOST SENT STORIES ON ESPN.COM