Commentary
Wildcats wear down Delaware
Kentucky's pace ends Blue Hens' NCAA run, Delle Donne's college career
Originally Published:
March 30, 2013
By
Kate Fagan
| espnW
BRIDGEPORT, Conn. -- At one point in the first half, Delaware star Elena Delle Donne looked at teammate Trumae Lucas and shook her head.
Delle Donne, the team's 6-foot-5 senior point forward, had just brought the ball upcourt against Kentucky's full-court press three consecutive times, and her chest was heaving, the expression on her face pained. She wanted -- no, she needed -- Lucas to break Kentucky's pressure this next time. Lucas did, slowly working the ball down the floor against a pestering defender.
Still, this interaction spoke volumes about the strain the Blue Hens were under Saturday afternoon against Kentucky.
"It was exhausting," Delle Donne told espnW in the locker room afterward. "At halftime, I went up to the coaches and even told them I wasn't going to be able to break the press and also have the offense run through me. I was just like, 'I can't.' Generally, I had been bringing it up. But we had to do something else, because I just couldn't keep up that pace."
[+] Enlarge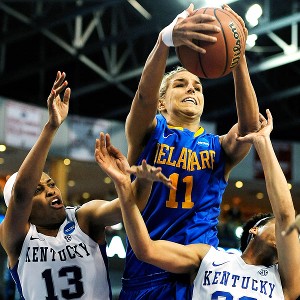 AP Photo/Jessica HillHow exhausting was Kentucky's high-pressure defense? At halftime, Elena Delle Donne told her coaches, "I wasn't going to be able to break the press and also have the offense run through me."
The pace was, in fact, brutal. Delaware was expending so much energy just getting the ball up the floor and getting a shot off without a turnover that little was left for other crucial things like closing out on outside shooters and boxing out on defense. Because of this, each time the Blue Hens pulled within striking distance -- like late in the second half when they cut Kentucky's lead to two -- the Wildcats would fly down court and force a foul or whip the ball around and get an open look. Then they would set up their full-court press and make things difficult for Delaware, often forcing a turnover. (The Blue Hens turned over the ball 19 times.)
And in the end, No. 2 seed Kentucky was just too much for the sixth-seeded Blue Hens. The Wildcats won 69-62, advancing to the Elite Eight of the NCAA tournament for the second consecutive season. In the second game of the day, top-seeded Connecticut blew past No. 4 seed Maryland 76-50 to set up a showdown with Kentucky in the final of the Bridgeport Regional. The matchup is a repeat of a 2012 regional final, which the Huskies won 80-65. The two teams will play again for a berth to the Final Four on Monday night (ESPN, 7:30 ET).
On Saturday, Connecticut made quick work of the Terrapins, building a 14-point lead in the first half and leading by 20-plus points for most of the second. The Huskies won the way they usually do, with efficient offense and steady defense. Connecticut forwards Breanna Stewart and Kaleena Mosqueda-Lewis each scored 17 points, while super-quick freshman guard Moriah Jefferson scored 10 points off the bench. The Huskies held Maryland to only 31.1 percent shooting from the floor.
FINAL DATA ON DELLE DONNE
Elena Delle Donne scored 33 points Saturday to finish her college career with 3,039 points, which ranks fifth among NCAA Division I players. She passed Cheryl Miller, Chamique Holdsclaw and Maya Moore on Saturday.
Delle Donne's 33.0 PPG scoring average in this year's NCAA tournament is the third highest for a single tournament. She has scored at least 33 points in all five NCAA tournament career games, averaging 34.4 along the way.
For her career, Delle Donne averaged 26.6 points per game, which ranks third all-time in women's NCAA Division I history. -- ESPN Stats & Information
The key play during Saturday's first game came with 2 minutes, 21 seconds remaining. After trailing by as many as 16 points in the second half, Delaware had chipped away and cut Kentucky's lead to one basket, 62-60, on a patented midrange jumper from Delle Donne. The Wildcats then ran guard Kastine Evans off a couple of screens. She caught the ball at the top of the key with an open look, rose up and drained a 3-pointer.
Evans scored only eight points on the afternoon, but all anyone will remember is that particular shot. "We were thinking we could finally turn the corner on the game, but then they hit that 3," said Delle Donne, who scored 33 points. "That was the nail in the coffin. It was difficult when they hit that."
Delaware coach Tina Martin echoed her star player. "Kastine hit the biggest shot of the game," she said. "To tell you the truth, that broke our back."
Kentucky didn't have a go-to player on offense, although point guard Jennifer O'Neill finished with 19 points, but the Wildcats did stalk Delaware all over the court, wearing the Blue Hens down just a little bit more with each possession. Kentucky also did much of its damage in the first half, when the Wildcats grabbed 13 offensive rebounds -- two more than Delaware's entire first-half total -- and limited the Blue Hens to 30 percent shooting from the floor and six field goals. By the time Delaware started rebounding and getting out on shooters in the second half, it faced a deep hole, one that would take plenty of energy to climb out of.
[+] Enlarge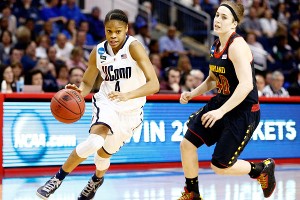 Mark L. Baer/USA TODAY SportsFreshman guard Moriah Jefferson came off the bench to score 10 points for the Huskies.
But the Blue Hens almost did, getting another awesome performance from Delle Donne, who didn't disappoint on the biggest stage of her college career. The senior spun and dipped her way to 11 baskets while playing all but a few seconds of the game. She also finished the day 11-for-11 from the line and grabbed nine rebounds.
Thousands of Delaware fans made the drive north to support the Blue Hens, who were making their first appearance in the Sweet 16. When Martin substituted for Delle Donne, a native of Wilmington, Del., with just a few seconds remaining, those in the stands stood and clapped. "It was definitely an emotional moment," Delle Donne said. "It had sunk in before then that we weren't going to win this game. So it was like a goodbye to the fans."
Those fans also celebrated Delle Donne again when she walked out in her warm-up suit with 4:32 left in the first half of the UConn-Maryland game. She waved to the section of the stands filled with blue and yellow.
Saturday was a tough afternoon for the Blue Hens, who have seven seniors, all of them critical to the most successful years in Delaware's basketball history. On the podium after the game, Martin said that she had told her players after the game not to cry -- that they had too much to be proud of. Delaware point guard Lauren Carra was asked if those were difficult instructions to follow. Carra, her eyes already red, leaned forward and said, "It's hard right now, but …" She had to cover her eyes because she couldn't continue.
Teammate Danielle Parker stepped in for her and said, "Yeah, it's easier said than done."
Columnist, espnW.com
Joined espnW in Jan. 2012
Spent three seasons covering the 76ers for the Philadelphia Inquirer
Played women's basketball at University of Colorado from 1999-2004
EIGHT IS GREAT FOR UCONN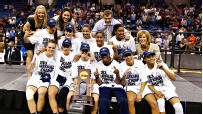 Connecticut routed Louisville 93-60 to win its eighth national title
Tourney home » Bracket » Challenge » Video »
NATIONAL CHAMPIONSHIP
VIDEO
BLOGS
MORE ON TOURNEY
MORE WOMEN'S BASKETBALL HEADLINES
MOST SENT STORIES ON ESPN.COM