Commentary
Schimmels lead Cards to Final Four
OKLAHOMA CITY -- Louisville's Schimmel sisters, Shoni and Jude, recall watching a movie called "Double Teamed" when they were in middle school. It was about identical twins Heather and Heidi Burge, who went to the Women's Final Four three times while playing at Virginia in the early 1990s.
The film is hokey, but it's still a sweet, triumphant story of the sisterhood and athletic success of real people.
"When we were younger, the movie seemed very realistic to us," Jude Schimmel said. "What they did was our dream, too."
Shoni added, "Yeah, that was us."
[+] Enlarge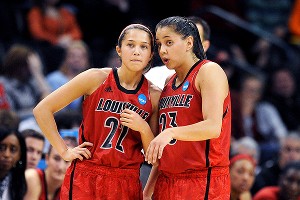 Mark D. Smith/USA TODAY SportsSophomore Jude Schimmel, left, and older sister Shoni, a junior, combined for 39 points and six 3-pointers in Tuesday's win.
The Burges were 6-foot-5 post players and the Schimmels are guards. But they now have this in common: making it to the Women's Final Four. Louisville did that for the second time in program history with an 86-78 victory Tuesday over No. 2 seed Tennessee.
Louisville is just the second No. 5 seed to go to the Women's Final Four; Missouri State was the first, in 2001. That team was led by a dynamic guard, Jackie Stiles. This Louisville team also has great guard play, including that provided by the siblings from Mission, Ore.
Shoni, a junior, had a game-high 24 points Tuesday and was named the regional's most outstanding player. Jude, a sophomore, had 15 points.
Maybe there will be a movie about them someday. There has already been a documentary, "Off the Rez," which details how Shoni and her siblings moved with their mother, Ceci Moses, off the Umatilla Indian Reservation in Oregon to Portland, where Moses took a job as a high school girls basketball coach.
The Schimmel sisters have become heroes especially to Native Americans nationwide, and this Final Four spotlight on them and Louisville will be a huge emotional point of pride for their many supporters.
"We're examples that you can get out there and do things," Shoni said. "You can leave the reservation if you want. You can believe in yourself. You can make it to wherever you want to be. You just have to set your mind to do it."
Where the Cardinals wanted to be this season was New Orleans and the Final Four. And they set their minds to get there even though they lost three standout players --Tia Gibbs (hip), Asia Taylor (hip) and Shawnta Dyer (knee) -- and had another, Monique Reid, who missed time with a leg injury and is at about 50 percent.
[+] Enlarge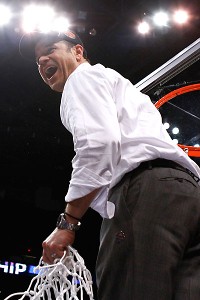 AP Photo/Alonzo AdamsJeff Walz also led Louisville to the 2009 Final Four, where the Cardinals lost to UConn in the championship game.
Louisville fell to Notre Dame by 24 points in the Big East tournament semifinals. But Shoni said that didn't dampen the Cardinals' confidence going into NCAA tournament play.
"Yes, we lost to Notre Dame. But who doesn't, right?" Shoni said of the Irish, whose only defeat this season was to Baylor in December. "We knew it was NCAA tournament time. Time to dance. That was when we started to peak."
Did they ever. The Cardinals beat Middle Tennessee and Purdue at home to advance to the Oklahoma City Regional, where No. 1 seed and defending champion Baylor awaited. After pulling off what many consider the greatest upset in women's NCAA tournament history and beating Baylor, the Cardinals' work still wasn't done. There was Tennessee, a program hungry to get back to the Final Four after what -- for the Lady Vols -- is an almost interminable absence; their last appearance was in 2008.
Louisville actually had been to a Final Four more recently, advancing to the NCAA title game in 2009, where the Cardinals lost to UConn. Cardinals coach Jeff Walz has talked a lot about how important it was to him to build a true program at Louisville -- one that could consistently contend with the nation's best. And he knew the Schimmel sisters both could help Louisville do that. But it meant getting them to relocate to Kentucky.
"They both made a big jump to come to Louisville, so far away from home," Walz said. "Because it's not the norm. They've grown as people."
Shoni and Jude aren't twins like the Burges, but they have that same kind of sixth sense about always knowing where each other is on the court. Almost to the point, they said, of feeling as if they really are twins.
But while they get along very well, their personalities are a little different.
DOUBLE THE FUN
Louisville is the 10th school to have both its men's and women's teams reach the Final Four in the same season. ESPN Stats & Information takes a look at the nine other times it has occurred:
| School | Women | Men |
| --- | --- | --- |
| '11 UConn | Lost in semis | Won title |
| '09 UConn | Won title | Lost in semis |
| '06 LSU | Lost in semis | Lost in semis |
| '05 Mich. St. | Lost in final | Lost in semis |
| '04 UConn | Won title | Won title |
| '03 Texas | Lost in semis | Lost in semis |
| '02 Okla. | Lost in final | Lost in semis |
| '99 Duke | Lost in final | Lost in final |
| '83 Georgia | Lost in semis | Lost in semis |
"I like to say she's the nice one and I'm kind of the mean one," Shoni said. "We even each other out. She knows when I'm in a bad mood, I know when she's in a bad mood."
Jude said, "We know what to say and what not to say to each other. We always find a way to make things work."
Walz echoes the idea that the sisters' personalities complement each other, both on and off the court.
"It's a great dynamic to have," Walz said. "You have someone like Shoni, who is as creative as she can be with the basketball. And you've got Jude, who in my opinion, is very steady. She'll make some unbelievable passes, but not the behind-the-back, off-the-ear type.
"You look at Jude tonight: She had three assists and one turnover in 30 minutes against some pretty good defenders who were trying to pressure her and were taller than she is. Shoni is the flashier one, more carefree, 'Hey I'm having a great time.' Jude is more task-oriented. You give her something to do, she gets it done."
The Cardinals as a team got it done against Tennessee. They made eight 3-pointers, hit 18 of 21 foul shots and were even on the boards with the Lady Vols. They were the aggressors, just as they were against Baylor.
Shoni made a few of her highlight-reel drives to the basket, including her scoop layup with 2:41 left after Tennessee had cut Louisville's lead to four. That was followed by a dagger from Jude: a 3-pointer that put Louisville up by nine at the 2:06 mark.
[+] Enlarge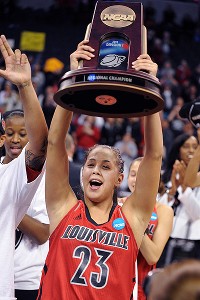 Mark D. Smith/USA TODAY SportsShoni Schimmel was named the Oklahoma City Regional most outstanding player.
Then Shoni had another layup. Jude assisted on an Antonita Slaughter basket. Two free throws from Shoni. Two more from Jude. You get the idea: It was just way too much Schimmel for Tennessee to overcome. Game over.
There was no letdown at all after the huge win against Baylor. Before playing the Lady Bears, Walz had shown his team the ESPN 30-for-30 documentary "Survive and Advance" about the 1983 NC State men's team that won the national championship.
Then after the epic win over Baylor, Walz got a congratulatory e-mail from Jonathan Hock, who had directed both that documentary and "Off the Rez." Walz told Hock how much his team loved the Wolfpack's story, and Hock said he would relay that compliment to Dereck Whittenburg, the NC State guard who was instrumental in the making of "Survive and Advance."
Walz requested a favor: Could Hock ask if Whittenburg would call and talk to the Cardinals? So Monday, after they watched the end of "Survive and Advance" again, Walz told his team someone wanted to speak with them and dialed a number on a speaker phone.
"I said, 'Is Dereck Whittenburg there?'" Walz said. "And our kids' faces -- they were like, 'You're kidding!' And he was unbelievable -- just talked to our kids about having fun, staying loose, believing in themselves. 'It's you against the world, and you've got to have each other's backs.' It was so nice of him."
The Cardinals did look out for each other in this regional, something that Shoni and Jude have been doing all their lives. For a while, Shoni said, Jude would always say that she didn't want to go to the same college as her older sister, that she preferred to make her own way.
"She's lying," Jude said, grinning, then adding, "I tricked her."
Deep down, in other words, no matter what she said, Jude always figured they'd end up at the same college. And now, they're going to the Final Four.
"To have my sister right there by my side and to do this together, it's amazing," Shoni said. "I'm so glad I can share it with her."
espnW.com
Mechelle Voepel joined ESPN.com in 1996 and covers women's college hoops, the WNBA, the LPGA, and additional collegiate sports for espnW.
EIGHT IS GREAT FOR UCONN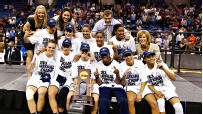 Connecticut routed Louisville 93-60 to win its eighth national title
Tourney home » Bracket » Challenge » Video »
NATIONAL CHAMPIONSHIP
VIDEO
BLOGS
MORE ON TOURNEY
MORE WOMEN'S BASKETBALL HEADLINES
MOST SENT STORIES ON ESPN.COM