Commentary
Hartley fights back from injury
NEW ORLEANS -- Bria Hartley was on top of the world last fall. The guard was coming off a sophomore year in which she was named a WBCA All-American. She was part of the USA's 3-on-3 world championship team, along with Notre Dame's Skylar Diggins, Stanford's Chiney Ogwumike and former UConn player Ann Strother.
Hartley was so ready for this season. She was killing it like Melissa McCarthy did in every sketch on "Saturday Night Live."
"There was a level that Bria Hartley was playing at in September that I had never seen her play before," UConn coach Geno Auriemma said. "I thought she was as good a player as we've ever had in our gym during September and October."
[+] Enlarge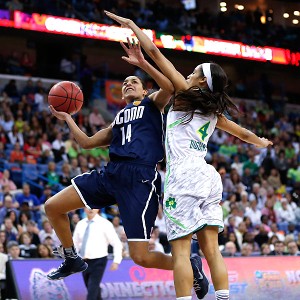 Derick E. Hingle/USA TODAY SportsBria Hartley has averaged 10.1 points in the NCAA tournament, including 15 points against Notre Dame on Sunday.
But what the UConn coaches didn't know was that Hartley had hurt her ankle in the 3-on-3 event, and was being the strong, silent type by playing through it. Eventually, it became too much. She missed about six weeks, and some of her hard-earned confidence began to erode. But …
"I'm a firm believer that when you're as competitive as Bria Hartley is," Auriemma said, "you just figure out a way to be ready for the biggest games."
That has been the case. Hartley has averaged 10.1 points in the Huskies' five NCAA tournament games, including 15 in Sunday's semifinal win over Notre Dame.
Maybe in some ways, the story of Hartley's issues have been overstated; she did play a vital role in starting 28 games this season.
"My confidence was pretty high before I got hurt," Hartley said. "I got into some games this year, though, and thought I was worse than my freshman year. It was a little discouraging. But I'm a fighter.
"I don't think my confidence dropped maybe as much as the media portrayed it. Everybody kept asking me about it all the time. I don't think my confidence will ever go that low."
Maybe what Hartley has struggled most with is the expectation of greatness for 2012-13.
"It's been a tough road for Bria, but she's done a great job of pushing through it," fellow junior Stefanie Dolson said. "As teammates and as friends, we've all done a great job of supporting her and making sure she knows that she still is the player that she was the year before."
THEY MEET AGAIN
Big East rivals Connecticut and Louisville played once this season. A look at their Jan. 15 meeting in Hartford, Conn.:
Total points: 58
Total points: 72
Leading scorers:
S. Schimmel, 14
A. Slaughter, 13
(no others in double figures)
Leading scorers:
S. Dolson, 16
B. Hartley, 16
(four total in double figures)
Field goals: Hit 4 of 19 3-pointers; shot 34 percent overall
Field goals: Hit 9 of 29 3-pointers; shot 44 percent overall
Notable: Slaughter made 1 of 7 treys; reserve Jude Schimmel was 4-of-9 from field in 35 minutes
Notable: Kelly Faris had 13 points, seven assists; injured Breanna Stewart missed the game
UConn associate head coach Chris Dailey said that Hartley reached a point earlier this season where she really did have to dig deep to not go in too much of a downward spiral.
"She's a really great athlete; and you're talking about a kid who loves the game," Dailey said. "It affected her doing things like rehab in the pool and not being as connected as you would normally be. I think that was hard on her, and it impacted everything she did -- school, her relationship with kids on the team."
But then even when Hartley was back on the court, the choices that had seemed so spot-on and second nature had become oddly clunky.
"She had a period where I thought no matter what decision she made, it was the wrong one," Dailey said. "If she took a pull-up, she should have driven. If she drove, she should have pulled up. She shouldn't have taken a 3, or she should have.
"I felt badly for her, because she was trying so hard that it just wasn't helping. But she is very, very competitive. And she's a kid that when [Auriemma] challenges her, she responds. She makes big shots, and she has that toughness in her. I kept thinking, 'The next game it will be back,' or the next practice. It just took a little longer."
But not too long; you could say the "old" Hartley has returned, or at least something close to it, right on time for the Final Four. When Dailey had mentioned to Hartley before Sunday's workout that it could be the last for the season, Hartley had guaranteed her that it wouldn't be.
Hartley felt that confident about the Huskies' fourth meeting this season with the Irish, even though UConn had lost the previous three. Now, Hartley will try to help the Huskies win what would be UConn's eighth NCAA title, but the first for her.
"I think we're just excited to get one," Hartley said of how she'll feel if UConn prevails Tuesday. "We know Louisville is playing really, really well right now. I think we go into all our games, though, thinking we expect to win. That's what this program has been built on."
espnW.com
Mechelle Voepel joined ESPN.com in 1996 and covers women's college hoops, the WNBA, the LPGA, and additional collegiate sports for espnW.
EIGHT IS GREAT FOR UCONN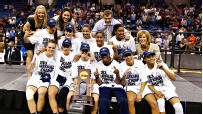 Connecticut routed Louisville 93-60 to win its eighth national title
Tourney home » Bracket » Challenge » Video »
NATIONAL CHAMPIONSHIP
VIDEO
BLOGS
MORE ON TOURNEY
MORE WOMEN'S BASKETBALL HEADLINES
MOST SENT STORIES ON ESPN.COM