Lincoln Regional breakdown
Originally Published:
March 20, 2014
espnW.com
Undefeated Connecticut starts its path to Nashville, Tenn., in the Lincoln Regional. What are the rest of the storylines in this corner of the bracket?
Three observations
Which team will reach Nashville?
Which team did espnW.com's staff of writers and columnists pick to advance out of the Lincoln Regional?
| Staffer | Pick |
| --- | --- |
| Charlie Creme | |
| Kate Fagan | |
| Graham Hays | |
| Michelle Smith | |
| Mechelle Voepel | |
1. NC State senior Kody Burke is that rare bird: a Californian who came all the way across the country to play for the ACC's Wolfpack. Now Burke has the chance to compete in the NCAA tournament very near where she grew up. Burke is from Northridge, Calif., and the No. 5 seed Wolfpack play their early-round game(s) in Los Angeles. They open with No. 12 BYU (ESPN2, 6:30 p.m. ET Saturday).
2. Texas A&M, a No. 3 seed, certainly hopes its upcoming early-round games at home in Reed Arena go better than the NCAA tournament went for the Aggies last season. Even though they entered the 2013 Big Dance with a full head of steam after winning the SEC tournament, the Aggies were upset in the second round on their home court by former fellow Big 12 member Nebraska. Texas A&M comes into this season's NCAA tournament under the radar, but the Aggies tied Tennessee for second in the SEC regular-season standings. And Texas A&M was one of just two teams -- Tennessee was the other -- to beat South Carolina in SEC play this season.
3. Some Oklahoma fans have felt the Sooners -- who were one of the last teams picked to this NCAA field and are a No. 10 seed -- underachieved this season. Certainly, Oklahoma seemed to fall short of most preseason expectations. The Sooners finished tied for fifth with Iowa State at 9-9 in the league. Oklahoma is 4-6 in its past 10 games, but can the Sooners turn it on now? They open against No. 7 seed DePaul. -- Mechelle Voepel
Three players to watch
[+] Enlarge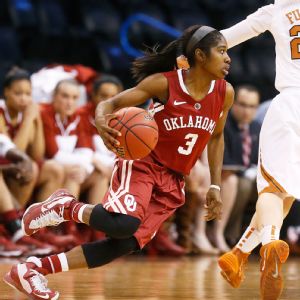 AP Photo/Sue OgrockiAfter being picked in the preseason to win the Big 12, Aaryn Ellenberg and Oklahoma were one of the last four teams awarded an at-large berth.
Kirby Burkholder, James Madison: The first-round game in College Station, Texas, between James Madison and Gonzaga matches up two of the best mid-major players as Burkholder shares a court with Gonzaga's Haiden Palmer. Stepping out of the considerable shadow cast over the Colonial Athletic Association by former Delaware All-American Elena Delle Donne, Burkholder earned conference player of the year honors by averaging 18.3 points, 8.3 rebounds and 1.5 steals per game. She's an inside-outside presence who registered nearly 63 percent of her field goal attempts from the 3-point line but still gets inside with a 6-foot frame to rebound and get to the free throw line nearly five times per game.
Moriah Jefferson, Connecticut: It is hard to be overshadowed on a team that receives as much attention as Connecticut, so it's not breaking news that Jefferson is enjoying a breakthrough sophomore season. But of all the reasons this Connecticut team is better than the one that won a title a season ago, from Breanna Stewart's development to Bria Hartley's return to form, Jefferson's play might be the most dramatic. Her defensive play makes her a star all by itself, but she is also a borderline All-American candidate purely as a point guard on the other end, where she ranks 12th nationally in assist-to-turnover ratio and shoots 58 percent from the floor, largely off turnovers and selective 3-point looks.
Aaryn Ellenberg, Oklahoma: No matter what happens in the first round against DePaul, Ellenberg will finish her college career with more points than any Oklahoma player not named Courtney Paris. That's no small accomplishment for a 5-foot-7 guard whom coach Sherri Coale rarely calls anything other than "Vegas," the nickname recognition of the player's hometown. As it has been for the team around her, this has been a tough season for Ellenberg, whose shooting efficiency is down and who dealt with a concussion in February. But even at a site that also includes Duke's Tricia Liston and DePaul's Megan Rogowski, Ellenberg always has the potential to be the most prolific shooter in the arena.
-- Graham Hays
Best first-round game
(7) DePaul vs. (10) Oklahoma (ESPN2, 1:30 p.m. ET Saturday): This is a great coaching matchup between two of the country's best in Doug Bruno and Sherri Coale. But it's also a prove-something game between the Blue Demons (26-7), who won their first Big East title with Connecticut, Louisville and Notre Dame out of the way, and the Sooners, who were a bubble team before heading into the bracket for the 15th consecutive season.
Senior forward Jasmine Penny (15.3 points per game) leads DePaul, which is making a 12th straight NCAA appearance. The Blue Demons have won 16 of their past 17 games and set school records for points scored (2,763), 3-pointers (285) and assists (654).
In the preseason, Oklahoma was picked to win the Big 12, but the Sooners (18-14) came up well short -- they are 4-11 against teams in the tournament field this season. The Sooners, who have advanced to the Sweet 16 10 times in program history, need to find some postseason momentum. They've won just four of their past 10 games coming in.
-- Michelle Smith
Upset alert
Seventh-seeded DePaul won't necessarily have an easy time in the first round with Oklahoma, but if the Blue Demons advance to meet Duke in the second round, the Blue Devils, despite playing at home, could have their hands full. DePaul enters the tournament having won seven straight games, a Big East regular-season title and the conference tournament crown. More importantly, DePaul plays the kind of up-tempo, offense-first style with which the Blue Devils might struggle to keep up with. The Blue Demons are the fifth highest-scoring team in the tournament. Brittany Hrynko runs that offense, and the junior from Philadelphia is one of the best point guards in the country. Duke, meanwhile, has had to turn to shooter Tricia Liston to start the offense because of the season-ending injuries to Chelsea Gray and Alexis Jones. If the game gets to the speed of DePaul's liking, it will take Liston and the Blue Devils out of their comfort zone. -- Charlie Creme
Team with the most to prove
After completely dominating the CAA all season, James Madison felt like it was underseeded as a No. 11. That lack of appreciation is the kind of motivation a coach would pay for. Kenny Brooks has the JMU program right where it was BEDD (Before Elena Della Donne) at Delaware. The NCAA tournament is the best place to also make the rest of the country aware of that. The Dukes have a double-double threat in senior Kirby Burkholder and an ideal matchup by which to measure itself -- Gonzaga, the current gleaming example of mid-major success and notoriety. -- Charlie Creme
Matchup we'd most like to see
(6) Gonzaga vs. (3) Texas A&M in the second round: Should the Zags prevail over the hungry Dukes, we get a matchup that brings us back to the day when Gonzaga climbed to the top of the Cinderella heap. In 2010, a none-too-happy Gary Blair and his No. 2-seeded Aggies were sent west to play a sub-regional in Seattle. A&M drew the Zags and their strong fan base in that second game, and the Aggies went home early following a 72-71 loss. This time around, Texas A&M would get Gonzaga on the Aggies' turf in College Station in a game featuring hard-nosed guard play from Haiden Palmer of the Zags and Texas A&M's Courtney Walker. -- Charlie Creme
SPONSORED HEADLINES
MORE WOMEN'S BASKETBALL HEADLINES
MOST SENT STORIES ON ESPN.COM
NCAA CHAMPIONSHIP GAME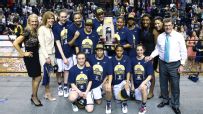 UConn beat Notre Dame 79-58 to cap a 40-0 season to win it second consecutive NCAA title and record ninth championship overall.
NEWS & ANALYSIS
VIDEO
TOURNEY 411