Stanford Regional breakdown
Originally Published:
March 20, 2014
espnW
All eyes are on Stanford as it hits the road and tries to prove it deserved to be a No. 1 seed. That went to South Carolina, which also must travel for its opening game. What are the other storylines in this part of the bracket?
Three observations
Which team will reach Nashville?
Which team did espnW.com's staff of writers and columnists pick to advance out of the Stanford Regional?
| Staffer | Pick |
| --- | --- |
| Charlie Creme | |
| Kate Fagan | |
| Graham Hays | |
| Michelle Smith | |
| Mechelle Voepel | |
1. Iowa State, a No. 7 seed, is an early-round host, and could face No. 2 seed Stanford in the second round on the Cyclones' home court at Hilton Coliseum. But ... Iowa State's first-round game is not a pushover. The Cyclones meet No. 10 seed Florida State (ESPN2, 4 p.m. ET Saturday), which at 20-11 has a similar record to 20-10 Iowa State. The Seminoles played Notre Dame twice this season, by the way, which is great preparation for the NCAA tournament. Iowa State started the season 14-0, but then lost eight of its next 11 games. It has been that kind of peak-and-valley season for the Cyclones.
2. The 8-9 games are usually always competitive, but this region's "middle of the bracket" contest could be very good. No. 8 seed Middle Tennessee, the Conference USA champion, meets No. 9 Oregon State, which advanced to the Pac-12 tournament title game. Middle Tennessee lost to Tennessee, Arkansas and Kentucky all in the first two weeks of the season, which is an impressive nonconference slate. But the Blue Raiders have lost only once since, to Southern Miss on Feb. 5. And then they avenged that loss in the C-USA title game. Incidentally, if Middle Tennessee makes the second round, it could face No. 1 seed South Carolina, which would be the Blue Raiders' fifth SEC opponent this year; they beat Mississippi State in December.
3. So which Penn State team will show for the NCAA tournament? The one that tied with Michigan State atop the Big Ten regular-season standings at 13-3? Or the one that got blown out in two of its last three games coming into the NCAA tournament? Penn State lost 94-74 at Nebraska, and then fell in the first round of the Big Ten tourney 99-82 to Ohio State. The No. 3 seed Lady Lions will open with No. 14 Wichita State (ESPN2, 12:30 p.m. ET Sunday), and get to be an early-round host. -- Mechelle Voepel
Three players to watch
[+] Enlarge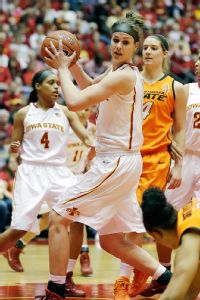 AP Photo/Charlie NeibergallHallie Christofferson averages 7.3 rebounds and a team-high 18.6 points for Iowa State.
Hallie Christofferson, Iowa State: She is another of many seniors in the tournament who will probably exit without the full appreciation she merits, at least beyond the borders of the Big 12. Left as basically the extent of Iowa State's post game after the graduations of Chelsea Poppens and Anna Prins, Christofferson goes out and takes a pounding for 32 minutes a game from opponents who know that if they wear her down, they beat the Cyclones. She leads Iowa State in points, rebounds and blocks, and she gains some measure of revenge for the bumps and bruises by shooting 88 percent from the free throw line. Going head to head with Florida State's Natasha Howard, and if Iowa State survives that, potentially Stanford's Chiney Ogwumike, makes for a fitting final weekend at home.
Allisha Gray, North Carolina: What, you thought we were going to talk about one of North Carolina's other freshmen? Diamond DeShields deserves all the accolades coming her way in a sensational debut season, but Gray isn't exactly struggling with the learning curve, either. North Carolina's second-leading scorer, Gray is remarkably efficient for a freshman playing big minutes, shooting 48 percent overall and 42 percent from the 3-point line. DeShields is going to be the focal point of the offense. Xylina McDaniel and Stephanie Mavunga are going to go to work inside. But when Gray starts knocking down shots, the Tar Heels stretch defenses to the breaking point -- and often beyond it.
Ruth Hamblin, Oregon State: Oregon State needs to get past Middle Tennessee in the first round, no easy task in what would technically be an upset by seeding, but the potential for Hamblin to go up against South Carolina bigs Alaina Coates and Elem Ibiam in the second round is one of the weekend's intriguing possibilities. Speaking of potential and possibilities, Hamblin turned both into production as a sophomore. The 6-foot-6 Canadian leads the nation in blocked shots and came on strong over the second half of the season, averaging 12.7 points and 9.4 rebounds in Pac-12 play. A project as a freshman, she's a headache for opponents as a sophomore. -- Graham Hays
Best first-round game
(8) Middle Tennessee vs. (9) Oregon State (ESPN2, 8 p.m. ET Sunday): Middle Tennessee -- which are 29-4 after a 1-3 start -- features one of the nation's best under-the-radar players in senior forward Ebony Rowe (21.7 ppg, 11.7 rpg) and is the team with all the postseason experience in this matchup, making its sixth straight trip to the NCAA field. The Blue Raiders put together the second-highest win total in school history this season, two of those losses to SEC powers Tennessee and Kentucky.
The Beavers shook up the Pac-12 this year with a better-than-expected finish in Scott Rueck's fourth season. Oregon State is making the program's first NCAA appearance since 1996 and had won 11 in a row before falling to USC in the title game of the conference tournament. Freshman Sydney Wiese (14.1 ppg) and 6-6 center Ruth Hamblin, the nation's leading shot blocker with 133 blocks this season, lead the way.
The Beavers are thrilled to be playing in Seattle, where their fans can make the four-hour drive from Corvallis, Ore., which could turn the friendly confines to their advantage. -- Michelle Smith
Upset alert
No. 11 seed Florida was one of the last teams in the field, but this season the Gators have wins over fellow at-large entrants Oregon State, St. John's, Kentucky (twice) and Vanderbilt. It wouldn't be much of a stretch to think the Gators could pick off sixth-seeded Dayton in the opening round. Beating the Flyers means scoring points and the Gators can do that, averaging more than 75 points a game, good for third in the SEC. -- Charlie Creme
Team with the most to prove
Seventh-seeded Iowa State was a top-15 team at one point this season. Then a month-long funk hit them in early January when the Cyclones went 2-7, making them a question mark at the time for an NCAA tournament berth. Bill Fennelly's gang did enough to right the ship and get here. Now with the possibility of two home games, one of which could be against No. 2 seed Stanford, Iowa State has a chance to redefine its season.-- Charlie Creme
Matchup we'd most like to see
(5) Michigan State vs. North Carolina (4) in the second round: Youth could be served in the Chapel Hill subregional. The Spartans' top two scorers are freshmen. The Tar Heels' top two scorers are freshmen. We could be watching the immediate future of women's college basketball on one court. Michigan State's Aerial Powers and North Carolina's Diamond DeShields were two of the best rookies in the country from the season's opening moments. Tori Jankoska of the Spartans and Allisha Gray of North Carolina made their marks more gradually. They all would be on the floor together in this one with a Sweet 16 trip on the line. -- Charlie Creme
NCAA CHAMPIONSHIP GAME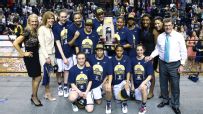 UConn beat Notre Dame 79-58 to cap a 40-0 season to win it second consecutive NCAA title and record ninth championship overall.
MORE ON AURIEMMA
VIDEO
TOURNEY 411
MORE WOMEN'S BASKETBALL HEADLINES
MOST SENT STORIES ON ESPN.COM