Notre Dame Regional breakdown
Originally Published:
March 20, 2014
espnW.com
Can Notre Dame continue its undefeated season and advance to Nashville, Tenn.? Can high-scoring senior All-American Odyssey Sims get Baylor back to the Final Four? Here are the biggest storylines in this corner of the bracket?
Three observations
Which team will reach Nashville?
Which team did espnW.com's staff of writers and columnists pick to advance out of the Notre Dame Regional?
| Staffer | Pick |
| --- | --- |
| Charlie Creme | |
| Kate Fagan | |
| Graham Hays | |
| Michelle Smith | |
| Mechelle Voepel | |
1. There are a lot of stellar guards in this quarter of the bracket, but probably no team has more perimeter options than No. 3 seed Kentucky. Guards Kastine Evans, Janee Thompson and Bria Goss are on the floor at the opening tip. Then, coach Matthew Mitchell can bring talented subs, such as Jennifer O'Neill, Linnae Harper and Makayla Epps, off the bench. It really gives the Wildcats many combinations to use. If someone is struggling, Mitchell doesn't have to hesitate in making a move.
2. Speaking of guards, coach Muffet McGraw -- coach of No. 1 seed Notre Dame -- said Michaela Mabrey has a green light to shoot 100 percent of the time whenever the sophomore thinks she has a good look at the basket. Mabrey has made 65 of 156 3-pointers this season (41.7 percent) and has a completely fearless mentality.
And if Mabrey is one of the best shooters that McGraw has ever had at Notre Dame, fellow sophomore Jewell Loyd gets the coach's nod as the most athletically gifted player who has suited up for the program.
3. No. 2 seed Baylor's ability to so successfully reinvent itself around guard Sims has earned well-deserved praise. But while everyone knows Baylor lost five seniors who were all important contributors, this season is even more impressive considering the Lady Bears have been without 6-foot-1 guard Alexis Prince. She was expected to be a big contributor but played in just four games because of foot surgery.
-- Mechelle Voepel
Three players to watch
[+] Enlarge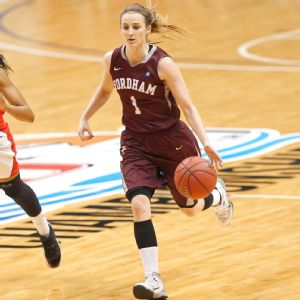 Geoff Burke/USA TODAY SportsFordham went winless six seasons ago, but New Zealand native Erin Rooney and the Rams won the A-10 title to clinch their NCAA bid.
Lindsay Allen, Notre Dame: The freshman stepped into a nice spot and has a lot of help around her, but don't underestimate the degree of difficulty of her debut. First, she's the point guard who followed Skylar Diggins in that role. Second, she's the point guard on a team that has two outstanding senior playmakers in Kayla McBride and Natalie Achonwa. So she has to be deferential -- except when she needs to be assertive. The end result? Allen quietly enters the tournament as Notre Dame's leader in assists and assist-to-turnover ratio and a player who can break an opponent's spirit with a well-timed 3-pointer just when it thinks it has McBride, Achonwa and Jewell Loyd accounted for.
Nina Davis, Baylor: Sims soaks up a lot of the spotlight, for obvious and well-earned reasons, but Davis might have been no more than a few nationally televised Diamond DeShields moments away from national freshman of the year honors. Davis enters the NCAA tournament with 295 rebounds, which means she needs just three more to better Brittney Griner's freshman total. And Davis already has more offensive rebounds than Griner had in any of her four seasons in Waco, Texas. Not bad for a player who checks in at just 5 feet, 11 inches. She averaged nearly a double-double in Big 12 play and seems to get better by the day as a scoring option on more than those offensive rebound putbacks.
Erin Rooney, Fordham: How does a program go from a winless season, which Fordham endured during the 2006-07 campaign, to an Atlantic 10 tournament championship and a realistic chance to reach at least the second round of the NCAA tournament? Start with someone like Rooney, a New Zealander by way of Monmouth University. The redshirt senior is a good 3-point shooter on a team that uses that shot to its advantage as well as any in the field, but it's what the 5-foot-8 guard does inside the arc that perhaps best defines her. Despite her modest size, Rooney leads the Rams at 7.2 rebounds per game and nearly six free throw attempts per game. -- Graham Hays
Best first-round game
(7) California vs. (10) Fordham (ESPN2, 4 p.m. ET Saturday): Last seaon's surprise Final Four entrant comes into the tournament battle tested and experienced with the trio of Brittany Boyd, Reshanda Gray and Gennifer Brandon all prepared after last season's long run. The Bears (21-9) head to Waco after a disappointing performance in the Pac-12 tournament, losing in the quarterfinal round to Washington State.
Gray leads Cal at 17.6 points and 9.0 rebounds a game. Boyd, a finalist for the Lieberman Award as the nation's top point guard, has been fighting through an ankle injury and benefited from a two-week rest. Boyd will push tempo and the Bears will look to generate offense from defense.
For Fordham, this is all new. The Rams are making their first NCAA appearance in 20 seasons after winning the Atlantic 10 championship. Rooney leads the way at 17.5 points per game. -- Michelle Smith
Upset alert
Sixth-seeded Syracuse comes into the tournament on a bit of a down note following a disappointing ACC tournament quarterfinal effort against NC State. No. 11 seed Chattanooga is charging into Lexington, Ky., with 25 straight wins. The Lady Mocs will have the most accomplished player on the floor in Taylor Hall, and if Chattanooga's guards can limit Brianna Butler and Brittney Sykes, the Lady Mocs will be in the game. Also noteworthy: Chattanooga's Jim Foster is the first coach to bring four teams to the women's NCAA tournament (Saint Joseph's, Vanderbilt, Ohio State).
-- Charlie Creme
Team with the most to prove
Cal was a surprise Final Four team a season ago. This season the surprise is that the Bears are merely a No. 7 seed. The season was supposed to be better in Berkeley. It still could be with an NCAA tournament run. Gray and Boyd are the kind of 1-2 punch that could carry Cal even in a potential second-round game against Baylor in Waco. -- Charlie Creme
Matchup we'd most like to see
(5) Oklahoma State vs. (4) Purdue in the second round: The Boilermakers had a final month of the season that exceeded all expectations after the knee injury to KK Houser. The Cowgirls had an uneven final month, never winning even two in a row. Yet it doesn't seem to fit to say these teams are going in opposite directions. They are fairly evenly matched, with great point guard play as the catalyst -- Courtney Moses for Purdue and Tiffany Bias for Oklahoma State. That's the matchup within the matchup that we would like to see.
-- Charlie Creme
NCAA CHAMPIONSHIP GAME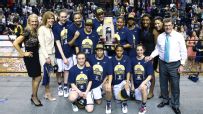 UConn beat Notre Dame 79-58 to cap a 40-0 season to win it second consecutive NCAA title and record ninth championship overall.
ANALYSIS
VIDEO
TOURNEY 411
MOST SENT STORIES ON ESPN.COM